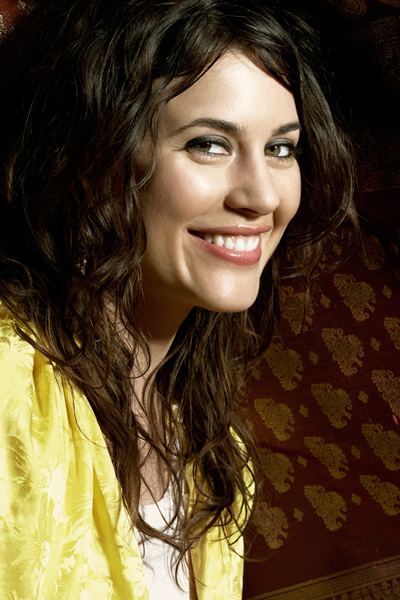 Katrina Markoff's recipe: Sizzlin' Bacon in Shot Glasses with Maple Syrup "Pudding"
After graduating from Vanderbilt University with a degree in chemistry and psychology, Katrina Markoff moved to Paris to pursue her dream of studying the culinary arts at Le Cordon Bleu. She then embarked on a world tour that began with an apprenticeship in Spain under the direction of Ferran Adrià and continued east through Southeast Asia and Australia. Upon her return to the states, Markoff founded Vosges Haut-Chocolat. Chocolate became her medium to explore other cultures, artists, religions, or movements through the senses.
Kelly Hensel: You draw from culture, art and music as an inspiration for your chocolate creations at Vosges. Yet, you were educated in chemistry and psychology. How did you make that leap?
Katrina Markoff: There is a connection between chemistry and food and baking. And I always loved cooking as a kid, and, at the same time, I always had a microscope around. I ended up studying chemistry but I guess I feel like there's such a connection to that in what I do now. From a science perspective, looking at how one thing becomes something else. So I guess it was just a natural progression given my interests, my personality, and my love for cooking.
The way that that actually happened was during my second semester of my senior year, and I was trying to figure out what I would do with this chemistry degree. I was a little bit lost, because at that time the chemistry had become so non-tangible, it was so focused on math, and I just couldn't really relate to it anymore. I didn't know what I wanted to do.
Well, this woman gave me a book called Where the Heart Leads You Success Will Follow. One of the exercises in the book is to go into a beautiful park or a natural environment with pen and paper and write down the things you really love to do. And I just wrote down cooking and horseback riding. So I started cooking and then off it went. I always knew that chemistry helped along the way. With recipe development you may want to add a particular ingredient in different quantities and do multiple versions. That's similar to the way we would do lab time in chemistry.
Hensel: What is it about chocolate that makes it a good medium for your storytelling—of your travels, people, culture you've encountered?
Markoff: Chocolate is one of those ingredients that can do so well from a savory to a sweet perspective. And, in fact, it originated as a savory drink. So I think it's so incredibly original, and it's so powerful in its complexity. It's probably the number one most complex food in the world, which makes it really hard to recreate artificially.
I knew I wanted to do something in the dessert category, but I didn't know what. I was working with my uncle after my big trip around the world, and he said, "We need to get some really great food for the fourth quarter catalog, can you help find some?" The market was flooded with chocolate, but there was nothing I would want to eat. There was no story to them.
That was the moment when it occurred to me that I could use chocolate for storytelling. I had just traveled around the world, and I had fallen in love with all these different pieces of culture—from religion, to architecture, to different curiosities. Chocolate is the perfect medium to express different emotions.
There's something sacred about chocolate—something spiritual about it. It's also totally indulgent and super sensual. It just has this fabulous composition. I feel lucky to work with it, and in the way that I do it, I hope I am making it an extraordinary experience—from storytelling to the presentation, to the look, to the feel, to the sensory engagement with the product. My goal is to create an experience unlike any other chocolate.
Hensel: What part does chemistry play when you are experimenting with new flavor creations/recipes?
Markoff: Some of the terms that we would use in chemistry translate to chocolate making, such as homogenizing, emulsion, the migrations of fats. Just having that chemistry knowledge was really helpful in doing recipe formulations. When I read the science behind why an emulsion works, for example, I could understand it. The language is familiar to me, so that's really helpful. But, I'm not a food scientist. I actually would have loved to have done that.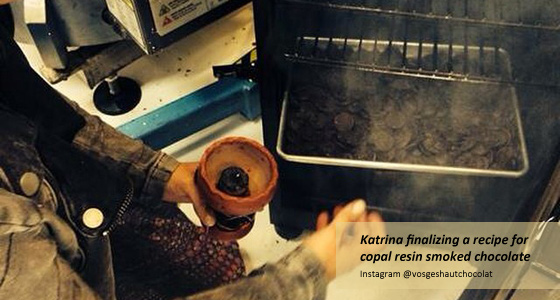 Hensel: Your flavor combinations have often been trendsetting—the bacon and chocolate bar comes to mind. Now bacon is everywhere. What do you think the next big flavor sensation will be?
Markoff: I think smoke is sort of the next evolution of bacon. And you'll see everything smoked. Now, I think we are seeing smoking, like wood smoke, but one of the things that I am working on is resin smoke. So using copal, for example, which is a resin from Mexico and Central America. I'm smoking foods with that, and I'm going to experiment with like things like frankincense and other resins that are interesting. I think the evolution of smoke is going to be the next interesting thing.
Salt—to me that's already been done, but I know people still think that's a trend. Salt is going to be extremely common with sweets. I've always put salt in my chocolates because I think it always brings out the flavor more and creates this addicting taste. But I think smoke is the next big thing—from woods to other materials that have good oil content in them. I think people will be looking at what can be done in that area—at least I am.
We have a smoked banana caramel bar, where we smoke the bananas. And I'm working on a copal smoked chocolate. And I've done smoked butter. I'm doing smoked sugar, and I'm working on smoked cinnamon for the holiday.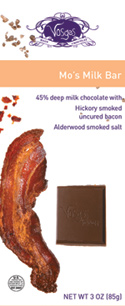 Hensel: What's your most popular item with consumers?
Markoff: The bacon bar is still the most popular. And then right behind that is our black salt caramel bar. I would say the bacon and salt are the big things for us. That's for the personal consumptions side. On the gift side, people still love truffles.
There's a lot of copycat stuff that's going on. For example, now everybody's doing exotic flavors. The thing that keeps us ahead is just constant innovation and having a soul to the brand. There's a reason for us being—whether it's our storytelling or our green purchasing program that we have. We are going to have our facility open to the public next year. So those kinds of things, I think, just reinforce the artistic craft that we do in our work, in every facet of the work.
Hensel: What's your favorite item?
Markoff: That's so hard—like picking your favorite child. It depends on my mood honestly, but I really love the Rooster chocolate. It has Taleggio cheese with walnuts, vanilla, and bitter sweet chocolate. I've always loved that one. It's in the Collezione Italiana truffle set.
Hensel: How often are you coming up with new flavors and new varieties?
Markoff: Pretty often. I am starting a Katrina Lab super limited edition for our boutiques and e-commerce. So, last week for example, I sent nine pounds of a caraway seed almond toffee to the Armitage boutique. I'm just going to be playing around with things that I'm testing out. If I like them, I am going to put them into our retail boutiques, and try them out that way to get feedback. It keeps me innovating constantly. So probably every couple weeks I'll have something new at the different boutiques.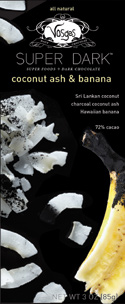 And then my latest thing is the super dark bar. Those are kind of a big thrust of what we are doing now, which really plays with the 72% cacao combined with superfoods. I'm also doing a test right now in the Soho in Armitage boutiques, where I'm serving a super dark elixir. It's basically pure roasted and ground cacao mass infused in hot water. We're also going to do some other flavor ones. But the idea there is to really talk about the theobromine in cacao and how it's such an energy and mood elevator. But it doesn't have a crash, like caffeine would, and it has a ton of health benefits. So I'm really excited about this beverage line because we think it will be the new ritual for drinking. So, instead of drinking coffee in the morning or at 3 p.m., you have an alternative that has so much more flavor and it's so much better for you. I think we need to work on telling the story about theobromine more.
Hensel: What is the status of the new green manufacturing and lifestyle house you are building in Chicago?
Markoff: It's going to be called The Chocolate Temple, and will open next year. It's going to be a place where people can come in and see our creative process and our innovation hall, and then see how the chocolate is made.
Hensel: Obviously, your company has grown tremendously since you began in 1998. Can you speak to how you source your ingredients and how that is changed now that you need larger amounts?
Markoff: Well, I don't know that it's really changed all that much, because we're still super small batch. Yes, we sell a lot of bacon bars, but when you think about how much black salt you need to make a bar, it's not that much. We make like 22 pounds of this, 75 pounds of that, and 80 pounds of that—our volume isn't that big. It's just so much variety. We had an issue with cream last year. We only want organic cream. So the sourcing has been okay. And actually I just went through a process last month where we basically put together lists of our top—what we call perfect vendors—for each ingredient. They have to have a really strong story and sustainability practices. Everything is non-GMO, and we are actually going to be updating our labeling to reflect that. And it's Fair Trade and gluten free.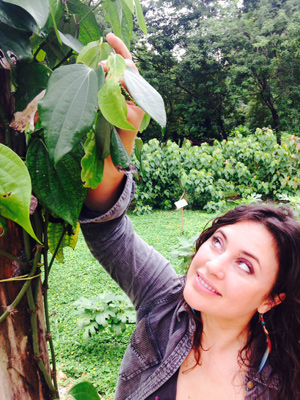 Hensel: I've read that your dream is to own an eco-cocoa plantations in South America. How close is this dream to fruition?
Markoff: Well, it's been kind of coming true. We've been working with some people in Belize that have an eco lodge. We are partners with them on the cacao project. They have been working with me to plant a few hundred acres of cacao. We have a nursery and we're grafting. It's kind of really incredible and amazing. That's a dream come true. The idea is that essentially our cacao could all come from our farm in Belize. We planted it three years ago, and it takes about five years to be full fruition.
Hensel: For someone who is surrounded by chocolate all the time, what is your food indulgence of choice?
Markoff: I'm obsessed with chocolate, so of course I must always have it. Like I said, it has such a range, you know, from cocoa butter, to cocoa mass—every state of matter. I'm working on these truffle ice cream things right now, and I'm always playing. I always fall in love with the next creation, so I don't tire of it because I'm constantly creating something new. If I only had the same flavors, I would probably be like "okay, I don't really need this because I already know it." It's because I'm so focused on new, new, new; it makes me fall in love again and again and again.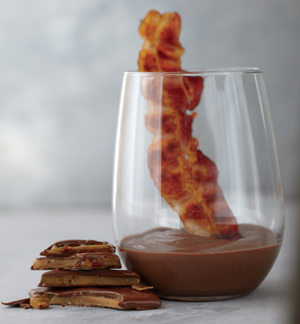 Sizzlin' Bacon in Shot Glasses with Maple Syrup "Pudding"
Yields: 1 1/2 cups about 6 servings ( 2 oz per serving)
These are wonderful hors d'oeuvres for breakfast and dinner.
5 oz milk chocolate, 45% cacao is my favorite, melted
3 oz heavy whipping cream
2 oz maple syrup – Grade A maple syrup amber
Vanilla bean, sliced in half and seeded (optional)
Bacon, Nueskes apple wood smoked thick cut
1 tbsp Alderwood smoked salt
For a stronger vanilla flavor soak the vanilla bean and scraped pod overnight in the cream.
The next day: Preheat oven to 375°F. Place parchment paper on a baking sheet and line with bacon. Bake for 40 min until golden brown.
Boil cream with vanilla bean seeds and pod. Once the boil is reached turn off the heat and let infuse and cool for 10 min.
Pour the cream atop the melted milk chocolate. Using a whisk, stir chocolate, cream and maple syrup slowly together to a glossy emulsion.
Partially fill vodka shot glass or Riedel "O" glasses or any small cute cups with the warm pudding. Sprinkle with a pinch of smoked salt and place a spear of bacon in the center sticking out from top.
Serve "pudding" warm. Encourage guests to use the bacon as a "spoon" to eat the pudding, nibbling it down as they go. Be sure to serve extra bacon on the side.
Alternative presentation: Skewer the bacon on long wooden skewer sticks, weaving the raw bacon onto the stick. Bake the skewers to golden brown. Remove from oven, place on a platter and drizzle with chocolate maple "pudding." A show shopper either way, I assure you.