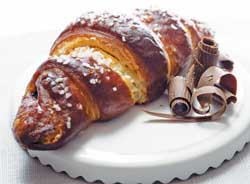 From savory breads made with sauerkraut, olives, garlic, and cheese and sweet pies made with plump, succulent berries and other fruits to whimsically decorated cakes and basic nut-and-oat bran muffins, there are baked goods that anyone can enjoy. Even new "twists" on bakery products like the Croitzel ™, a combination of a flaky croissant and a salty pretzel shown at the 2014 Innovation Roadshow® by David Michael & Co., Philadelphia, Pa. (www.dmflavors.com), illustrate how food formulators can show their creative side in bakery product development.
Consumers expect indulgence from baked goods. At the same time, though, some are demanding better-for-you options while health officials and policy makers are pushing for manufacturers to formulate products with healthier fats and less sodium. Ingredient manufacturers address all these needs with ingredient solutions that help product developers formulate bakery products with healthier profiles while making them taste better and feature improved texture.
Throughout this article you will read about some recurring trends in bakery applications—gluten-free, non-GMO, reduced fat and no trans fatty acids, and whole grains—and the ingredient solutions provided to product developers, including fats and oils that have no trans fats, ancient grains that add vitamins and minerals, and starches and gums that improve the performance of gluten-free foods. It truly is a bonanza of bakery ingredients.
Ingredient Options Suit a Variety of Needs
"We wanted to develop foods that consumers will enjoy without sacrificing taste and functionality," Melissa Machen, a food scientist with ICL Food Specialties, explained to a group of food writers gathered at the company's booth during the 2014 IFT Food Expo. She and her colleagues prepared an assortment of product concepts that highlighted the functionalities of the company's ingredients to share with the writers and other expo attendees. Some of the concepts were bakery applications, an area in which ICL Food Specialties, St. Louis, Mo. (www.iclfood.com), provides a number of ingredient solutions.
One of the product concepts, Skinny Slider, featured a gluten-free bun made with H.T.® MCP, Levn-Lite® SALP, and sodium bicarbonate. The ingredients in this leavening system helped to contribute a tender crumb, improved volume, and airy texture of the bun, says Machen. H.T. MCP is a fast-acting leavening agent useful in baking powder, baking mixes, flour tortillas, cakes, and cookies. Levn-Lite, which functions in batter or dough with longer hold times prior to baking, is heat-activated and can be incorporated into various bakery products and mixes. The second concept presented, Cake Blossoms, was a vanilla bean cake made with Levona® Brio and H.T. MCP. The highlight of the cake was that it had lower sodium and added calcium thanks to Levona Brio, which is a no-sodium leavener that contains calcium.
Bakery product developers face challenges when reducing sodium, incorporating whole grains, removing partially hydrogenated oils, and reducing calories. In bakery products, salt functions as a flavor enhancer and it helps control gas production during fermentation in yeast-leavened breads, says Jody Mattsen, senior food technologist at Cargill Inc., Minneapolis, Minn. (www.cargill.com). Several ingredients may contribute to the overall sodium level in a formulation, so once these are identified, food formulators can then look for alternatives to replace some of the sodium, she says. Among these alternatives are potassium chloride–based salt replacers like Cargill's FlakeSelect ™, Premier ™ potassium chloride, and SaltWise®, which have similar functionality to sodium, she adds.
--- PAGE BREAK ---
When developing a multi-component product that contains a bakery component like pizza or a sandwich, reducing the sodium in modest amounts in each component can create a better-tasting product than trying to reduce the sodium in a single component, explains Mattsen. "For example, you can reduce the sodium in the crust, meat, cheese, and sauce of a pizza to create a great-tasting product versus trying just to lower it in the crust, which would create greater flavor and functional issues."
Whole grains can improve the nutritional profile of foods, but many people, especially children, do not like the taste, saying that whole grain foods can taste bitter. Mattsen and her colleagues have created bakery formulations that combine Cargill's MaizeWise® whole grain corn flour with whole wheat flour to develop bakery products that are more appealing to a child's palate. The MaizeWise ingredient adds a slight sweetness to the product while minimizing a bit of the bitterness edge from the whole grains. "We're continuing to help customers add whole grains to their bakery goods to meet school nutrition guidelines of 51% whole grains in every grain-based product," remarks Mattsen.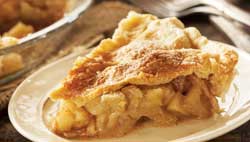 Two other areas of focus in formulating bakery products are removing partially hydrogenated oils and reducing calories. Palm-based ingredients or blends of fully hydrogenated oils and liquid oils are common replacements for partially hydrogenated oils. Clear Valley ® all-purpose shortening made with high-oleic canola offers the benefit of being lower in saturated fat than traditional palm-based ingredients, says Mattsen. Calorie reduction results from reducing fat and sugar and increasing fiber. Reducing sugar can be a bit tricky. "In bakery, sugar is very functional so you can't just take out the sugar and add a high potency sweetener like you would in a beverage," explains Mattsen. While bulking agents like Oliggo-Fiber ® inulin and Zerose® erythritol can replace the functions of sugar, most do not replace the sweetness. Mattsen suggests that product developers can use sweeteners like Truvia® stevia sweetener to replace the sweetness, provide heat stability, and offer a label-friendly ingredient on the ingredient statement.
Product developers looking to add ingredients like fiber and protein to their baked goods can turn to a company like BI Nutraceuticals, Long Beach, Calif. (www.botanicals.com). Fiber is a popular ingredient added to bakery products, says Alison Raban, a food scientist at BI Nutraceuticals, but there are some technical challenges to address, such as its effects on viscosity, texture, and flavor. The company's scientists work with their customers to choose the best fiber in these cases and even offer fibers derived from fruits and vegetables as label-friendly options, she adds.
In addition to interest in fiber, Raban notes that bakery product manufacturers are requesting ancient grains and fruit and vegetable powders. Ancient grains can bring added nutrients, flavor, and texture to bakery products, and while they are considered more of a specialty ingredient, their use can set products apart from the competition and appeal to a certain consumer base that demands these types of products. With fruit and vegetable powders, product developers are formulating these into bakery products like cookies and muffins, particularly those targeted to children, and oftentimes marketing the products as containing a serving of fruits or vegetables. Products formulated with these ingredients can be attractive to parents of finicky children who do not like to eat fruits and vegetables, says Randy Kreienbrink, director of marketing at BI Nutraceuticals.
Manufacturers are concerned not only with the taste and texture of their bakery products but with shelf life and spoilage and the cost of food additives. Corbion Caravan, Lenexa, Kan. (www.corbion.com), recently added ingredients to its portfolio that address these concerns.
While azodicarbonamide (ADA) is an approved additive, some consumers have expressed concern over its use in food products. Corbion Caravan offers Im-Prove 200 No ADA as an alternative to ADA. The ingredient is said to increase the dough strength, shorten fermentation and mixing times, lower friction, and give better temperature control. To help relieve the sticker shock of the cost of gluten, which has risen in recent years due to a number of factors, the company introduced GEM 100 earlier this year. The ingredient, which contains wheat flour and less than 2% enzymes, allows product developers to reduce or remove vital wheat gluten from yeast-leavened dough formulas without affecting taste and texture of the finished product.
--- PAGE BREAK ---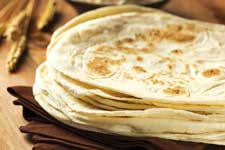 A consumer study presented by Corbion Caravan found that 46% of consumers surveyed said they consider the appearance of bread to determine its freshness, 46% want commercial bread to last 1–7 days longer, and 41% want in-store bakery bread to last 4–5 days longer. Two ingredients may help to achieve this. Ultra Fresh® Premium 300 is a blend of enzymes said to improve the freshness and eating quality of buns and rolls. By fermenting cane sugar with naturally derived food cultures, Corbion produces Verdad ® Powder F80, which can inhibit mold growth in bread products for up to 14 days without using artificial preservatives, reports the company.
DuPont Nutrition & Health, New Century, Kan. (www.danisco.com), in September 2014 released its MicroGARD® 910 ingredient to help control the mold and bacteria growth and extend the shelf life of bakery products. Made from cultured wheat starch, the ingredient is said to also provide the added benefits of softness and flavor enhancement in tortillas, muffins, cakes, refrigerated dough, and pan bread. Formulating with MicroGARD 910 allows manufacturers to reduce or eliminate the use of synthetic preservatives and simplify ingredient decks since the ingredient is a naturally derived fermentate.
Microalgae-derived ingredients from Solazyme Inc., South San Francisco, Calif. (www.solazyme.com/nutrition), can help to reduce fat and increase protein in baked goods, as demonstrated with product concepts at the 2014 IFT Food Expo. Red Velvet Cake Pop contained Algavia™ Whole Algal Flour, which is low in saturated fat, trans-fat-free, and cholesterol-free and is said to provide the same overall mouthfeel as full-fat ingredients. The ingredient helped to produce a cake pop that had total fat reduced by 45% and saturated fat reduced by 80%. Algavia Whole Algal Protein helped to formulate Protein Crackers with two times the amounts of protein and fiber and a 35% reduction in carbohydrates.
Watson, West Haven, Conn. (www.watson-inc.com), showed how its ingredients address wellness, clean label, and free-from trends in bakery applications presented at the 2014 IFT Food Expo. For example, the ingredient Perfect Grain™ showed how whole grains could produce a better-for-you chocolate chip cookie with a taste that consumers like. The ingredient is micronized wheat germ and wheat bran that the company reports is undetectable by the teeth and tongue.
Watson produced three bakery product concepts that highlighted gluten-free and ingredients to replace synthetic colorings and chemical dough improvers. Gluten-free brownies made with gluteNONE ™ specialty mix illustrated an option for manufacturers of gluten-free baked goods. The mix required only oil and water and produced soft, moist brownies with a rich, chocolate flavor. More consumers want ingredient statements that are easy to understand, which is why Watson developed an Easy 8 Bread concept. The whole wheat bread made with whole wheat flour, water, brown sugar, yeast, wheat gluten, cultured wheat starch, salt, and soybean oil did not contain chemical dough improvers like ADA.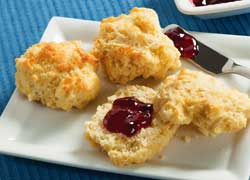 Making the Move to Gluten-free
"One of the leading trends continues to be gluten-free as consumers' 'better-for-you' perception of gluten-free products continues to grow and stores dedicate more shelf space to this area," says Matt Yurgec, principal technologist of bakery applications at Ingredion Inc., Westchester, Ill. (http://na.ingredion.com). Developing gluten-free bakery foods poses its own set of formulation challenges. "Matching the texture and eating experience of a gluten-containing product with gluten-free ingredients is very challenging," explains Yurgec. "Until recently, the product quality has been below gluten-containing products, but recently that has changed."
Gluten-free flour systems like the company's HOMECRAFT ® Create GF 10 and GF 20 and PRECISA® Bake GF replace wheat flour in gluten-free formulations and can improve dough handling and texture in both breads and chemically leavened products like cakes, muffins, and cookies. GF 10, which is a rice flour and tapioca flour system, works well in muffins and cakes with an open crumb structure while GF 20, a tapioca flour and rice flour system, is ideal for use in cookies. In most cases, they work as a "drop-in" replacement for wheat flour. PRECISE Bake GF, a starch system made up of corn starch and potato starch, functions in breads and cookies, where it can help to eliminate grittiness and crumbliness often associated with gluten-free baked goods. Attendees at the 2014 IFT Food Expo were able to get a firsthand look (and taste) of HOMECRAFT Create GF 10 at work in Honey Butter Drop Gluten-Free Biscuits, where the ingredient helped to form a soft, flaky, and tender texture in the biscuits.
--- PAGE BREAK ---
Manufacturers of ingredients used in bakery products continually make improvements and develop ingredients to meet the needs of product developers. Ingredients for gluten-free bakery now address such aspects as texture and cake volume to help produce more acceptable gluten-free products. Palsgaard, Morris Plains, N.J. (www.palsgaard.com), recently reported that testing conducted on its Emulpals ® 110 activated cake emulsifier system showed it functions in gluten-free applications, particularly cakes. The company's tests and its customers' applications showed that the ingredient, a combination of polyglycerol esters, monoglycerides, and diglycerides extruded on a rice starch carrier, helped to formulate a gluten-free cake with a soft texture, high volume, uniform crumb structure, and a smooth surface.
Wixon Inc., St. Francis, Wis. (www.wixon.com), recently added gluten-free mixes and seasonings to its ingredient portfolio. The four mixes are Gluten-Free Chocolate Brownie Mix, Gluten-Free Honey Butter Corn Bread Mix, Gluten-Free Seasoned Pizza Crust Mix, and Gluten-Free Vanilla Muffin Mix. Wixon sources the gluten-free raw materials from qualified vendor partners that provide a gluten-free Statement of Assurance, and it has processes in place to avoid cross-contamination.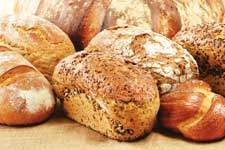 Grains, Fiber, Flour Enhance Bakery Products
The market for whole grains and whole grain foods continues to grow as more consumers become interested in different tastes and textures in food products, explains Don Trouba, director of marketing at Ardent Mills, Denver, Colo. (www.ardentmills.com). Ingredients like ancient grains and sprouted grains really appeal to these consumers as these grains have different flavor and texture characteristics. Drawing on his marketing expertise, Trouba points out product developers can connect with consumers by highlighting these characteristics as well as the history and provenance of the various ancient grains.
Ancient grains are finding their way into baked goods like bread and tortillas, oftentimes being used as a blend of several of the different types of grains or to replace a portion of wheat flour like Ardent Mills' Ultragrain® whole wheat flour, says Beth Arndt, director of research and development. This allows product developers to get the desired functionality from wheat-based flours like Ultragrain while creating a multigrain product. This is not the only benefit of formulating with ancient grains; Trouba explains that the ancient grains Ardent Mills carry are naturally gluten-free and hold potential as healthful ingredients in the gluten-free product segment where they have not been well represented.
Sprouted grains used to be found only at specialty stores, usually in the freezer case, states Arndt. Now baked goods and other products formulated with these grains are starting to appear throughout specialty stores and even in some traditional supermarkets. "I think we are just at the tip of the iceberg with sprouted grains," Arndt adds.
Ardent Mills' tagline is "Nourishing What's Next," and the company's marketing, culinary, and science professionals help provide insights and innovation about grains and grain-based products to customers. Through the company's new Mobile Innovation Center, Ardent Mills food scientists and chefs can work side-by-side with customers to show the functionalities of the various whole grain ingredients, including a line of ancient grains (amaranth, quinoa, sorghum, millet, teff, and buckwheat in flour, whole seed, and custom blends) and Sprouted White Spring whole wheat flour, and to demonstrate innovative ways to formulate bakery products with them. Examples Trouba mentions include Ultragrain High Performance flour, which combines the characteristic taste, texture, and appearance of white flour with the nutrition of whole grains; a classic baguette product concept made with Sprouted White Spring whole wheat flour and a blend of ancient grains and seeds to highlight the baking characteristics and health benefits; and Sustagrain high-fiber barley, a proprietary identity-preserved barley with three times the fiber of oats and 10 times the fiber of brown rice.
With a wide portfolio of grain-based ingredients, Bay State Milling Co., Quincy, Mass. (www.baystatemilling.com), has solutions to suit many needs of bakery food formulators, producing products that meet consumer demands and trends. One of these is increasing the amount of grains—whole grains, ancient grains, and the like—in bakery products. Its Ancient Grains Flour Blend, for example, is a 100% whole grain blend of amaranth, barley, millet, quinoa, rye, and spelt. The Whole Grains Council, Boston, Mass. (www.wholegrainscouncil.org), predicted that in 2014, ancient grains would continue their growth in popularity (WGC, 2014). Amaranth, buckwheat, sorghum, and teff are some of the ancient grains finding use in consumer goods and culinary applications for their various health benefits, flavors, and textures. Bay State Milling even promotes its Ancient Grains Flour Blend as a way for bakers, food manufacturers, and foodservice professionals to attract health-conscious consumers.
Fiber is a nutrient that nutritionists and health providers can agree people need to consume more due to its health-promoting properties. MGP Ingredients, Atchison, Kan. (www.mgpingredients.com), offers Fibersym® RW resistant wheat starch, an RS4 starch with low water-holding properties, neutral flavor, and smooth texture that boosts the fiber content of breads, rolls, bagels, biscuits, muffins, cookies, frozen and refrigerated dough systems, pizza crust, tortillas/flat breads, and batters and mixes. A source of insoluble fiber, the ingredient has been shown to have prebiotic effects.
--- PAGE BREAK ---
Bakery food formulators looking to develop label-friendly products can turn to Didion Milling Inc. and its line of corn flours and corn meals, ingredients that add unique flavor and texture to baked goods, even those that are not traditionally made with corn flour, such as pancakes, cakes, muffins, and pies, explains Todd Giesfeldt, mill R&D senior manager at Didion Milling, Cambria, Wis. (www.didionmilling.com).
Take the savory Cajun beignet, for example, that the company served to attendees during the 2014 IFT Food Expo. Corn ingredients are versatile in bakery product formulations like this, where they add fiber and whole grains and replace wheat flour. "Corn is an under-recognized, high-fiber ingredient," says Giesfeldt. Corn fiber is approximately 75% insoluble fiber and 25% soluble fiber, and it is the insoluble fiber that is said to help regulate blood sugar, facilitate the passage of foods through the digestive system, and stimulate intestinal fermentation production of short-chain fatty acids, which may reduce the risk of colorectal cancer, adds Giesfeldt.
Corn meals and corn flours are also an ingredient choice when formulating gluten-free baked goods, where they can provide viscosity, especially when a short texture is desired, and reduce water loss during freezing. Giesfeldt continues by explaining that the corn meal or corn flour in gluten-free bakery formulations can be paired with gums, which replace the functionality of the vital wheat gluten.
The push to include whole grains in the diet has never been stronger, especially given the U.S. Dept. of Agriculture's recommendation in the 2010 Dietary Guidelines for Americans to make at least half of all grains consumed whole grains and the requirements by the federal school meal programs that school breakfasts and lunches have foods that are high in whole grains. A main advantage of using whole grain corn flour in bakery applications is that it is an easy substitute for traditional corn flour in a formulation, and Giesfeldt adds that Didion Milling recently developed a method that makes its whole grain corn flour more shelf stable.
Artisan bread products started to gain wide popularity in the mid-1990s when foodservice and retail began to offer more of these in the forms of loaves and rolls in place of regular bread (AIB, 2014). True artisan bread usually has a short ingredient list, consisting of ingredients like flour, water, salt, and yeast, and depending on the style, inclusions like nuts, cheese, olives, and onions. The crumb structure, crust texture, and flavor are different from mass-produced loaves of bread. Words like rustic, farm-style, and country often describe artisan breads. To help bakers and manufacturers formulate artisan bread with characteristic rustic qualities, ADM, Decatur, Ill. (www.adm.com), offers Golden Hawk® flour. Artisan breads formulated with the flour have a crispy crust and irregular cell structure typical in these types of breads. The unbleached, hard wheat flour combines fermentation tolerance and oven spring with dough-handling properties that are easy to work with, according to ADM. At the 2014 IFT Food Expo, the company demonstrated these functionalities of the flour in Farm French and Ciabatta Artisan Breads.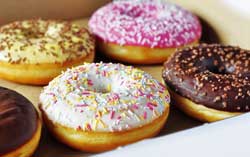 A Focus on Fats
The U.S. Food and Drug Administration in November 2013 announced a preliminary determination that partially hydrogenated oils are not generally recognized as safe (GRAS). The agency is reviewing public comments, and if it makes a final determination that partially hydrogenated oils are not GRAS, food manufacturers would not be allowed to use or sell the oils without prior FDA approval for use as a food additive. Over the years, manufacturers have reformulated their products to reduce or remove the amounts of partially hydrogenated oils, but this preliminary determination and possible final determination on removing the GRAS status of these oils has pushed many manufacturers who had not yet reformulated to begin.
To address food formulators' need for trans fatty acid–free oils and shortenings, IOI Loders Croklaan, Channahon, Ill. (www.croklaan.com), has launched a website, http://GO-NO-PHO.com, that highlights all of the company's ingredients that are free from partially hydrogenated oils and provide information to product developers about reformulating their products with these ingredients.
The benefits of high oleic soybean oil in bakery applications include an improved fat profile with 0 g of trans fatty acids, lower saturated fat, three times the amount of monounsaturated fat of commodity soybean oil, neutral flavor, and improved shelf life due to a resistance to oxidation, according to Qualisoy, Seattle, Wash. (www.qualisoy.com), and United Soybean Board, Seattle, Wash. (www.soyconnection.com). What's more, in bakery applications that are fried, like doughnuts, high oleic soybean oil like Plenish® from DuPont Pioneer, Johnston, Iowa (www.plenish.com), can provide increased fry life of the oil without affecting the taste of the finished product, according to the company.
--- PAGE BREAK ---
UltraBlends 148 all-purpose shortening from Bunge North America, St. Louis, Mo. (www.bungeoilexperts.com), has a reduced saturated fat level (3 g per serving), 0 g of trans fatty acids, 3 g of polyunsaturated fat per serving, and 6 g of monounsaturated fat per serving. The company uses blending and crystallization processes called triacylglycerols mismatch to develop the ingredient, which consists mostly of canola oil followed by palm oil, monoglycerides and diglycerides, an antioxidant, and cellulose fiber.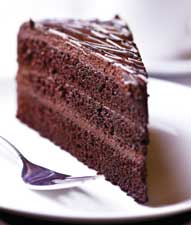 Taking Texture to New Levels
Thanks to ingredient innovation and formulation advancements, the texture of gluten-free products has improved. "In the past, gluten-free products tended to be dry, disintegrate in the mouth, lack moistness, and had poor volume," explains Steven Baker, a food scientist with TIC Gums Inc., White Marsh, Md. (www.ticgums.com). Now the ingredient industry offers solutions like better flours that are less gritty and produce products with a better mouthfeel, enzyme systems to improve moistness, and more, he adds. TIC Gums' newest hydrocolloid system improves some of the textural attributes of gluten-free sweet baked goods.
Ticaloid ® GF 313, a blend of cellulose gum and xanthan gum, helps improve softness and cohesiveness while bringing viscosity to the batter in products like muffins and cakes. When product developers remove wheat flour and replace it with gluten-free flour, the batter becomes thinner, but the GF 313 ingredient improves the viscosity to eliminate separation before baking, resulting in a better crumb structure in the finished product, says Baker. A better crumb structure means a product is moist and has improved texture attributes, he adds.
Formulating gluten-free bread is still difficult, according to Baker, who says that gluten has important functions like volume development and structure improvement of bread loaves and that when it is removed, it is tricky to find the combination of ingredients to replicate this. "Oftentimes, the products will never rise and be dense and have low volume, or the products will rise well but will collapse during baking or cooling," he says. Ingredients like gums can help improve volume and develop a structure that will not deflate. "Gums turn into a pseudo-gluten, meaning they mimic gluten functionality because they form a gel-like state and are able to entrap the gases produced during chemical leavening or by yeast systems. They're also able to expand and regel, resulting in expansion without collapse, and to bring some structure to dough to develop volume."
The newest ingredient from Penford Food Ingredients, Centennial, Colo. (www.penfordfoods.com), helps product developers formulate baked goods with reduced fat, cholesterol, and calories. PenNovo ® FR, a potato-based modified starch, can replace up to 50% of solid fat in baked goods. Manufacturers hydrate the ingredient in hot water and allow it to gel on its own into a form that looks like a vegetable shortening, says Bryan Scherer, vice president of research and development at Penford Food Ingredients. Other functional benefits of the ingredient are that it acts as a fat mimetic, maintains volume and cell structure, is cholesterol-free, and has a neutral taste.
The ingredient's functionalities were featured in a Low-Fat, Reduced-Egg, Gluten-Free Carrot Cake Pops product concept presented at the 2014 IFT Food Expo. To help provide volume and maintain texture while replacing up to 50% of the eggs, the company formulated with Coyote Brand ® Stabilizer XA-0823 and Coyote Brand MC-1217LV from Gum Technology Corp., a business unit of Penford Food Ingredients, Tucson, Ariz. (www.gumtech.com). These texturizer systems of hydrocolloids and fiber provide structure and aeration that eggs typically provide in cake applications. The gluten-free property of the cake pop came not from a single ingredient but from a system designed for the particular application. "PenTech® GF is really a customized ingredient solution dependent on the applications," remarks Scherer. A particular blend can contain several hydrocolloids and/or proteins to provide the desired texture, taste, mouthfeel, and look of full-gluten products. "We have 35 different systems for different types of product applications for gluten-free cookies, brownies, cakes, scones, and more," adds Scherer.
One of the themes presented by BASF, Florham Park, N.J. (www.newtrition.basf.com), at the 2014 IFT Food Expo focused on the importance of texture in baked goods. The company manufactures ingredients to enhance the volume and texture of a number of different products, including bakery products like cakes and frostings, and it highlighted two of these in a Swiss roll product concept available for sampling at its booth.
The first ingredient, Spongolit ®, is a blend of emulsifiers in powder form that function to aerate cakes. In the Swiss roll application, the ingredient helped to improve the cake volume, crumb structure, moistness, and overall texture. Lamequick ® was the second ingredient featured in the Swiss roll. This whipping agent designed for use in cream fillings is a system of milk protein, vegetable oils, and emulsifiers and provided stability, improved texture and creaminess, and a fluffy mouthfeel for the cream filling.
Next month's Ingredients section will examine ingredients derived from meat and poultry and ingredients used in meat and poultry applications.
--- PAGE BREAK ---
---
The Versatility of Nuts
Two of the more familiar uses for nuts and peanuts in baked goods are as inclusions and toppings. "At Blue Diamond, we work with customers to provide the desired texture for an end product," says Jeff Smith, director of marketing at Blue Diamond Almonds Global Ingredients Division, Sacramento, Calif. (www.bdingredients.com). "When it comes to bakery products, consumers love the mouthfeel of a crunchy almond inclusion or topper, and this has been a driver in many new product formulations."
Derivatives and forms of almonds and other nuts are increasingly being used in bakery products for flavor, texture, nutrition, and to replace gluten. Pastes and butters, for instance, function in fillings or frostings while flours and meals made from almonds, pecans, and hazelnuts can provide nutty flavor to pastry and pie crusts, cakes, and cookies. All tree nuts are gluten-free so some product developers are using flour made from these nuts, like almond flour, in their gluten-free bakery formulations, says Smith.
Peanut flour helps bind fat in baked goods and provides protein to formulations. Golden Peanut Co. LLC, Alpharetta, Ga. (www.goldenpeanut.com), manufactures 12% fat peanut flour that offers 50% protein and 28% fat peanut flour that delivers 40% protein. Its Gold Nut 20 Peanut Extract gives cakes and other baked goods a roasted peanut flavor and aroma.
Hughson Nut Inc., Hughson, Calif. (www.hughsonnut.com), promotes Almond Bran from Nut-trition Inc., a company that recovers functional food ingredients from the processing of almonds and other nuts. Almond Bran, which is made from dried almond skins, is a source of dietary fiber, antioxidants, and minerals and can add a bit of color and a mild nutty flavor to baked goods, according to the company.
One of the best-known applications for pecans is pie. The Georgia Pecan Commission, Atlanta, Ga. (www.americasnut.com), in January 2014 established the Center for Pecan Innovation to work with food companies interested in developing new formulations for pecan ingredients like flour, pieces, meal, and pastes.
---
Global Growth Opportunities
Global new product development in the category of bread, bakery, and cakes is increasing, driven by such factors as new formats, gluten-free, health, and rising incomes, according to market research firm Mintel, Chicago, Ill. (www.mintel.com) (Mintel, 2013). The volume of new frozen and chilled product introductions, especially cakes, pastries, sweet goods, and breads, is greatest in North America versus other regions. The healthfulness of foods is a concern, and Mintel analysts suggest that manufacturers of cakes, pastries, and sweet goods capitalize on consumer interest in whole grain/high fiber and focus formulation efforts on including these ingredients. In Europe, too, there is an emphasis on healthful bakery foods, but with a different take than in North America. Rather than add ingredients with health benefits to products like in the U.S., Mintel analysts suggest the removal or reduction of ingredients like fat and sugar in products sold in Europe, as this resonates more strongly with European consumers. Mini and individual formats are growing in popularity as they address not only health (e.g., smaller size equals fewer calories), but convenience, notes Mintel.
While the market for health-focused bakery products is growing in North America and Europe, in Asia, these products are considered niche by Mintel. What is growing is private label new product activity in Japan, sweet bakery products in South Korea, gluten-free products in Australia/New Zealand, and premium products in places like China, India, and Vietnam, where incomes are rising within the middle class. Rising incomes in many South American countries will drive the demand for gourmet and premium bakery products. Mintel also notes that manufacturers could add value to traditional baked goods like panettone and churros by offering more mini formats to appeal to consumers wanting convenient, on-the-go food options.
--- PAGE BREAK ---
---
Ingredient Roundup
Looking for more ingredient solutions for bakery applications? Consider the following options for improvements and enhancements.
• The Cebes and EsSence brands of ingredients from AAK USA Inc., Edison, N.J. (www.aak.com), offer food manufacturers nonhydrogenated and low saturated fat options for their no-trans-fat bakery formulations. EsSence 86-33 shortening blend is used in a wide variety of bakery products and Cebes LS70 is a cocoa butter substitute for compound coatings.
• Crack open the functionality benefits of eggs. These benefits include everything from the yolk's emulsifying properties to the white's aerating abilities. Manufacturers of gluten-free breads can use the egg white's water-binding properties to their advantage and produce bread that does not stale as quickly as conventional bread. The egg whites also assist in the air-micelle formation to help improve the volume and shape of bread. Find a number of informational videos that demonstrate the functions of eggs and more from American Egg Board, Park Ridge, Ill. (www.aeb.org).
• Flow K® potassium bicarbonate from Church & Dwight Co. Inc., Princeton, N.J. (www.ahperformance.com), can replace sodium bicarbonate in cakes, muffins, and cookies, helping to reduce sodium. Depending on the usage level of the ingredient, it can contribute an amount of potassium to the overall formulation, allowing manufacturers to make a potassium claim, according to the company. InnovaFree® Sodium-Free Baking Powder and InnovaFree Reduced-Sodium Baking Powder from Clabber Girl Corp., Terre Haute, Ind. (www.clabbergirl.com), are two more leavening ingredients that help reduce sodium in bakery products. Both ingredients contain CAL-RISE ® sodium-free blend of calcium acid pyrophosphate and monocalcium phosphate anhydrous from Innophos Inc., Cranbury, N.J. (www.innophos.com). When used in the InnovaFree ingredients, CAL-RISE helps to reduce sodium, contribute calcium, and condition the dough of frozen biscuits and pizza where the calcium ions strengthen the gluten network, making the dough more elastic and better able to withstand freezing, according to Clabber Girl.
• Enzyme Development Corp., New York, N.Y. (www.enzymedevelopment.com), offers enzymes and enzyme preparations that modify dough handling properties, increase shelf life, and modify the flavor of bakery products. Some enzymes are derived from fungal sources and others come from pineapple. Enzeco® Bromelain Concentrate, a protease derived from pineapple, has a rapid and irreversible activity on gluten, and it functions in formulas for certain crackers and continuous mix bread.
• Grain-based ingredients from Grain Millers Inc., Eugene, Ore. (www.grainmillers.com), are used to add flavor, texture, and nutrients to breads, rolls, and muffins. In addition to offering grains like wheat, corn, barley, and rye, the company provides processing aids and preservatives like its Sweet Dough & Batter Conditioner 200CP, an enzyme system used in batters and dough for products that contain high levels of sugar and/or shortening, and Mold Inhibitor 100M, a naturally derived mold inhibitor that helps reduce water activity in sweet bakery products.
• An 18-month study on the effects of starches on frozen bakery cakes found that INSCOSITY ® modified food starch from Grain Processing Corp., Muscatine, Iowa (www.grainprocessing.com), helped to retain moisture, reduce shrinking, improve cell structure, and reduce tunnel size in frozen cake.
• Richardson Oilseed Ltd., Winnipeg, Manitoba, Canada (www.richardson.ca), manufactures Bread Pan Release, a canola oil–based spray for pans that washes off with hot water. It is free of mineral oils and solids.
• Encapsulated ingredients under the Bakeshure® line from SensoryEffects, St. Louis, Mo. (www.sensoryeffects.com), including sodium bicarbonate, sodium aluminum phosphate, monocalcium phosphate, sorbic acid, calcium propionate, citric acid, malic acid, fumaric acid, and lactic acid, help to leaven baked goods, control mold growth, reduce pH, and improve stability and dough consistency.
• Dairy proteins provide a number of functional and nutritional benefits to baked goods, reports the U.S. Dairy Export Council, Arlington, Va. (www.innovatewithdairy.com, www.usdec.org). Some of these include improved texture and enhanced moistness (whey protein ingredients), development of toasted flavors, controlled mold growth, and improved moistness and tenderness (lactose ingredients), and accurate color development, vitamin and mineral fortification, and texture enhancements (milk powder ingredients).
---
www.ift.org
Members Only: Read more about different bakery products and ingredients online at www.ift.org. Type the keywords into the search box at the upper right side of the home page.

Karen Nachay,
Senior Associate Editor
[email protected]