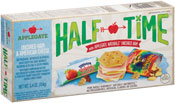 An easy organic lunch option
Applegate launched what the company describes as the first-ever line of organic and natural lunch kits, answering parents' demands for the convenience of prepacked lunches while alleviating their concerns about nitrates, preservatives, and artificial ingredients.
The Half Time kits combine the company's Applegate Naturals meats and American cheese with side items from Annie's and squeezable yogurt from Stonyfield Farm. "Both companies share Applegate's mission and philosophy: real food and transparency, making the Half Time partnership a perfect combination," said Neil Leinwand, senior vice president of marketing for Applegate.
The kits, which are available with turkey, ham, or bologna, provide 310–360 calories, 11–16 g of fat, and 13–17 g of protein. "On an ounce-per-ounce basis," added Leinwand, "Half Time has less sugar, fat, and sodium than other pre-packed lunch options and gives kids high-quality protein to keep them satisfied."
Half Time can be found at food retailers nationwide for a suggested retail price of $4.99.
---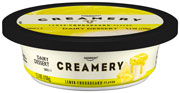 Decadent dairy desserts
The Dannon Co. introduced its Creamery line of dairy-based, indulgent desserts, its first new brand since Oikos. It includes three puddings made from Grade A milk and five cheesecake-inspired offerings made with Greek yogurt and topped with fruit sauces or caramel.
"This is another example of Dannon leading category growth and it's not just another flavor or line extension," said Sergio Fuster, chief marketing officer of The Dannon Co. "Dannon Creamery is the launch of a new category within dairy… Dannon Creamery reimagines what indulgence in the dairy aisle can mean."
The dairy desserts provide 180–230 calories, 4.5–6 g of fat, and 5–9 g of protein per 5.3 oz serving. They are available nationwide for a suggested retail price of $1.69.
---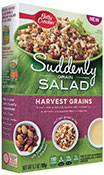 Convenient whole grains
General Mills brand Betty Crocker recently added three varieties of grain salad to its Suddenly Salad line. The Suddenly Grain Salads provide a mix of brown rice, wild rice, wheat berries, and quinoa in a convenient boil-in-bag package to help consumers easily add whole grains to their diets. The salads can be eaten hot or cold and as a hearty main dish or healthful side.
"A grain salad that you can eat cold is a novel concept," said Jeremiah Palmer, marketing manager, side dishes. "We know Americans love pasta salad, and they are trying to get more whole grains into their diet. This product is the perfect blend of these two desires."
Available in three flavors, the salads pair grains with herbs, spices, dried fruit/vegetables, and nuts while providing at least 27 g of whole grains per serving, making them a good source of fiber. The salads can be found at major grocery retailers around the U.S. at a suggested retail price of $2.69 per four-serving package.