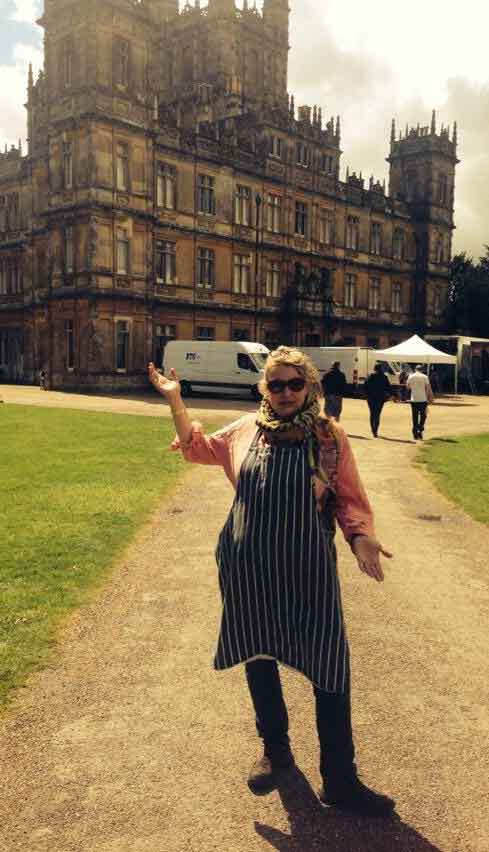 Lisa Heathcote's Salmon Mousse recipe
As the foodie movement grows, it's no surprise to find that food's presence has taken on supporting roles in television and film. On shows such as Masterpiece's Downton Abbey, food indirectly weaves a common thread throughout most episodes. Behind the scenes, it is Chef and Food Stylist Lisa Heathcote drawing on her arts and catering background to create the intricate dishes for the Edwardian era show. While baking pies for an upcoming shoot of BBC's Sherlock, Heathcote shares the diverse and sometimes challenging aspects of being a food stylist.
Kelly Hensel: Can you tell me a little bit about your training and background?
Lisa Heathcote: I trained in culinary some time ago and then I started off being a freelance chef. I still do freelance cooking for people and I still have some regular clients. Occasionally, I go in to be an emergency restaurant cook for friends when something happens. That's quite good because it allows me to keep an eye on what's currently trending or fashionable. Food—just like clothes—keeps moving.
I spent probably 10 years running my own catering company with private clients. And then one Sunday a producer friend of mine asked me if I would help with the food for a commercial he was making because he was in a bit of a panic. I did the commercial and well, the rest is really history. I just carried on doing food styling and found myself assisting people on sets.
When I first started doing food styling, it was only a very small handful of people doing it. There wasn't a lot of real food on sets. But people have become more interested in food as time's gone on. Having fake food isn't very credible anymore. If you look back at old movies, the food on the table was so obviously fake. Now, they want the real thing.
I think that my catering experience is really helpful in my job today, because when you are doing the food for films—even if it might be a simple scene—you are doing it en masse—repeats and repeats of the same dish. It's really like working in a restaurant. You're creating the same thing again and again.
For Downton Abbey, the food obviously has to be historically accurate, but it also has to be user friendly. There are many facets to that particular show because we see the food downstairs and then we see the food upstairs. That doesn't necessarily mean that it's being immediately taken upstairs. There can be a gap in time of weeks between seeing it downstairs and upstairs. So, I have to recreate it again.
I also have to think about if the actors are going to eat the food in a particular scene because with filming that means they will probably be eating it all day. They don't want great chunks of meat because they're going to have to sit down and eat all day on the dining scenes. I have to consider that and put something on the plate that they may want to be tussling with, so that the meat can sit there looking fabulous and they're probably only actually putting a piece of cucumber in their mouth.
My arts foundation really helps out. I used to do a lot of pottery and ceramics and it's very similar to when I am building pies. I'm using pastry in the same way as you might use ceramics, really. The pies and pastries don't necessarily have to have meat inside. It could be that I've just put porridge oats inside to build the pie up visually for the camera. A lot of what I do is about structure and how the food visually looks on camera.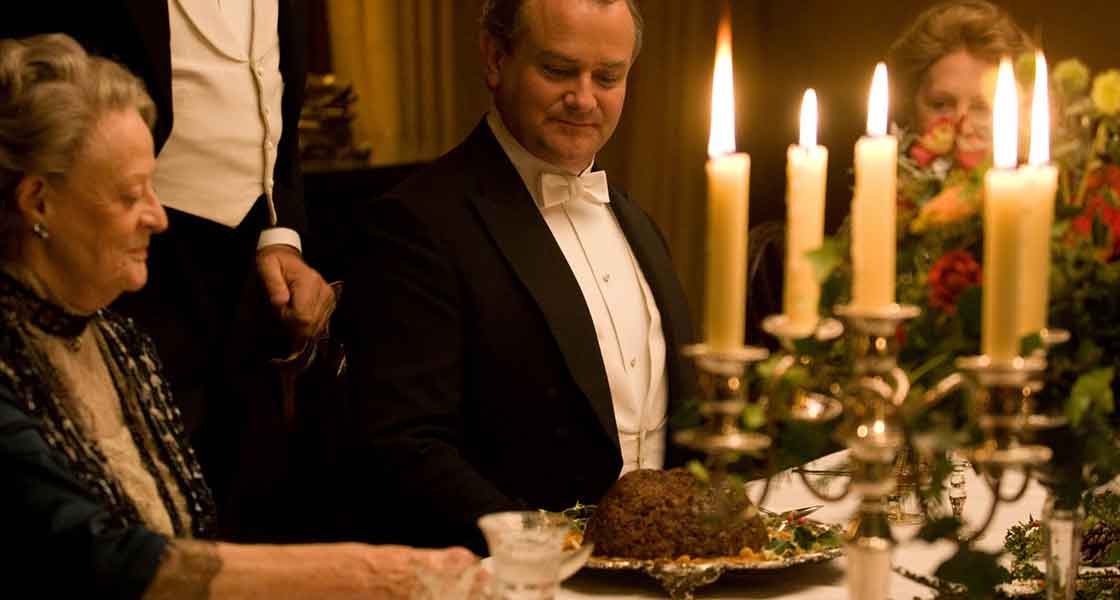 Photo ©Nick Briggs/Carnival Film and Television Limited 2014 for MASTERPIECE
Hensel: What kind of ingredient substitutions do you have to make in order for the food to withstand long hours of filming and the hot lights?
Heathcote: Quite often a lot of my work just sits there and twinkles, and nobody actually eats it. You make the connection in your head that they've eaten it, but the reality is that actually haven't .However, now more directors want to see people eating. They don't want the actors just pushing the food around on the plate. So, this does make it a bit more difficult.
Anything with a high fat content—because the set is a hot environment—is not going to hold up. I tend to use cream substitutes and long-life milk. Also, anything fishy is to be avoided. Instead I will cut things out of chicken or cream cheese or things like that, and then color it and paint it. For the entire world, it appears to be a fish mousse. It can't be an actual salmon mousse because after a couple of hours, it's going to be a little bit unpleasant.
Hensel: Gelatin also seems to be a secret ingredient of yours.
Heathcote: Yes, this is definitely an aspic world. There is heavy use of aspic and gelatin, which is great, because you can really have fun with it. If the actors aren't going to eat it, and it's just going to be made to appear on the table or swish past the camera it becomes more of an art piece. In these cases I can use a lot of gelatin to set the piece—and you really wouldn't want to eat that but it looks great.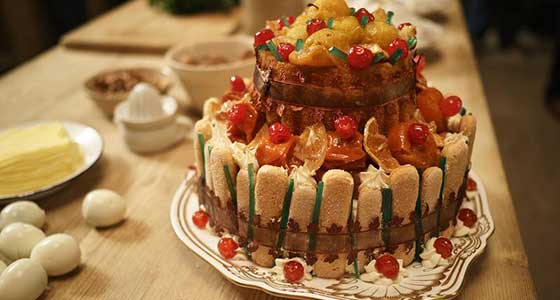 Photo ©Nick Briggs/Carnival Film and Television Limited 2014 for MASTERPIECE
Hensel: So in your job you go from creating art pieces with a gelatin mold to actually cooking food that the actors can eat. I would imagine that poses a whole different range of challenges for each scene.
Heathcote: Exactly. Also, a lot of times, depending on what film or show I am working on, I've got to take into account allergies, dietary requirements, and preferences. I had quite the challenge last year on a film where the director very specifically wanted the actor to be eating spareribs. Well, the actor turned out to be a vegetarian. I went through all sorts of hoops and was finally able to create a really, I thought, convincing looking spareribs. I had these wooden dowels made and steamed so they could be bent—those acted as the bones. And then I used gluten, which comes in a powder form. You add water to it and then work really quickly because it sets fast. I packed that around the dowels and baked them. And then I created a very delicious barbeque sauce that I coated the "ribs" with. They looked great and the actor and the director were happy.
So sometimes I get a phone call to help with a last minute project. They might say "It's really simple. Can you just do some spareribs?" That's the kind of sentence I dread because it's never really simple. I then say, "Are you sure? Can you just check with the director?" And, sure enough I find out that the actor's a vegetarian or something else. So, it's not really simple. It has gone from just whipping up some spareribs to taking me three days of research and experimentation.
I got a phone call right before Christmas asking me to help with a cake they needed for a scene in a film. The cake had to be pushed into somebody's face, but it had to collapse in a certain way and it couldn't have too much cream on it. It also had to be a certain color and it had to be tiered, which was an additional challenge. Sometimes, with all the projects I have going on and the timing—just before Christmas in this case—I have to say no. In this case it was just too complicated for the time I had.
Hensel: Is food playing a bigger role in films and television or are directors becoming much more demanding?
Heathcote: I think it's a bit of both. When I first started out, people were reluctant to even hire a home economist, which is what I was called at the time. I was part of the art department and people thought "What on earth are they doing?" But now, I think people's expectations are higher because people are more food savvy. I work really closely with the props department and I think they appreciate having me there.
This past weekend, I did work on a massive contemporary restaurant scene with 50 diners, and I think the prop men are more than thrilled to see me because they don't know how food should look like on a plate in a restaurant. For me, it's quite simple because I'm doing the plates. I know how it's going to look for the camera. For this kind of scene it wasn't about taste, but what would look good on the camera. I also have to keep money in mind. They don't want to be spending a fortune. I can go and buy shop-bought cakes, and tart them up and cut them up, and put them on a plate in a way that will look great.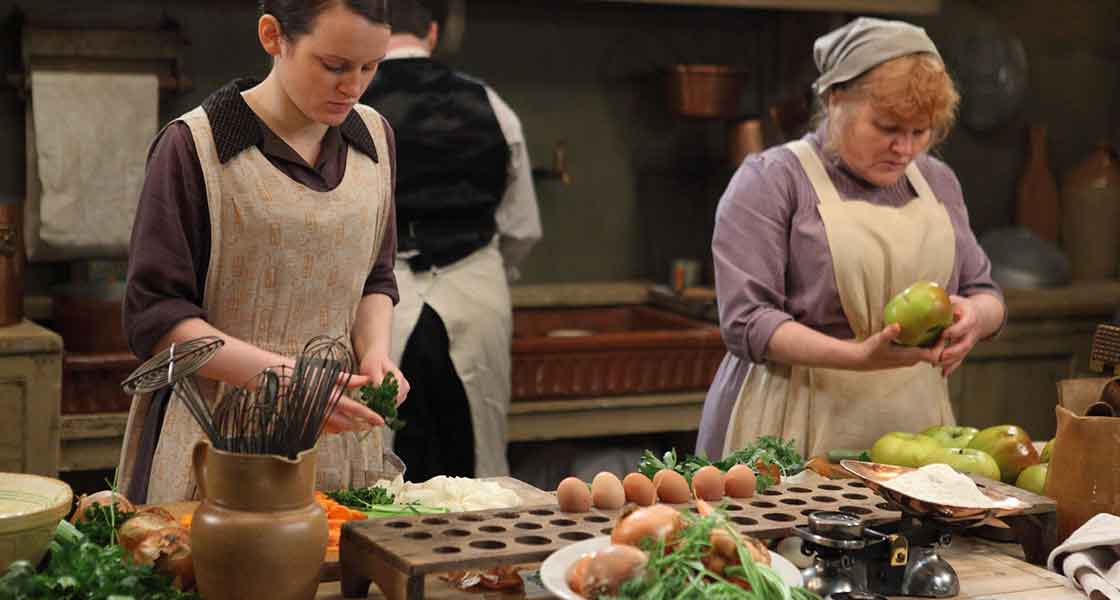 Photo ©Nick Briggs/Carnival Film and Television Limited 2014 for MASTERPIECE
Hensel: So what is a typical day for you?
Heathcote: Well today I am in my kitchen making all these huge pies. So, I am covered in flour, and I will be baking all day long. Tomorrow I have to make jellies and then on Thursday I've got to drive it all to Wales. It's all for a big foodie scene in BBC's Sherlock. I'll drive up Thursday and I will be on set all day Friday. If it's a big setup, like this one, I like to go and dress it all the day before. Shooting starts so early in the morning—they expect everything to be looking fabulous and twinkly at 7:30, 8 o'clock in the morning, so it helps to get some of it dressed out the night before. And on set you aren't walking into a kitchen. It's more like walking onto a building site. There will be fridges, but it's not a proper kitchen. I have to take everything and set everything up by myself.
Hensel: What is your favorite part of your job?
Heathcote: I think it's probably working in my kitchen. However, being on set's fun, too. I just recently did a massive scene for Outlander. We had suckling pigs and all sorts of great foods. The actors weren't going to eat any of it so I was able to dress the entire table the day before filming. It took hours to do—we had suckling pigs and big pyramids of fruit. That was fun. It's kind of like doing an art installation, if you like.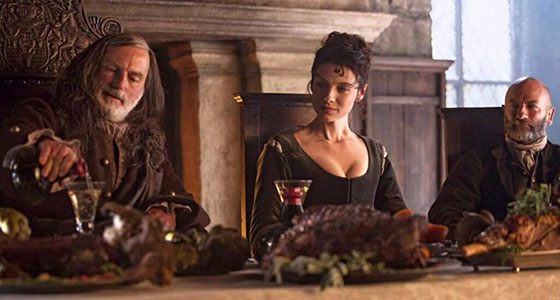 Photo: Starz's Outlander
Hensel: Downton Abbey takes place in the 1920s in England while Outlander is set in the 1700s in Scotland. I imagine historical accuracy is important for both shows. What resources do you rely on to create the food?
Heathcote: A mixture of all sorts, really. I go to museums and I study paintings. Depending on what it is, I speak to historians. I read avidly and I take various courses. I recently went to the British Archives and they had people's wills which contained menus of dinners that they had attended. These were actual real dinners. So, I recreated some of them for Downton Abbey.
I pick up books all the time. I have collected cookbooks for as long as I can remember. I also find and collect old menus. All the Downton Abbey dishes are mainly recreated dinners that really existed.
I was recently out in Prague doing a film that was set in 1620, which is slightly earlier than Outlander. Again, I had found some old documents that had references to food that was eaten at that time. Also, over the years, I've built up a network of people that I can talk to and share knowledge.
Hensel: After working on Downton Abbey and Outlander, how do you feel people's relationship with food has changed through time—from mid-1700's, to the 1920's through to today?
Heathcote: Obviously, a long time ago food was a necessity in order to stay alive. But actually, in wealthy houses, there's always been a sort of finesse around food. In the Georgian period—this would be the 1700s—the food was fabulous, if you were wealthy.
It's really only since the World War II that the respect for food has gone. There's so much of it now and you have so many choices. Before, there was more respect for food, I think. Your vegetables weren't abundant, so you really appreciated them. And, certainly in the 1920s, on the back of Victorian England it was very much about sharing your food and presenting it all beautifully. So was the Georgian era, previously. Beautiful pies, intricate puddings, all sorts of things beautifully made.
Obviously as time went on things progressed in the kitchen that made one's ability to cook faster and easier. They even touch on that in Downton Abbey. But, even in the 1700s, as shown in Outlander, they were able to roast meat very well. In fact, the British were known for having the ability to roast very, very well with the spit jack. The food was fantastic. There will all these fantastic spicy sauces. It wasn't bland as people today would imagine.
Today, what's happened is that food is more global. We know about Chinese food, Thai food, and Indonesian food. We're more knowledgeable, I think. And definitely the availability of food has changed drastically over time. I don't think there's any ingredient you can't get now. So, perhaps what I should say is that today food is more varied. Before it was delicious and there were spices, but it wasn't as varied as it is now. What they did—at least in wealthy households at the time—they did beautifully and intricately.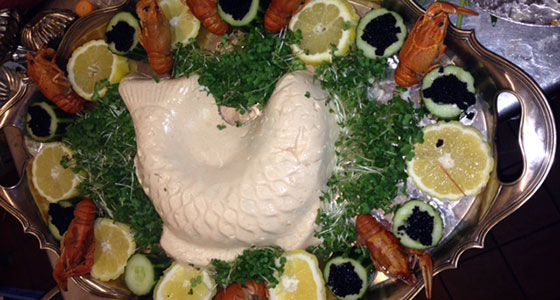 Salmon Mousse
You can make this as fine or as chunky as you prefer. Note: A smoother mixture turns out of your mold more easily.
Approx. 500 g of poached salmon (poached with a good sprig of tarragon and celery)
1/4 pint strained reserved poaching liquid
1/2 pint of good mayonnaise (preferably homemade)
1/4 pint of softly whipped cream
1/2 lemon
1/2 teaspoon cayenne
1/2 teaspoon Tabasco
1 sachet of powdered gelatine
2 egg whites
Flavor the mayonnaise with lemon, Tabasco, cayenne, salt, and pepper
Dissolve the gelatine in the poaching liquid (following instructions on packet). Add warm dissolved gelatine into mayonnaise.
Flake the salmon into pieces and add to mayonnaise. Note: If you want a fine texture then at this point put mixture into food processor and puree until smooth.
Add whipped cream and stir through to combine.
Whisk egg whites until they are firm and dry and add to mixture. Gently stir through so air is not knocked out.
Taste for seasoning and adjust.
Lightly oil your mold or dish and pour in mixture. Chill in refrigerator for at least 2 hours before turning out.
Decorate with ample cress and watercress and lemon. Serve with Melba toast or brown bread and butter triangles. Enjoy!