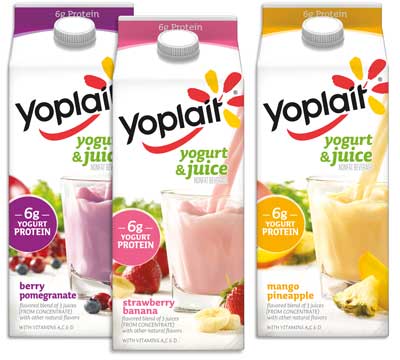 Yogurt meets juice
Under license from General Mills Inc., Kemps LLC is test-marketing a Yoplait Yogurt & Juice Nonfat Beverage, a blend of fruit juice from concentrate and cultured nonfat milk. The beverage is sweetened with sugar, fructose, monkfruit juice extract, and stevia, keeping calories at just 110–120 per 8 oz serving, and the addition of milk protein concentrate brings the protein count to 6 g.
"In Yoplait Yogurt & Juice, we created a marriage between fruit juice and yogurt that helps mom deliver her family a 'wow' on flavor, together with the goodness of real fruit juice and the nutrition of yogurt," said Brad Cuthbert, senior marketing director, value-added dairy initiatives and private label/co-manufacturing, for Kemps.
The beverage, which is sold in half-gallon gable-top cartons, comes in four varieties: Berry Pomegranate, Mango Pineapple, Strawberry, and Strawberry Banana. It is available for a suggested retail price of $3.79–$3.99 in markets that currently include Minnesota and Wisconsin, as well as Kansas City.
---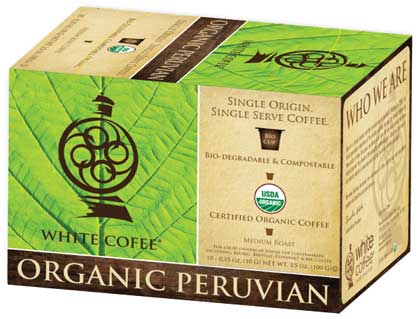 Biodegradable coffee cartridges
White Coffee Corp. debuted its new line of environmentally friendly single-serve coffees, which are housed in BioCup™ cartridges that are completely compostable when aerobically composted.
"Our goal is to be the leader in the coffee industry in minimizing its environmental footprint," said Jonathan White, executive vice president of White Coffee. The company also aims to provide consumers with a range of brewing options while serving as a steward of the environment, so the line will include 11 flavors of organic coffee: Colombian, Breakfast Blend, French Roast, Full City Roast, Mexican High Grown, Peruvian, Rainforest Blend, Hazelnut, French Vanilla, Sea Salt Caramel, and Chocolate Morsel.
The BioCup line is available at retailers around the United States in 10-count (suggested retail price of $6.99) and 80-count (suggested retail price of $39.99) boxes. The cartridges are 2.0-compatible for use with the Keurig system and similar coffeemakers.
---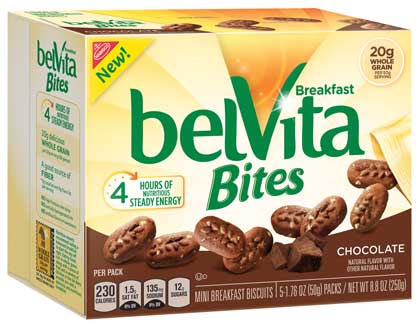 Breakfast biscuits go bite-size
Mondelez International Inc. recently introduced a miniature version of its belVita crunchy breakfast biscuits. The belVita Bites biscuits provide 4 g of fiber and 20 g of whole grains in a convenient take-along package, making for a nutritious and easy on-the-go breakfast or snack.
"We are excited to offer our consumers a quick, on-the-go, and nutritious breakfast choice that can be enjoyed no matter how busy their schedules," said Mikhail Chapnik, senior brand manager for belVita. "The portability and poppability of belVita Bites breakfast biscuits make it simple and fun to enjoy while on-the-go as part of a complete breakfast."
Each 50 g serving contains 230 calories and may be enjoyed with a serving of fruit and low- or nonfat dairy for a balanced breakfast, according to the company. Available in Chocolate and Mixed Berry, belVita Bites can be found in stores nationwide for a suggested retail price of $3.69 per box.
---