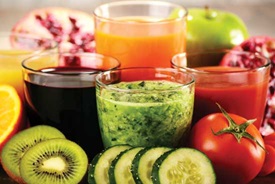 Remember Tang? The orange-flavored/orange-colored instant powdered beverage was a breakfast staple for generations of Americans. A vintage 1959 television commercial promoted the beverage as "the happy new breakfast drink you don't squeeze, unfreeze, or refrigerate" with "more vitamin C than the finest orange juice—fresh or frozen." The popularity of the beverage skyrocketed after NASA astronauts consumed it during space missions in the 1960s and novel, easy-to-prepare processed food products became increasingly popular with consumers. Simply mix a spoonful or two of the powder into a glass of cold water, and voilà—an orange drink the whole family will enjoy, or so the decades-old commercials imply.
As the appeal of this fruit-flavored instant powdered beverage has waned in the United States (though by some accounts it is still quite popular in areas around the world), new fruit and vegetable beverages have taken its place during breakfast time and throughout the day, giving consumers a wide choice of flavors, textures, health benefits, and beverage styles. "In the U.S., cold-pressed juices are driving innovation, and vegetables are extensively used to boost the health appeal of these products," says Leslie Lannebere, category manager at Naturex, Avignon, France (naturex.com). "This has spread to the European market as well. Cucumber, kale, and beet are amongst the most popular vegetables in the beverage segment." Thanks in part to ingredient innovations and creative product development efforts, today's fruit and vegetable beverages are more varied than ever and offer something for everyone.
Demand for Healthful Beverages Grows
As an innovator that focuses on formulating and commercializing beverage products, Imbibe, Niles, Ill. (imbibeinc.com), has a finger on the pulse of what's driving the beverage market, including fruit and vegetable beverages. Both health and wellness and clean label ingredients and products are top of mind. "Consumer demand for ingredients that deliver benefits naturally has increased in conjunction with the growth of the functional food and beverage segment. Both for the nutrients they provide and for the lack of additives (colors, preservatives, etc.) fruit and vegetable beverages that are 100% juice are gaining popularity," says Ilana Orlofsky, marketing coordinator at Imbibe. Manufacturers of fruit and vegetable beverages as well as the suppliers that produce ingredients for these beverages are paying closer attention to the demands of label-conscious consumers. "The clean label craze plays a big role in what's currently popular in all categories, including fruit and vegetable beverages; ingredient statements on 100% juice products may be complete with juice(s) listed as the only ingredient(s), giving these beverages the short, pronounceable ingredient lists that consumers seek," she adds.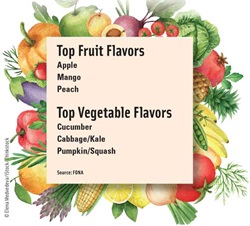 In her tenure working for Imbibe, Orlofsky has found that some products and formulation approaches are more popular than others. "We have seen an increase in the number of clients asking for sparkling fruit juices because of the positive associations with the term 'sparkling' and the shift away from traditional CSDs [carbonated soft drinks], along with an uptick in the use of fruit and vegetable juices as ingredients." There are also clients who want to make claims based on the fruits and vegetables inherent to the product. "Sometimes this may require additional fortification, but the vitamins and minerals associated with an ingredient like vitamin C in oranges will be reinforced, rather than other nutrients added just to deliver more benefits," she says. "While crop variety often requires additional flavor to standardize a product so that it has wider appeal and acceptance, incorporating fewer additives, or more seemingly natural additives remains a priority for our clients." Finally, she says that an increasing number of clients are developing products that are certified organic, so the Imbibe research and development experts work with ingredients derived from organic produce.
Fruit and vegetable beverages come in varieties that include smoothies and juices and in forms ranging from refrigerated to shelf stable. Some can be more difficult to develop than others, but there are ways to overcome the problems. "Developing shelf-stable juices can be quite challenging because certain juices, like citrus juices in particular, have highly volatile flavor compounds, many of which are lost during processing," says Orlofsky. "Other juices, like apple and cranberry, can withstand the harsher heat conditions without losing critical flavor compounds or developing unpleasant off-notes, so shelf-stable varieties are much more commonplace."
Smoothies are also challenging because there's potential for so much variability, says Orlofsky. "And they're also incredibly trendy right now because there's an inherent health halo surrounding them, even though we know that they can also be platforms for high-sugar and high-fat ingredients." Texture is a key quality of smoothies and it varies greatly—thin, thick, creamy, smooth, gritty, and even chunky thanks to bits of fruit—to suit whatever consumers prefer. "We have seen that some younger consumers actually prefer something less smooth, because they associate imperfection with being more authentic, and that resonates with Millennials, especially," says Orlofsky. "Depending on the desired consistency of the finished product, though, there may need to be other ingredients in smoothies, like gums to give it a texture with widespread appeal. Incorporating gums may detract from being able to make a higher juice claim, which could be a challenge if a brand values having as clean a label as possible."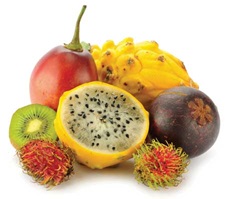 Sometimes it's more than just the type of beverage that poses challenges to the formulation of products. Cost considerations, of course, play a big role. Orlofsky points out that berries and exotic fruits, which are in high demand and widely accepted by consumers, will add to the cost of the product. A strategy to keep the cost in line is to blend juices together, which addresses other aspects of beverage development as well, she says. It can help create a more appealing, desired color in the finished product, mask earthy and bitter notes that come from using certain vegetables, and lower sugar and calories. "Vegetable juices that are less caloric and have less sugar are commonly blended with fruit juices, because finished products can still deliver the 100% juice claim."
Finally, Orlofsky says that developers at the company are working on beverages that consist mainly of a combination of milk and fruit and vegetable juices. They have to take into consideration the fact that in general juices have a lower pH and milks are neutral. "It was pretty difficult to find the right combination of juice level and pH that would allow the fruit flavors to pop yet not destabilize the proteins in the milk. After a lot of work we were able to deliver a stable product that still delivered the nice, true-to-fruit flavors that our customer needed."
Ingredients for Specific Formulation Needs
The ingredients used to formulate fruit and vegetable beverages are not one-size-fits-all. Fruit concentrates, for instance, are a standard in traditional shelf-stable beverage products, used to impart color and flavor even when they are diluted back to single strength, says Dawn Merrill, technical services manager at Kerr Concentrates, Salem, Ore. (kerrconcentrates.com). "A little bit goes a long way, so developers get creative and formulate a lot of interesting blends without sacrificing the cost." The company's fruit and vegetable ingredient tool kit includes several others, each suited to particular beverage formats, allowing beverage manufacturers to develop on-trend products.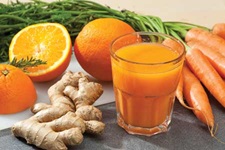 Like fruit concentrates, vegetable concentrates such as red beet, purple carrot, and unfiltered pumpkin juice concentrate are used to provide natural color, says Merrill. "In addition, with the onset of various premium fruit and vegetable smoothies, beverage scientists are working with juice concentrates like butternut squash and jicama, both of which are sweet to neutral in color and flavor." These two vegetable juice concentrates along with pumpkin juice concentrate contribute their inherent sweetness to beverages with "nearly half the calories of traditional filler fruit juices like apple, pear, and white grape." There's also not-from-concentrate juices that are freshly pressed, minimally processed fruit and vegetable juices that Merrill says are "the latest trend in refrigerated beverages." "Consumers want authenticity and freshness, and juices made without adding or subtracting water are all the rage."
Depending on the finished product, beverage manufacturers can choose between purees and puree concentrates. Both provide a "real fruit" experience and texture, with the single-strength purees being used primarily in premium smoothies, says Merrill. Using the puree concentrates can provide cost savings as the concentrates pack in flavor and inherent acidity, she adds. Lastly, Merrill says that manufacturers can use essences to enhance flavor and the top notes in beverages. "They have a distinct advantage in that they are colorless and provide flavor without sugar."
As consumers demand healthier products, Merrill says that product developers will continue to take stealth health approaches in their formulation efforts. "Kerr Concentrates specializes in blending fruits and vegetables together so that you cannot taste the vegetables in the finished application, unless you want to, that is. Consumers are catching on—vegetables are in." This means consumers might find an ingredient like the company's cauliflower puree in fruit-based smoothies or fruit juice blends.
Unfiltered juices are poised to become popular better-for-you fruit and vegetable beverage options. "By skipping the clarification process, [these] beverages contain an authentic, cloudy, homemade appearance, which consumers trust. In addition, unfiltered juices contain some percentage of solids for fiber and other nutrients to help developers make claims—for example, pumpkin juice concentrate for vitamin A and watermelon for lycopene." Speaking of watermelon, expect to see more of it in beverages. "With watermelon trending, we're seeing a demand for puree, not-from-concentrate juice, clarified juice concentrate, cloudy watermelon juice concentrate (unfiltered to yield a red color), and now 6+1 watermelon juice concentrate for a distinctive, fresh, and sweet flavor profile."
Naturex also produces ingredient solutions for beverage manufacturers, with what it calls "wet" ingredient formats designed for use in ready-to-drink beverages and "dry" ingredients for use in instant drinks.
Made from many different types of vegetables, the company's "wet" range of ingredients includes not-from-concentrate juices (both filtered and unfiltered), juice concentrates, and purees. The concentrates, which can be declared as "vegetable juice concentrate" on ingredient lists, allow manufacturers to include vegetable servings in beverages, says Baptiste Demur, category manager for Naturex. "Our thermal and nonthermal vegetable concentrates provide the flexibility to deliver maximum flavor or minimal flavor, whether the beverage has to be vegetable-forward or fruit-forward as fruit juices are combined with vegetable juices in the beverage formula."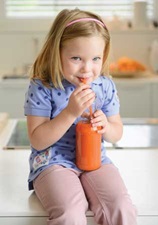 Like the vegetable concentrates, minimally processed single-strength juices also provide fresh flavor and vegetable servings and can be declared as "vegetable juice" on ingredient lists, says Lannebere. Include these in beverage formulations to build a specific flavor profile or preserve top notes. What's more, she says that using these types of juices allows manufacturers to make a "not-from-concentrate" claim. While the company has processed the cold-pressed juices using flash pasteurization—which helps to maintain more of the organoleptic and nutritional qualities than traditional pasteurization—for more than 80 years, it recently developed a new process to safely produce unpasteurized cold-pressed juices, says Lannebere. The nonthermal, nonenzymatic process maintains the freshness, natural colors, and vibrant flavors of the juices, she adds. "Many consumers who turn to 'cold pressed,' HPP [high pressure processed], and fresh beverage products do so as they expect minimal processing to better preserve the original nutritional value of fruit and vegetables than other (thermal) processes more conventionally used in the beverage industry. This fuels the need for unpasteurized cold-pressed juices such as the ones we offer." She continues, "Our unfiltered vegetable juices, which still contain the fibers that are usually removed through filtration, and are consequently seen as healthier options, also help improve the nutritional profile of fruit and vegetable beverages."
Using what he calls "flexible processing techniques," Demur says the company produces vegetable purees in a variety of textures and with differing visual impact. For example, he says fine-tune sieving can determine a particle size that delivers micro-cut products suited for use in smoothie-type products. The purees have simple label declarations, either "vegetable" or "vegetable puree."
Naturex's "dry" ingredients are made from both fruit and vegetable juices and purees that are dehydrated using either spray-drying, vacuum belt drying, or drum drying, which give different results. "Spray-drying delivers only fine powders whereas vacuum-dried products have a crystalline structure that we sieve to a wide range of particle sizes tailored to target applications," says Lannebere. The spray-dried ingredients have good solubility properties and are easy to distribute in powder mixtures while the vacuum-dried ingredients have instant solubility in water, making them suited for use in instant drinks, she adds. Something else she notes is that the ingredients made from juices are clear soluble while the ones made from purees deliver texture and mouthfeel when rehydrated. The company also offers carrier-free versions of the ingredients. "Dehydration of juices and purees often requires a carrier, but we also have a wide range of carrier free–products that can be simply declared as dehydrated fruit/vegetable juices, fruit/vegetable juice powders, or fruit/vegetable solids without any carrier to be declared in the finished product ingredient list."
Opportunities for Sugar Reduction
Fruit and vegetable beverages are delicious and refreshing but they often contain a fair share of calories and sugar. There are several tools that product developers can use to make tweaks to the amounts of calories and sugar in beverages, some even allowing them to lower these by significant amounts while maintaining the taste consumers expect. "Calorie and sugar reduction is a very strong trend in the beverage category," says Demur. "Fruit juices, especially concentrates, are increasingly seen as major contributors to sugar and calorie levels in beverages. Consumers not only pay attention to the fruit serving delivered but care more and more about the actual calories in beverages. In that perspective, pairing vegetable juices with fruit juices in beverages is an excellent way to maintain or increase the fruit and vegetable content while decreasing the sugar levels in beverage formulas."
Choosing the optimal sweetener for a particular fruit or vegetable beverage product, of course, is another way to reduce calories and sugar. "In addition to blending fruit and vegetable juices to lower sugar and calories in finished beverages, there will be an increase in the use of high-intensity non-nutritive sweeteners, especially ones that are deemed natural by the FDA," says Orlofsky. "Stevia-based sweetening systems and monk fruit can be listed as natural flavor on ingredient statements, so they won't be impacted by the added sugars line item on the new Nutrition Facts panel."
Wade Schmelzer, principal scientist at Cargill, Wayzata, Minn. (cargill.com), agrees that there is a growing interest in using these kinds of sweeteners. "With consumer sweetener preferences shifting away from traditional artificial low- and no-calorie sweeteners, interest in stevia and erythritol as sweetening options has continued to grow." He adds that new beverage product launches with stevia or erythritol have doubled in the past six years.
So what are the go-to sweeteners? Ingredion, Westchester, Ill. (ingredion.us), produces ENLITEN Reb A stevia sweeteners that give sugar-like taste profiles with fewer calories and simple labels, and specialty polyols that provide sweetness and bulk with about half the calories, says Afrouz Naeini, senior marketing manager of sweetness at Ingredion. The ingredients Cargill offers includes ViaTech stevia sweetener, which enables beverage manufacturers to achieve optimal sweetness and significant sugar reduction, and Zerose erythritol, a natural, zero-calorie bulk sweetener that looks and tastes like sugar, says Pam Stauffer, global marketing programs manager at Cargill. "Part of what sets the ViaTech portfolio apart from other stevia-based sweeteners is our proprietary taste-prediction model, which can precisely predict which combination of steviol glycosides deliver optimal taste and sweetness." Zerose helps to mask the aftertaste of high-intensity sweeteners and has a higher digestive tolerance compared to other polyols, she adds.
Interest in reducing calories and sugar in fruit and vegetable beverages is expected to increase as the new Nutrition Facts panel is rolled out. "The upcoming changes in Nutrition Facts panels will shift the paradigm for consumers," says Stauffer. "Top of mind will certainly be calories with its larger bold font, but the inclusion of added sugars to the panel will also have an impact on consumer perception and purchase decisions." Expect to see more fruit and vegetable beverage manufacturers explore reformulations around added sugar or calories. "However, while sugar content will continue to be important to consumers, successful new fruit and vegetable drinks must deliver the great taste consumers expect."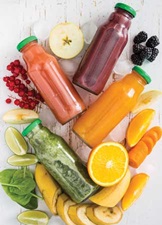 A Texture for Every Beverage
In addition to taste, texture is another key quality that deserves attention when developing fruit and vegetable beverages. "Since many beverages tend to be low in viscosity, texture is even more imperative as subtle differences are easier to detect," says Marshall Weston, beverage technologist at TIC Gums, White Marsh, Md. (ticgums.com).
There are plenty of reasons why texturants are used in fruit and vegetable beverages. They can provide more unique textures, such as textures similar to pulp, or viscosity, says Wen Shieh, technical leader for fruit, beverage, and confections at Cargill, which produces texturants such as pectin, xanthan gum, locust bean gum, carrageenan, instant food starch, maltodextrins, and corn syrup solids. They also have the ability to stabilize other ingredients like protein, enhance mouthfeel for reduced-sugar beverages, deliver emulsifying capabilities, and more.
Various types of hydrocolloids are available to produce and maintain desired textures, says Weston, with gum acacia, pectin, and xanthan gum being especially capable of stabilizing many kinds of fruit and vegetable beverages over long periods of time. To improve the texture of products undergoing a specific reformulation effort, such as sugar reduction, Ingredion's Naeini suggests using starches, noncaloric sweeteners, polyols, gums, and fibers in combination with the company's DIAL-IN Texture Technology. This, she says, helps build back the texture and mouthfeel that can be lost when reducing sugar, giving both the desired sweetness and texture parameters.
Low-pH beverages can be challenging to formulate, and in certain instances, cellulose gum can be used to stabilize protein in these types of beverages, says Weston. Overall, the key hydrocolloids form hydrocolloid networks that will not break down over time in the presence of acid, thereby stabilizing low-pH beverages. "This network is critical at protecting any proteins in the beverage from denaturation, in addition to suspending any insoluble materials such as pulp, seeds, or particulates," he adds.
Specifically, it's the acidic beverages with protein added, especially dairy protein, that are the most difficult to formulate, says Weston. "Protecting proteins from denaturation is a great challenge and often requires a very specific amount of hydrocolloids. Proteins tend to be described by consumers as 'gritty' and 'chalky' in the absence of hydrocolloids and are noticeable when consumed. Adding gums to protect the proteins can balance the texture to minimize the awareness of particulates."
Shieh says that these types of beverages—the ones that combine juice and dairy—are becoming more popular. To keep the proteins from precipitating out of solution in these acidic pH, smoothie-style beverages, product developers often use high-methoxyl pectins that coat the surface of the protein to prevent sedimentation problems. Two such pectin ingredients that Cargill offers are Unipectine AYD and Vitex AYD.
The texture of fruit and vegetable beverages that are made with less sugar and contain fewer calories also needs consideration, mainly because when sugar is reduced, mouthfeel is affected. (Shieh says that consumers will perceive "the mouthfeel of the beverage is lacking.") Cargill's solution to help product developers formulate reduced-sugar beverages that deliver on the expected mouthfeel involves a proprietary technology that uses tribology to shorten product development time. "By incorporating hydrocolloids into low-caloric beverages, we can restore the mouthfeel to the beverage," says Shieh. "Using this advanced technology, Cargill developed the Trilisse QMF hydrocolloids system specifically to support the beverage industry. These proprietary texturizing blends optimize and improve mouthfeel in reduced-calorie beverages."
Less challenging to develop, but still in need of texture enhancement are thinner juices with pulp that solely require suspension and cold-pressed juices, says Weston. For the thin juices, TIC Gums manufactures ingredient solutions that build the network that keeps the pulp from falling to the bottom. On the other hand, separation in cold-pressed juices is desirable and seen as natural to consumers, says Weston. In these beverages, he explains that gums help prevent hard packing of the bottommost layer over time while still allowing the beverage to separate as desired.
Taste, texture, nutrition, and concerns about added sugars—they're all considered in today's formulation efforts of fruit and vegetable beverages. Consumer demands, changing tastes, and the availability of a wider variety of fruits and vegetables continue to shape the category.
Next month's Ingredients section will provide a preview of some of the ingredient suppliers exhibiting at IFT17 in Las Vegas, June 26–28.

Karen Nachay,
Senior Associate Editor
[email protected]