Food Technology issues find new home
Over the years, Fred Cook, a longtime member of IFT, had amassed an impressive collection of Food Technology magazine issues—from 1975 to today. When he began renovating his home and found he no longer had space for them, he reached out to IFT Past President Mary Schmidl to see if anyone at the University of Minnesota could use them. She connected him with University of Minnesota associate professor and IFT member George Annor, who helped Cook donate the collection to the University of Ghana.
"I chose the University of Ghana … because just like many universities in developing regions like in Africa, access to research articles can be a challenge," explains Annor. "In most cases, the books or research articles are old and the cost of purchasing current editions of books or journals are beyond the reach of faculty and students."
The magazines will be available for use at the main library by the Dept. of Nutrition and Food Science students and others studying at U Ghana.
"I looked up the U Ghana website and was very impressed with the variety of programs, the large student enrollment, and the curriculum course listing for the nutrition and food science department," says Cook.
The magazines are currently making their way to Ghana by freight by sea.
IFT Press requests book proposals
IFT Press books, developed in partnership with Wiley-Blackwell and crafted through meticulous research and expert contributions, serve as leading-edge handbooks for industrial application and reference and as essential texts for academic programs. Since this publishing program was created in 2001, IFT has published 43 food science titles on a range of subjects, and IFT hopes to continue to ramp up production in 2017 and beyond.
Do you have an idea for the subject of a future book? Please send any book topic ideas (along with suggested authors and/or editors) or book proposals to David McDade, Wiley publisher, at [email protected]. Visit IFT Press Books for a list of all published titles in the IFT Press series.
Resources for renewing the CFS
Staying on top of the latest advancements in the ever-changing food science field is critical to your career. To reflect this, the Certified Food Scientist (CFS) credential has made the commitment to lifelong learning a pillar of the program. As the fourth anniversary of the launch of the program approaches, many members of the inaugural CFS class are preparing to put their final touches on meeting the renewal requirements.
In order to maintain and renew the credential, all Certified Food Scientists are required to accumulate at least 75 hours of continuing education during their five-year certification period. These hours can be earned in a variety of ways, including food science courses, webcasts, seminars, and workshops. IFT offers many options that are eligible for continuing education, including several opportunities at the upcoming IFT17 event in Las Vegas. To learn more about maintaining and renewing the CFS, please visit ift.org/certification.
WFFC names IFT members to boards
Women in Flavor & Fragrance Commerce named several IFT members to its 2017 national and regional boards of directors. IFT members Alpa Roman (Flavor & Fragrance Specialties) and Marie Wright (WILD Flavors & Specialty Ingredients) were named to the organization's general board of directors.
For the Chicago chapter, IFT member Dafne Diez de Medina (Innova Flavors) was named president, IFT professional member Mary Maile (Innova Flavors) was named vice-president, and IFT member Marissa Piazza (H.B. Taylor Co.) was named secretary. Board members include IFT member Marilynn Kelly (Belle-Aire Fragrances), IFT member Cheryl Udzielak (Givaudan Flavors Corp.), IFT professional member Karen Van Kampen (PLT Health Solutions), and IFT member Kristine Watson (Frutarom USA). For the Cincinnati chapter, board members include IFT professional member Erica Boyd (Givaudan Flavors), IFT professional member Karen DeWitt (Skidmore Sales and Distributing Co.), and IFT member Lew Weeks (Flavor Producers).
IFT's top webcasts of 2016
IFT has assembled its top 10 webcasts of 2016 in one easy-to-navigate place. Top webcasts (according to number of purchases) include "New Nutrition Facts Panel: Implications for Ingredient Suppliers," presented in partnership with the Grocery Manufacturers Assoc.; "New Ingredients & New Opportunities: Formulating with Ancient Grains and Pulses"; "Evolution of the Space Flight Food System"; and "The New 2015 Dietary Guidelines: An Overview and Insights." These webcasts are free for members and range from $50 to $135 for nonmembers; they count for 0.75–1.5 contact hours for Certified Food Scientists and Registered Dietitians and Dietetic Technicians. Click here to view the list.
Journals launch submissions portal
IFT launched a new portal site for submissions to its three peer-reviewed scientific journals. Authors wishing to submit to IFT's two online-only journals, Journal of Food Science Education and Comprehensive Reviews in Food Science and Food Safety, will now do so through dedicated journal-specific ScholarOne Manuscripts sites. Previously, all three journals shared a submission site. The new portal and individual journal sites will make the peer-review process easier for authors, reviewers, and editors.
Click here for more information about the journals and here to submit.
Anderson Partners announces promotions
Anderson Partners recently named Mark Hughes its chief executive officer and Deb Murray its president.
Hughes, an IFT member, has served as the company's president for nearly 20 years. As CEO, he will oversee all of the firm's strategic and developmental decisions and play an active role in strategic branding and planning services for clients. Hughes's previous experience includes 15 years at Bozell Worldwide as senior vice-president of business development.
Murray, an IFT member, has been with the company for 20 years. She most recently served as vice-president and director of client services. She will assume the responsibilities of president and help oversee the day-to-day operations of the firm.
--- PAGE BREAK ---
Poskanzer joins North Cliff Consultants
North Cliff Consultants hired Debby Poskanzer as study manager for sensory evaluation and clinical studies. An IFT professional member, Poskanzer brings with her 30 years' experience in sensory evaluation and consumer insights from the Quaker Oats Co., Conagra, and ADM/WILD Flavors. She is also a member of ASTM E-18 and the Society of Sensory Professionals, and she has presented at numerous industry conferences and workshops. Poskanzer holds a BS in food science from Purdue University and an MBA from Bucknell University.
Chen receives WFFC scholarship
The Women in Flavor and Fragrance Commerce (WFFC) awarded IFT student member Christina Chen its 2017 WFFC Flavor Scholarship Award.
Chen is a student at Cornell University, majoring in food science. She has been selected for two consecutive internships at Takasago International Corp., where she gained valuable experiences in flavor creation, food science, and product development. In 2015, she joined an IFTSA team competition with a challenge to create a calcium-rich food product for women living in the Middle East and North Africa and discovered a way to use egg shells in dough for couscous. Chen has also actively participated in Cornell University's Dairy Products Sensory Team and won the 2014–2015 Ocean Spray product development competition.
---
Getting to Know Russell Keast
Each month, we meet one of IFT's valued volunteers.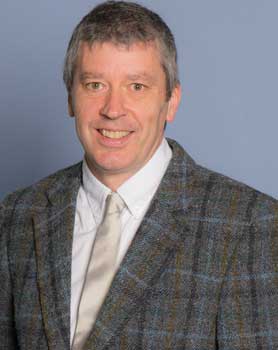 Russell Keast has been a reviewer for the Journal of Food Science for close to 20 years and says that those serving in this role are "vital to maintain[ing] the quality of the journal."
In 2009, he was approached by Beverly Tepper and Herbert Stone to become an associate editor of the journal, a position that he feels has given him the opportunity to hone his critical thinking skills. "You learn a lot by reading research papers, and as a reviewer or editor, your role is to critically evaluate and provide constructive feedback. Professionally, as I work at a university, the practice of reviewing is highly valuable," says Keast, a professor of sensory science and head of the Centre for Advanced Sensory Science at Deakin University in Australia.
Keast explains that one of the key responsibilities of an associate editor is to find appropriate reviewers and provide critical analysis to help the authors maximize the potential of their research. "There is a lot of good science being conducted in food science and technology in universities, research institutes, and industry. We really appreciate receiving manuscripts that are highly relevant to the IFT community," he says.
While reviewing and editing papers can take up a lot of time, Keast maintains that it's important to remember the personal and professional benefits that this work confers upon those who do it, as well as the impact this work has on the end quality of the paper. "If you are called upon to review a manuscript, take it as a badge of honor," says Keast. "Your skills have been identified as being appropriate to critically evaluate research in your area of expertise. Take the time needed to provide a high-quality review: it is appreciated by the editors and especially the authors of the manuscript."
---
Save the Date: IFT17
Registration is now open for IFT17, where 20,000 of the world's top food science and technology professionals will gather in Las Vegas to learn about the latest trends and innovations in food production.
At the IFT Food Expo, the industry's largest collection of food ingredient, equipment, processing, and packaging suppliers will showcase the latest in global food trends. Attendees will see, touch, and taste innovative products and cutting-edge techniques while interacting with the companies producing them—an experience that keeps two out of three participants returning year after year.
More than 100 Scientific & Applied Sessions developed by scientific experts reflect the latest thinking in both the science of food and its applications. In addition, nearly a dozen pre-event short courses cover a range of industry topics. See available courses below and visit bit.ly/IFT17shortcourses for more information.
June 23–25
Preventive Controls for Human Food
June 24–25
Clean Label Product Innovation
Certified Food Scientist Prep Course
Flavor Interactions in Foods
Food Science for the Non-Food Scientist
Formulating for Function: Understanding the Application of Gums and Starches in Food
Fundamentals of Sensory Science
Labeling Requirements and Implications for Foods Marketed in the U.S.
June 25
Sparking Innovation and Creativity
---
Section & Division meetings
Cactus
March 28: Suppliers' night. Phoenix. Click here.
Chicago
March 13: Dinner meeting. Elmhurst, Ill. Click here.
New York
March 22: Dinner meeting. East Hanover, N.J. Click here.
Southern California
March 8: Food industry conference. Anaheim, Calif. Click here.
Western New York
March 28: Food industry expo. Rochester, N.Y. Click here.
---
In Memoriam
Paul Lachance, a scientist responsible for the research and development of aerospace flight food and astronaut nutrition and a professor at Rutgers University, passed away on Jan. 21. Following service at Wright-Patterson Air Force Base, Lachance became the first flight food and nutrition coordinator for the Manned Spacecraft Center in Houston, where he was responsible for establishing the Gemini and Apollo flight food systems. The Manned Spacecraft Center awarded him its Superior Achievement Award in 1967 for his work, including initiating the HACCP system for food safety.
Lachance taught at Rutgers University for more than 40 years and was the founding and emeritus director of the Nutraceuticals and Functional Foods Institute of the Center for Advanced Food Technology. He also served as chair of the Dept. of Food Science and director of the graduate program in food science, among other roles. Lachance had more than 400 publications to his credit and helped develop a program in Guatemala whereby tortillas were fortified with soy, three B vitamins, and vitamin A.
Lachance was the recipient of many other awards, including IFT's William V. Cruess Award for Excellence in Teaching, the Professor Endel Karmas Award for Excellence in Teaching Food Science from Rutgers, and the John C. Hartnett Award for Distinction in Science from St. Michael's College. He earned a BS from St. Michael's College in 1955 and a PhD in biology from the University of Ottawa in 1960.
IFT also notes the passing of the following members: Kathy S. Connolly, Glenn Froning, Kim Green, Antonio Mohino, and Kenneth Royer
Have news to share about yourself or another IFT member? Email [email protected].