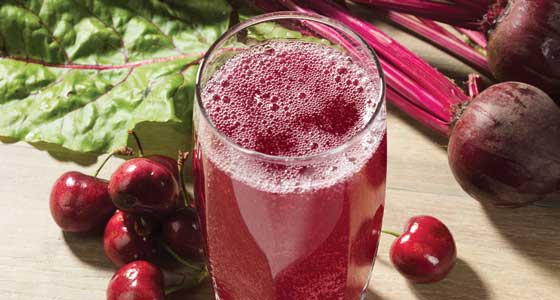 Not only are fruits and vegetables chock-full of beneficial nutrients (the CDC says that a diet rich in fruits and vegetables can help reduce the risk of some chronic diseases), but they also can be transformed into different types of functional ingredients. That's why product developers are considering fruits and vegetables as more than healthy snacks or side dishes. "Fruits and vegetables as ingredients and flavors have been trending for quite some time now—think of the 'fruit on the bottom' claims on the yogurt cups or pieces of vegetables in cream cheese spreads," says Keera Perumbala, marketing associate, sweet and beverage, at Sensient Flavors. "Fruit flavors have become essential in categories such as beer and are even finding their space in coffees. Meanwhile, flavored vegetable chips and kimchis are the ask of the healthy consumer."
What's Driving the Use of Fruits and Vegetables?
The push for clean label is a powerful force affecting all areas of food product and ingredient development. "The clean label revolution has been a multi-step process," says Paul Janthial, global category director—taste at Naturex. "The progressive loss of confidence in processed food is the result of a combination of several factors [such as] more information made available to consumers, new communication channels, food scandals, and the publication of studies pointing out the negative effects of specific additives."
A segment of consumers is carefully reading ingredient labels and becoming suspicious of food additives, says Janthial, leading them to specifically avoid certain additives that they have heard about, to steer clear of products with long ingredient lists, or to purchase products that contain as few additives as possible. This creates an opportunity to use fruits and vegetables as ingredients. "The use of ingredients derived from fruits and vegetables has been supported by this trend, even if these ingredients do not usually act as additive replacers. Indeed, claiming fruit/vegetable content instantly turns the product into a healthier one," says Janthial. "More recently, clean label concerns have evolved progressively into the clear label trend, with more and more consumers raising their level of expectations: the absence of additives is a 'must have' and consumers are now demanding labels that only list ingredients they recognize and would potentially use at home. Claims like organic, non-GMO, and minimally processed are thus increasingly popular as they provide reassurance." A range of certified organic fruit and vegetable ingredients, unpasteurized juices, and fruit inclusions dried on a clean label carrier are among the ingredients Naturex promotes as clean label options.
In addition to clean label, there are a few other factors influencing the growing use of fruits and vegetables in product development. Flavor is one of them, and Millennials are more open to trying new and unusual flavors and flavor combinations. "The sky is the limit" when it comes to combining different fruits and vegetable ingredients to capture the attention of consumers who want new taste experiences, says Baptiste Demur, global category manager—dry F&V taste specialties at Naturex. In fact, incorporating vegetables in juice beverages is almost mainstream, according to Demur, and it's becoming more common for vegetable ingredients to be formulated into ice cream, yogurt, sweet snacks, and confectionery.
Two additional growth drivers are related to health and wellness issues. "Stealth health trends have meant consumers are trying to pack the highest nutritional punch possible into their diet, and nothing is more synonymous with nutrition than vegetable content," says Demur. He points to vegetable ingredients such as powders and juices that are increasingly being formulated into beverage and snacking applications for this reason.
The second driver stems from changes to the Nutrition Facts Label that require inclusion of the amount of "added sugars" in grams and the percent daily value for added sugars on the label. "The FDA's definition of added sugars includes naturally occurring sugars from juice concentrates if they are added to food and beverage products without being reconstituted to single-strength Brix," explains Demur. As a result of these new rules, says Demur, more food manufacturers are moving away from formulating with juice-based dry ingredients to pulp-based, whole fruit ingredients that have a better nutritional composition and do not fall under the added sugars labeling requirement.
Formulating with fruit and vegetable ingredients can pose some challenges due to such things as insoluble particles, inconsistent flavor profile, difficult industrial handling, and microbiological risks, says Janthial. Naturex offers purees, powders, flakes, granules, concentrated and unconcentrated clarified juices, and more, and continues to develop new ingredients to meet the formulation needs of customers. One area of focus is on the specific components of fruits such as polyphenols and vitamin C that offer health benefits, for which the company offers a range of fruit extracts "with a significant natural content in those actives," says Janthial.
Flavorful Fruits and Vegetables
Unexpected applications and exotic varieties of fruits and vegetables are allowing product developers to pack more punch in product formulations. Vegetables such as beets, spinach, kale, and sweet potato are being used in sweet applications like ice cream, while fruits like yumberry, goji berry, prickly pear, and guanabana are turning up in yogurts, says Yashar Shakarami, application technologist, sweet flavors, at Sensient Flavors. Fruits are also turning up in savory applications, especially sauces and soups where the sweetness of fruit helps to balance out a savory profile, says Roger Lane, marketing manager, savory flavors, at Sensient Flavors. "Peach, raspberry, cherry, and blueberry all work well in barbecue sauces or in salsa applications. In soups, with the trend of drinkable soups and juicing diets, fruits are being combined to create more palatable flavors. Watermelon gazpacho, orange carrot ginger soup, or butternut squash and pear all work perfectly."
Fruits and vegetables are still used singularly in products—strawberries in jam, for instance. "The key challenge product developers face is about creating different combinations that are attractive to traditional consumers and also appealing to new flavor enthusiasts," says Leonardo Christol, marketing manager at Kerr Concentrates. "More and more, we can see differentiation on finding ways to promote fruit and vegetable ingredients as it relates to a locally sourced ingredient, a specific origin, or other specific claims that consumers want or identify … with."
One approach that product developers take is to layer fruits and vegetables with other flavors and ingredients to create new taste experiences and appeal to consumers. "Sweet and savory flavors have always been combined, but we're seeing more interesting pairings today," says Lane. Pineapple and jalapeño, and mango and red chili are a couple he mentions. "The other interesting thing we're starting to see is the combination of peppers and dessert flavors—spicy miso caramel and chipotle chocolate come to mind."
Pairing fruits and vegetables with herbs and spices is a great way to add flavor and to appeal to health-conscious consumers. "Herbs and spices such as ginger or turmeric offer functional benefits, making them a favorite with consumers that look for healthy choices and cleaner labels," says Shakarami. "The popularity and prevalence of these kinds of flavors are making some of these a mainstream staple; think of chai, ginger, and pumpkin spice that are making their way into most food and beverage products."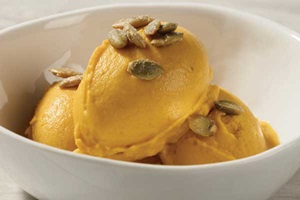 Fruit and vegetable single-strength and concentrated juices and purees in both traditional and trending fruit and vegetable varieties offer product developers a range of options when developing products that grab consumers' attention. Tropical fruits like pineapple and passion fruit are turning up in many beverage products, and cucumber and celery are incorporated in green vegetable drink combinations, says Christol. "We always encourage our customers to try different juice combinations to differentiate their products, such as including vegetable concentrate in a traditionally fruit-flavored product, as we showcased at IFT18 in a Pumpkin Jicama Curry Ice Cream. Formulators can also benefit from a cloudy juice or a puree to create a superior sensory experience and captivate consumers by creating a more authentic fruit or vegetable look in their beverages." In addition to the ice cream that was made with Kerr Concentrates' jicama juice concentrate and pumpkin juice concentrate, the company also served a Cherry Beet Jicama Sparkler made with pear juice concentrate, red sour cherry juice concentrate, jicama juice concentrate, red beet juice concentrate, and red sour cherry essence, and Cucumber and Bell Pepper Relish made with apple juice concentrate. In these trendy product concepts, the Kerr Concentrates ingredients provided functions like flavor, color, aroma, and sweetness.
"When making a puree or a puree concentrate, we simply transform the fruit into an easy-to-handle ingredient that can be used to prepare a pastry filling, an ice cream variegate, or even bring that authentic fruit aspect in a smoothie," says Christol. "Juice concentrates, on the other hand, can deliver a more intense flavor and sweetness profile to many applications, or simply help beverage manufacturers to conveniently deliver a tasty product with recognizable ingredients." Juice concentrates from fruits or vegetables have an increased sweetness due to their higher concentrations of natural sugar, which helps with creating the overall sweetness profile in a formulation, says Christol. He adds that the sugars found naturally in juice concentrates from fruits and vegetables are not considered added sugar when diluted back to single-strength Brix levels.
Another trending flavor across many products categories is smoke, which can come from naturally smoking vegetables and then incorporating them into sauces, condiments, soups, and more. "Smoke appeals to those who are looking to discover new, complex flavors to satisfy their adventurous palates," says Kristie Hung, marketing specialist at Sensient Natural Ingredients. "According to Mintel, smoked flavors are popular in restaurant side dishes, growing 18% in the past two years," Hung continues. "However, recently, smoked flavors are moving beyond restaurant menus, appearing in product segments like snacks, meal centers, and meat or meat analog products. According to Mintel, 37.9% of new products in the snacks segment and 66.7% of new products in the sauces and seasonings segments are using natural ingredients like Sensient Natural Ingredients' smoked onion, smoked paprika, and other naturally smoked vegetables to elevate flavor."
Smoked vegetables can add value to condiments like mayonnaise, ketchup, and mustard, says Hung, where they provide an authentic, gourmet smoked flavor experience for consumers to use in their own meal preparations. Smoked vegetables are also expected in new market segments like cocktails, soups, seafoods, meat analogs, dairy products, and more, she adds. "Vegetarian and vegan products like meat analog appetizers and entrées can also use the natural, single-ingredient smoked vegetables to provide cooked, meaty flavors. Driven by consumers' demand for sophisticated and gourmet flavors, new products are introducing smoke to add a modernistic, gourmet twist to traditional flavors. For example, smoked tomato and black pepper goat cheese log provides a distinguished campfire smokiness and earthy undertones complementing the savory goat cheese log."
Consumers who enjoy cooking can also drive interest in smoked vegetables. "In 2016, 45% of Americans considered themselves 'cooking enthusiasts' and enjoyed cooking at home from scratch multiple times a week," says Hung. "With the rise in popularity of meal kit subscriptions and home cook recipes, home chefs are looking for convenient, simple solutions to elevate dishes. Sensient Natural Ingredients' naturally smoked vegetables can be easily added as a topical seasoning on top of a fish fillet or gazpacho soup, or in a marinade to elevate flavor of a simple meat or poultry dish. Furthermore, you can also incorporate pieces of smoked tomato and onion into salmon patties or beef burgers to emphasize the fire-cooked notes without actually having to put them on the grill."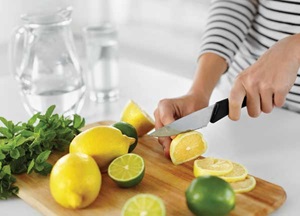 Technology Captures Flavors of Fresh-Cut Produce
When slicing fresh vegetables and herbs, there's an immediate release of intense fresh and green aromas. "The key ingredients utilized by chefs to cue freshly prepared in a dish degrade rapidly, making these profiles challenging to replicate in prepared foods," says Matt McGuffey, regional product manager, savory, for Givaudan. Imagine being able to create food products that have the flavors and aromas of fresh-cut produce. Givaudan makes this possible with its new FreezeFrame technology and Freshness flavors.
"FreezeFrame enables Givaudan to capture and measure the instantaneous release of volatile compounds that 'burst' from these ingredients when processed (e.g., fresh-chopped lettuce or basil or fresh-squeezed lime)," says McGuffey. These volatile molecules degrade through evaporation or oxidation during ingredient and food processing. "This data gives our flavorists insight on formulating flavors that more accurately replicate profiles found in nature." The Freshness flavors developed with the proprietary FreezeFrame technology deliver authentic, true-to-nature flavor profiles that simulate fresh with consumers and help bridge the flavor delivery gap from a fresh, culinary preparation to prepared foods, McGuffey adds. A key trend he noted is consumer demand for fresher-tasting prepared foods, including fruit, vegetable, herb, and spice flavors, and this, says McGuffey, has driven consumers to the perimeters of supermarkets and into restaurants. "CPGs recognize the need to improve the flavor performance of their established brands to address this trend. Our Freshness technology offers a solution to make significant product improvements in this regard."
So far, Givaudan has developed Freshness flavors in lemon, lime, lettuce, basil, cilantro, and parsley. The second phase of flavors includes cucumber, scallions, chive, lemongrass, Thai basil, and ginger, and McGuffey says that these are in the process of being commercialized. "We have a list of fruit, vegetable, and herb candidates that we'll assess by FreezeFrame once the phase two commercialization is complete."
Freshness flavors function in sauces, dressings, dips, soups, crackers, processed meat, and meat analogs. Givaudan scientists developed several product concepts that demonstrate what the flavors contribute. Lemon Basil Vinaigrette delivers the flavors of fresh-squeezed lemon and a more balanced vinegar and sour flavor, while Cheeseburger Potato Chip Seasoning features the essence of lettuce. The herb Freshness flavors help enhance the overall flavor of sauces made from produce like tomatoes. In a marinara sauce product concept, the basil Freshness flavor increased the fresh tomato flavor intensity and decreased flavor intensity that develops in the tomato sauce when it is processed.
Fruit Pieces Reduce Added Sugars
As product developers reformulate foods and beverages to reduce the amount of sugar, they are turning to a number of different ingredients, including ones derived from fruits, to help accomplish this. According to a sensory test, reduced-sugar cookies formulated with JusFruit pieces from Taura Natural Ingredients were perceived to be just as sweet as full-sugar cookies (Vandenberghe 2018).
JusFruit pieces are made from fruit purees, fruit juices, and pectin as a gelling agent, and are dusted with a citrus fiber after the cutting process to prevent them from sticking together, says Els Vandenberghe, product development technologist at Taura Natural Ingredients. She explains that a carrier of apple puree is typically blended with the named fruit, which can be any type of fruit. No sugar is added when making JusFruit. A flavoring can be added depending on what the customer wants. The company produces JusFruit pieces with its proprietary URC (Ultra Rapid Concentration) technology, a dehydration process that concentrates blends of fruit to less than 10% moisture in 60 seconds. "Unique to this technology is that we concentrate the taste and all the goodness of the fruit into our pieces," says Vandenberghe.
The pieces can be incorporated in baked goods like cookies, bread, cakes, bagels, and muffins, and in bars, cereals, and chocolate confections, where they provide little bursts of sweetness when chewed. When the JusFruit pieces are used in dry bakery products, Vandenberghe says that a humectant such as glycerol can be added to lower their water activity so that it matches the water activity of the finished product.
Going Beyond Juice
Is 2018 the "year of the Concord grape" as Welch's Global Ingredients Group has predicted (Welch's 2018a)? "Trendspotting has become a popular activity and, like a lot of companies, when the predictions came in for 2018 we took some time to read through them and see what they could tell us about the year to come," says Kevin Kilcoyne, vice president and general manager of Welch's Global Ingredients Group. "It really struck us just how many of the key trends were relevant to our Concord grape ingredients portfolio. These were trends relating to mindful consumers, cleaner living, innovative flavor experiences, foods that look good on social media, and snackification. In each case, our Concord grape ingredients checked all the right boxes, and it felt like 2018 would be a significant year for us. As the year has gone on, we've continued to see a positive response to our ingredients from the market, underlining that our product offerings are genuinely on-trend and perfect for tapping into the preferences of today's sophisticated consumers."
Ingredients made from Concord grapes include those in the FruitWorx line. FruitWorx pieces are made from Concord grape juice and puree with Taura Natural Ingredients' URC technology. The pieces have the same flavor and polyphenol content as the fresh fruit from which they are made and have more than twice the polyphenols of the leading brand of sweetened dried cranberries and three times as many polyphenols as the leading brand of raisins, says Kilcoyne. The powder is made using a proprietary dehydration process that removes the water from Concord grape juice but retains the flavor and dark purple color, he adds.
Both the FruitWorx pieces and powders and Concord grape juice concentrates and purees are perfect to enhance sweet applications like bakery and confectionery, but they work in savory applications, too, where they add a balanced taste to dressings, dips, sauces, and marinades. "Zesty dressings for salads, sticky grilling sauces for ribs, or delicate glazes for fish dishes are just a few possible applications," says Kilcoyne. Grape ingredients, be they made from Concord grapes or from the company's Niagara grapes, also complement spicy ingredients, giving foods a spicy-sweet taste sensation. "Concord grape ingredients combine wonderfully in spicy, intense fusion dishes," he says. "For a lighter effect, formulators can use our Niagara grape ingredients. Niagara is a golden white grape with a sweet, sophisticated flavor that balances spicy flavors perfectly."
Part of formulating products with fruit and vegetable ingredients is rethinking the ways in which they are used, something that Welch's Global Ingredients Group wants its customers to do with its grape ingredients. "Concord grape ingredients offer an opportunity to put a twist on traditional favorites, which is perfectly in tune with this year's key trends," explains Kilcoyne. "According to Innova, 2018 will see more companies putting a fresh spin on everyday foods. It calls this trend 'Bountiful Choice.' Mintel, meanwhile, has identified a global trend for 2018 called 'New Sensations,' which encompasses 'unexpected' innovations, particularly around texture. These trends tell us that experimentation with ingredients is to be encouraged in order to create products that surprise, excite, and sell. Younger consumers, in particular, are unafraid to seek out novel food and beverage experiences, and delight at seeing previously sacred product formulation paradigms turned on their head. Innovation with wholesome ingredients such as fruit is particularly prized by these shoppers."
Look for more innovation from the company in 2018 and beyond. Kilcoyne says that Welch's just began marketing Concord and Niagara grape juices as cost-effective ingredients for wine (see sidebar on "New Grape Ingredient for Winemaking") and has added apple fruit juice and puree ingredients to its portfolio. A major focus in 2019 will be an increase in organic ingredient offerings.
Next month's Ingredients section will discuss developments in sweeteners.

Karen Nachay,
Senior Associate Editor
[email protected]