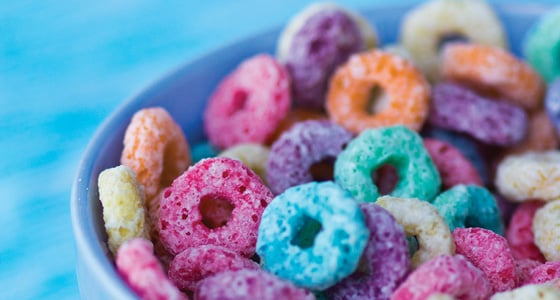 Color Goes Natural
Like other food ingredient categories, the colors area has exploded with new naturally derived ingredients to satisfy the growing demand. A reported 19% of U.S. consumers in 2018 said the phrase "no artificial colors/flavors" influences their purchase decision when buying foods and beverages, according to Innova Market Insights.
It wasn't that long ago that the natural colors available typically had any number of drawbacks. The range of colors was limited and the hues themselves could be muted and not very vibrant. There were issues with shelf life and processing stability. The range of applications in which many natural colors could be used was limited. That sure has changed. In this year alone, some of the newest developments in the category include natural colors in new shades, colors that are more durable during various types of processing, and colors that are more stable in light, heat, and extreme pH levels. For example, there are several newly released natural blue colors, some of which are made from spirulina, a blue-green algae. This source of blue color has increased in popularity among food manufacturers, with a 24% average annual growth of new food and beverage launches globally tracked with "spirulina concentrate," according to Innova Market Insights.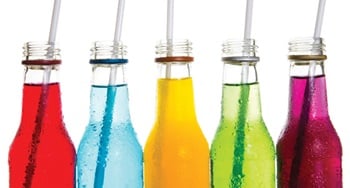 Whether it's vivid blue, deep purple, sunny yellow, rich brown, earthy green, or any other color on the spectrum, the color of a food or beverage drives consumer excitement and purchase intent. "Taste, price, and use of natural ingredients are the strongest drivers to purchase. While color does rank lower on the general list of an initial purchase influence, color is more than just a novelty because color can help an item differentiate itself and attract attention," says Jenny Zegler, associate director of Mintel Food & Drink. "Moreover, the broad range of people who are active social media users, from young teens of Generation Z to their Generation X or Millennial parents, gives colorful food and drink a wide potential demographic appeal. Color can drive purchase for special events, help inspire an impulse purchase, provide a justification for an indulgence, or motivate consumers to visit a restaurant or store to be among the first people to try it."
This fondness for posting pictures of foods and beverages has not gone unnoticed by food product developers and foodservice professionals. "Social media is challenging food and drink manufacturers and foodservice operators to consider appearance as well as ingredients and flavor as key elements when creating a new food or drink," says Zegler. "The appeal of appearance can bring in people and help a certain menu item or product "go viral" based on its initial appearance or surprises included within the eating experience, such as color changing or unveiling of different layers of color."

Suitable Replacements for Synthetics
Color manufacturers continue to develop innovative solutions to replace synthetic colors and bring highly functional solutions to food and beverage products, what Carol Locey, director of product management—colors at Kalsec, calls "an exciting time in the natural color industry." Some of the work involves developing stable blue, red, and yellow hues.
Producing stable natural blue colors involves research on potential sources. Currently, the U.S. Food & Drug Administration is reviewing a petition for the use of aqueous extract of butterfly pea flower. "Containing anthocyanin pigments, this extract exhibits unique properties related to its appearance at differing pHs," says Locey. Another blue color that has been considered for approval over the last few years, she says, is gardenia blue, which has very good heat and light stability. "It is an approved color additive in many Asian countries and would be a valued addition to the permitted additives in the U.S." Blue-colored foods are trendy, but the real value of adding more blue hues to the portfolio of food colors is that blue hues can be used to produce brown shades and modify yellow, orange, and red, she says.
When it comes to yellow hues, there is a gap in the available pigments that are permitted around the world to produce bright yellow colors, says Locey. And there are challenges with some. For example, curcumin, which is derived from turmeric and used as a food color throughout the world, is heat stable but fades when exposed to light, says Locey. "One option is the use of Kalsec's Durabrite Carrot, which provides a yellow hue. Innovative formulations of emulsions have been developed that convert the oil-soluble carrot extract into highly water-soluble natural yellow colors. Longer term, the potential for Carthamus, also known as safflower, for use in beverages, sauces, and aqueous applications would be an important addition to the portfolio of colors permitted by the FDA."
Red hues are used across food and beverage categories. "Colorants for meat analogue products are a hot topic in the industry," says Locey. Her colleague, Jill Puckett, market development specialist, expects to see more innovation and growth in the alternative protein area as products begin to better mimic the bleeding and browning of ground beef burgers.
The FDA in July approved the use of soy leghemoglobin as a color additive in uncooked ground beef analogue products such as vegetable burgers that are sold directly to consumers. The ingredient can give the products a more realistic meat-like color, according to Impossible Foods, which in 2018 submitted a color additive petition to the FDA. A review of other meat analogues in the market finds that popular colorings used are beet, annatto, paprika, and fruit juice concentrates, says Locey, and that these mimic the color of beef, pork, and seafood.
Stable Reds in Low pH Foods
For certain hues derived from natural sources, maintaining the vibrancy and stability during processing and shelf life has been tough. "Red is an important color in food and beverages, and manufacturers have long struggled to find a stable bright red using colors from natural sources," says Dina Dix, applications manager at Chr. Hansen. The company's newest color development promises to give manufacturers plant-based bright red shades that stay stable in a range of products.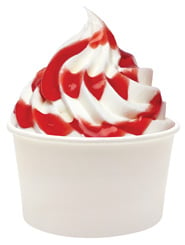 FruitMax Red colors are minimally processed colors best suited for use in low pH applications, including fruit preparations, confectionery, water ice frozen desserts, bakery, and bakery decorations. Unlike other anthocyanin-based vegetable juices, the colors don't contribute off-flavors, have good heat and light stability, and are alternatives to synthetic red colors, red radish, red beet, and carmine, says Dix. Having stable, plant-based red colors as alternatives to carmine (a pigment derived from the dried bodies of certain insects) is especially important to manufacturers of vegetarian and vegan products.
The FruitMax Red colors are derived from the Hansen sweet potato, which the company developed through traditional breeding methods. "The journey began more than 10 years ago when we discovered a promising pigment in a root vegetable's tuber, but the plant's pigment content was on the low side," explains Dix. "We took this plant and embarked on a process of selective breeding using traditional, non-GMO methods."
Chr. Hansen highlighted the FruitMax Red colors in product concepts at the IFT19 food expo and received the IFT19 Food Expo Innovation Award for its work on developing the colors and the Hansen sweet potato. "That was a long journey that proves finding the perfect color begins with the right raw materials," says Dix. "Our R&D team is always investigating any fruit or vegetable source that could provide a good, stable pigment that could be used for coloring purposes throughout the world."
New Colors for Fat-Based Foods
One of the latest color developments is the INFUSION range of naturally based colors and coloring foodstuffs from Roha. The colors and coloring foodstuffs, which were showcased at the IFT19 food expo, are designed for the purpose of infusing their shade into fat-based or fat-containing food applications such as cream, coatings, frosting, and fillings. "One key significance of these products is that these natural raw materials used are normally water soluble and therefore limited in their applications," says Neil Norouzi, global category manager—natural colors at Roha. "INFUSION sidesteps this issue while still maintaining a clean label and excellent stability for the ingredient-conscious consumer." The line includes a blue shade and several shades of green, yellow, and red, and Norouzi says that the company can also create customized shades.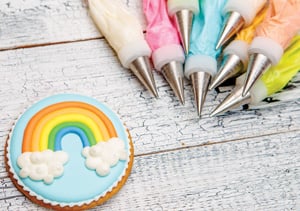 When developing new natural colors, Norouzi says a key is to take innovative approaches to currently available options. "For example, we know that a natural deep red shade for neutral pH-based applications is something that is sought after quite heavily. The question is, how can we work with existing red options such as black carrot to widen their pH stability to meet this requirement? For blues, there are potential new options in butterfly pea and blue corn, however, there are still potential regulatory issues associated with these for the time being, so more work is required."
In addition to its lineup of natural colors and coloring foodstuffs, Roha is a prominent player in the synthetic colors area, which is still going reasonably strong despite the increase in the use of natural colors around the world, says Norouzi. There is still a strong presence in some emerging countries like Indonesia, which has seen growth of more than 20% in the use of synthetic colors over the past four years, and in Mexico, where synthetics have seen more consistent use over the past three years compared to natural colors, says Norouzi, citing data based on research from Mintel.
Brilliant Blues, Rich Reds
Vibrant red shades and high-intensity blue hues made from natural sources are possible with new EXBERRY coloring foods.
GNT Group in August developed a new and improved range of EXBERRY liquid and powdered red coloring foods that offer higher color intensities and do not contain sugar ingredients. They contain just two raw materials, which lets food manufacturers achieve shorter ingredient labels, according to the company. Some of the shades are Vivid Red, Purple Plum, Veggie Red, and Brilliant Pink. They're made from fruits and vegetables, including carrots, blackcurrants, radishes, blueberries, and sweet potatoes. Another benefit of these red coloring foods that the company promotes is that they produce colors that are 50% more intense, so they can be used at lower dosages.

The line of red EXBERRY coloring foods joins a line of EXBERRY blue coloring foods that GNT Group released in June. The blue coloring foods are derived from spirulina and are available in both standard and micronized powder forms. They're offered with a choice of carriers, including maltodextrin or sugar, and the company guarantees that they are trehalose-free. They also will reduce dosage levels by five- to 12-fold versus current liquid or powder options and deliver the same vibrant blue color, according to the company. The new powders add trendy blue hues to decorative coatings, icings, frosting, colored sugars, marshmallows, dragèes, ice cream, frozen desserts, and instant protein beverages.
Next-Generation Natural
Some people are satisfied with just knowing that an ingredient is "natural" or "naturally derived," but others, though, want a deeper dive into exactly how these ingredients are processed. "Consumers continue to move the bar higher to consider a product 'natural,'" says Meghan Fox, marketing specialist for Sensient Colors.
One area that is seeing this, she says, is certified organic foods and beverages. Currently, in the United States the National List of Allowed and Prohibited Substances includes a section of nonorganic ingredients that are currently permitted in organic products, what the food industry refers to as "organic compliant" (McAvoy 2016). The list, which does address color additives, is subject to modifications from time to time, and there are changes coming to the use of these "organic compliant" color additives in certified organic food and beverage products. "Developers should be aware that the National List is set to sunset in 2022, requiring that all products meet certified organic qualifications rather than merely organic compliant in order to bear the USDA organic seal," says Fox.
The industry challenge in the certified organics area is the prohibition of any solvents in the extraction process, which limits botanical colors to those that are water-soluble, explains Fox. A business move on the part of Sensient Technologies promises to offer a solution to this. The company in 2018 acquired Mazza Innovation and its PhytoClean Method water-based extraction technology, which involves a process that concentrates bioactives through pressurizing water at moderate temperatures, increasing the water's ability to solubilize bioactive compounds from botanical sources. "Water-only extractions are critical in producing certified organic food colors," says Fox. "We plan to use this technology to expand our rainbow of certified organic color offerings even further, setting the standard for organic colors in the industry."
Raw Material Supply
With so much innovation in the natural colors segment taking place, might this affect the amounts of raw materials needed to produce these colors? One expert says that the supply of natural raw materials could be a concern if demand continues to grow, but there are steps that color manufacturers can take.
"In the natural color area, some raw materials such as paprika, turmeric, or black carrot are used in large quantities and an increase in demand can be easily anticipated. For other newer pigments it is important for the color supplier to have a strong understanding of the raw materials they use (for example, their seasonality and geographic area of growth) and robust sourcing and supply chain policies," says Nathalie Pauleau, global product manager natural colors at Naturex, now part of Givaudan.
The company draws on its experience in sourcing and developing natural extracts for the food industry in a sustainable way, says Pauleau. "For example, in the production of our Vegebrite Ultimate Spirulina, we use sustainable water management practices and organic-compliant cleaning procedures to ensure a 100% natural, clean label friendly solution."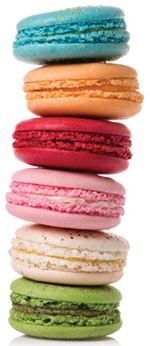 Speaking of Vegebrite Ultimate Spirulina, the color is an extension of Naturex's blue and green colors derived from sustainably farmed microscopic spirulina algae, says Pauleau. The trehalose-free natural blue coloring foodstuff is produced using a clean extraction process that Naturex developed at its facility in Avignon, France, she adds. It comes in both highly concentrated liquid and instant powder forms for ease of use, and it creates bright blue hues in confectionery, bakery decorations, ice cream, and sorbet.
In addition to this recent development, Pauleau says the company is currently extending its line of organic natural colors to include orange and blue along with its existing pink, red, and yellow colors.
Colors From Carotenoids
Lycored, which is known for its research on and development of carotenoid-based colorants, offers a range of red to yellow and orange-spectrum colorants extracted from its own custom-bred tomatoes (for red shades) and its own strain of Blakeslea trispora, a mold species that is high in carotenoids (for yellow and orange shades).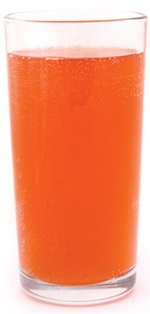 "Every shade is focused on quality, stability and giving a stellar performance at every stage of development, from process to consumer," says Tammi Higgins, global business unit head, colors and real food ingredients at Lycored. They are tested for stability across multiple applications including flavored waters, UHT-treated dairy drinks, carbonated and juice-based beverages, hard-coated confectionery, cheeses, prepared fruits and syrups, yogurts, fortified gummies, and surimi seafood, she adds.
"There is a long-standing perception that natural colors are harder to work with than artificial alternatives. We are working towards dispelling that perception," says Higgins. Some of this work includes developing colors that withstand manufacturing and storage conditions such as UHT processing, varied pH and fat levels, light and temperature extremes, extreme shelf-life conditions, and migration of color in some applications.
"In challenging areas such as UHT processing, our ConstantCrimson A and ResoluteRuby A are ideal options for red berry-flavored milks, withstanding UHT processing conditions and light exposure," says Higgins. ResoluteRuby A also functions in higher-fat systems such as meat and similarly in vegan meat alternative products.
One of the colorants remains stable in yogurt. After conducting an observational time-lapse study, Lycored determined that its ConstantCrimson C will not migrate into the white mass of yogurt, says Higgins. Another colorant, SteadfastScarlet A, can be used to develop unique shades like blood orange, watermelon, and pink lemonade for beverages.
GoldHold A Dry is one of the more versatile colorants in Lycored's beta-carotene–based range, says Higgins. "This fine, free-flowing orange powder is easy to use, dispersing well in both milk and water and enables formulators to create pleasant golden shades across a range of flavor types and applications. The colorant is taste neutral, non-GMO, allergen-free, kosher and halal, and suitable for vegetarians and vegans." GoldHold A Dry can produce pale to dark yellow/orange shades in dairy-based beverages like milkshakes and protein shakes and in icing and bakery products.
Insights Into Improving Functionality

"For a long time, natural colors were difficult to use and sometimes failed to achieve vibrant hues," says Maria Jose Alarcon, product experience marketing manager—colors at ADM. "Today, new sources and technologies have allowed for more creative applications to give consumers the experiences they crave." To meet this demand, the company developed a range of colors and color-enabling technologies, patented emulsions, and micronized colors.
"ADM is continuously searching for new raw materials and sources of colors to develop new products and bring innovative solutions to the industry," says Alarcon. "Our colors and flavors are designed to work synergistically with other ingredients to deliver the color, taste, function, nutrition, and labeling consumers prefer while meeting developers' needs for cost, quality, and sustainability."
For example, in the United States the company's Colors from Nature line features acid- and heat-stable naturally sourced colors. One in particular that Alarcon mentions is a patented blue color derived from fruit juices that is stable at every pH, which makes it applicable to almost every type of food. "Our color experts can also combine this unique blue with other colors to make purple, green, and brown color blends for a complete, creative palette that meets consumer demand."
Next month's Ingredients section will discuss nuts and nut-based ingredients.
REFERENCES

Brockman, C. 2019. "You Heard It Here First: Purple Foods." Mintel blog, March 12. https://www.mintel.com/blog/food-market-news/you-heard-it-here-first-purple-foods-healthy-and-instagrammable.
McAvoy, S. 2016. "Raising the Standards of Organic Food Coloring." Sensient Colors, October. https://sensientfoodcolors.com/en-us/regulatory/raising-standards-
organic-colors/.