Diving for the fruit at the bottom of your yogurt? Does fruit-covered cheese cake make you feel less guilty? Are you tempted by the fruit n'spicy sauces of Island cuisine? If so, you're not alone. Americans are in search of a "fruit fix," and savory marketers are following suit! In fact, HealthFocus tells us that fruit tied vegetables last year for the top spot for dietary changes—52% of grocery shoppers said they increased their consumption of fruits and vegetables, followed by poultry (40%) and whole grains (39%).
Peaches, cherries, strawberries, lemons, avocados, and pineapples enjoyed significant increases, according to the U.S. Dept. of Agriculture's Economic Research Service report, "A Century of Change in America's Eating Patterns." The report confirms that Americans ate 80 lb more fruit, 5 lb more melons, and 30 lb more non-citrus fruits in 1998 than in 1919. Per-capita consumption of fresh and processed fruit was estimated at 295 lb, compared to 416 lb of vegetables.
Fresh fruits remain the preferred form. According to HealthFocus, 76% of shoppers reported eating fresh fruits twice a week or more, 22% fruit salads, 16% canned fruits, 13% fresh grapefruit, and 11% frozen fruits.
Fruit still topped the list of desserts eaten at in-home suppers last year (23.3%), followed by frozen desserts and cake, according to NPD Group's National Eating Trends Service. On NPD's list of the "Top 10" most frequently served dinner side dishes, fruit ranked 5th behind the long-time meal staples vegetables, potatoes, salad, and bread but above rice, chips, and rolls! Most important, NPD reports that more fruit is being brown-bagged to work and eaten at home for lunch and breakfast (see figure). Fruit drinks are increasingly being served with dinners, up from 5.0% in 1999 to 5.8% in 2000!
We can't talk about fruit without talking about health. In the Packers' Fresh Trends 2001 consumer study, 81% of consumers said they were addressing a health issue via their food purchases. Reducing fat (72%) topped the list, followed by maintaining weight (60%), losing weight (56%), increasing fiber intake (56%), and lowering cholesterol (49%). One in ten said they increased or started consumption of one or more fruits to lose weight.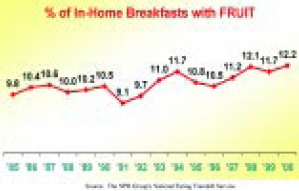 Bananas (21%) topped the list of fruits consumers have started eating or increased for health reasons, followed by apples (17%), oranges (24%), strawberries (8%), grapes (6%), peaches (6%), and cantaloupe (5%). Conversely, apples (19%) topped the list of fruits most prone to consumer food safety concerns, followed by grapes (17%), strawberries (15%), peaches (10%), bananas (8%), raspberries (5%), cantaloupe (4%), and blueberries, watermelon, and pears (3%).
But it's not just health that is driving the fruit trend. The ongoing shift in American culinary practices to those of the Far East has created a demand for lighter ingredients, sauces, and flavors and fresher-looking foods. The popularity of Caribbean, Floribbean, and Island cuisines has created unprecedented interest in cooking and grilling with fruit, along with renewed interest in citrus fruits, pineapple, and a host of tropical varieties.
And with the increasing emphasis on presentation, combining textures and tartness, fruits have become an integral tool for chefs at all levels. From fruit chutneys to fruit-based salad dressings and high-heat glazes and sauces, the demand for fruit products for foodservice will continue to escalate. Watch as stir-frys and salads highlight more fruit; hearty meats and poultry get smothered with chunked fruit sauces and fruit dips; fruit and cheese platters and fruit fondues gain in menu status. Chefs will reek havoc by substituting tropical and other nontraditional fruits in cobblers, pies, and pasta and using fruit as a basis for cocktail mixes. Last, expect more exotic varieties and all-American varieties grown in specific regions to become menu differentiators and flavor descriptors.
Let's face it. Fruit not only makes food look and taste good, but it makes us feel good about what we are eating. According to HealthFocus, 42% of shoppers always or usually choose foods because they are made with fruits and/or vegetables, and 24% of shoppers always or usually make changes to their favorite recipes to increase the vegetable or fruit content, compared to 37% who rarely or never do so. Manufacturers would be wise to highlight and promote the fruit content of their product. After all, fruit is a powerful cue for health, good taste, and unparalleled eye appeal!
by A. ELIZABETH SLOAN
Contributing Editor
President, Sloan Trends & Solutions, Inc.
Escondido, Calif.