This past June, Archer Daniels Midland Co., Matsutani Chemical Industry Co., Ltd., and Matsutani America Inc. formed a joint venture to support the worldwide sales and marketing of the food ingredient Fibersol-2™. The partnership combines ADM's production facilities and transportation network and Matsutani's technical and scientific expertise.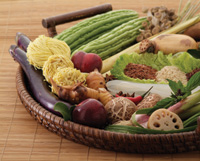 These companies are far from the only ones forming such alliances as a way to leverage products in the marketplace, combine research and development resources, or expand portfolios. In the months leading up to the 2006 IFT Annual Meeting + Food Expo®, many of the exhibiting companies took part in acquisitions or mergers or in the formations of joint ventures and alliances. Several of these will be discussed further in this article.
Also, as Don Pszczola began in his Ingredients article on page 75, I, too, will take part in "sampling the expo" in addition to bringing you the latest in ingredient developments.
Cognis to Start Global Cooperation with Wild
A global cooperation agreement in the field of food applications has been started between Cognis Nutrition & Health, LaGrange, Ill. (phone 800-328-6199, www.cognis.com), a worldwide supplier of innovative chemicals and nutritional ingredients, and Wild Flavors, Inc., Erlanger, Ky. (phone 859-342-3600, www.wildflavors.com), a leading supplier of flavor systems, flavors and extracts, fruit and vegetable preparations, colors, juice concentrates, and seasoning blends. The two companies, which have formed separate agreements for Europe and the U.S. markets, will be jointly developing new products and systems.
Within the framework of this cooperation, Cognis ingredients will be incorporated into Wild's flavor systems and fruit preparations. The cooperation combines Cognis' comprehensive portfolio of emulsifiers, compounds, and functional ingredients such as plant sterols, natural mixed carotenoids, natural lutein esters, natural-source vitamin E products, and conjugated linoleic acid with Wild's expertise in developing innovative formulations and mixing systems.
According to Dave Eckert, Vice President of Cognis Nutrition & Health, "Wild's formulation expertise combined with Cognis' broad range of ingredients create infinite opportunities to help our customers develop foods and drinks that taste great and offer a wide range of health benefits. Our newly formed team of global experts have unprecedented resources to produce customized formulations with ingredients from Cognis and Wild for a wide range of consumers needs."
--- PAGE BREAK ---
The two companies will work closely together in marketing and sales. Under the cooperation agreement, there will be a particular focus on the beverage, nutritional bars, sweets, and ice cream industries. Other market segments will be included as well, however.
Cognis also recently acquired Napro Pharma AS, a Norwegian manufacturer of high-quality omega-3 fish oils for the nutrition industry. This transaction will further strengthen Cognis' standing as a leading supplier of natural-source ingredients sold around the world for the dietary supplement and functional food markets.
Flavors Amuse the Taste Buds
At its "Theme Park for Your Taste Buds," David Michael & Co., Philadelphia, Pa. (phone 215-632-3100, www.dmflavors.com), served up prototypes that featured a variety of its flavors.
Focusing on Asian flavors, which continue to grow in popularity among product developers and culinary professionals, the company served two noodle salads that were flavored with the flavors typically used in the cuisine of certain Asian countries. The Southeast Asian rice noodle salad contained Natural & Artificial Lime Flavor "Kaffir Leaf Type" 28302 and Natural & Artificial Basil Flavor "Thai Type" 28387. The cold Asian noodle salad was flavored with Natural Toasted Sesame Flavor WONF 21107 O.S., Natural Ginger Flavor WONF 25782, Artificial Peanut Flavor 27439, and Natural Flavor Toner "Rice Vinegar Type" 15767.
Beverage manufacturers wanting to combine new flavors with traditional ones might want to follow David Michael's example of blending peach and raspberry flavors with more exotic ones such as carambola (starfruit) and açai in white and rooibos tea drinks. The pear-flavored white tea drink, raspberry açai-flavored rooibos tea drink, strawberry pear-flavored rooibos tea drink, and carambola peach-flavored white tea drink featured the company's tea extracts and natural flavors.
To help the attendees keep cool in the Florida heat, the company offered a "Double Cap" cappuccino hazelnut ice cream bar. This treat featured two of the company's Michael Cap® 3D encapsulated flavors in cappuccino and hazelnut, along with a coffee flavor. If that was not sweet enough, a milk and white chocolate blackberry red tea truffle flavored with Natural Red Bush Tea Flavor WONF 29346 and Natural Blackberry Flavor WONF 28545 was offered.
--- PAGE BREAK ---
Cargill Broadens Ingredients Portfolio 
Attendees cooled off with an ice cream, Orlando in June Refresher, that featured the expertise of the Degussa Food Ingredients business recently acquired in April by Cargill, Inc., Minneapolis, Minn. (phone 952-742-6000, www.cargill.com). Cargill's new partnership provides food developers with a broad range of texturizers, emulsifiers, flavor systems, and blends from one source, which can be used to produce better-tasting, healthier, and more convenient foods and beverages.
"The Degussa Food Ingredients businesses complement our existing food ingredients business and create new opportunities for Cargill to better support our customers in producing great-tasting, healthy, and convenient foods and beverages," said Paul Hillen, Vice President of Cargill Food Ingredients and Systems North America.
Cargill's booth was organized by category with innovative food prototypes for sampling in each area. In addition to the ice cream prototype, Cargill showcased a variety of other prototypes in the baking, beverage, snack, cereal, and dairy categories. These product concepts demonstrate how market trends and consumer insights can be translated into tasty, innovative products that address consumer needs.
Some of the other prototypes featured at the Cargill booth included a no-sugar-added yellow cupcake. Here, developers worked to overcome the off flavors often associated with sugar replacers and the inconsistent variations in crust color and texture. Its SweetDesign™ BK blend of acesulfame potassium, erythritol, isomalt, neotame, polydextrose, and sorbitol was optimized for taste and functionality to help produce a cupcake with the firmness and sponginess of a traditional full-sugar cupcake.
Removing or reducing fat in many products poses challenges for food manufacturers. Taste, texture, shelf life, and other product attributes can be affected. Tortilla manufacturers that do not use lard in their products want solutions to replace current fat systems while maintaining the functional benefit of anti-sticking properties when packaged. Through experimental design with various fat system blends and ratios, Cargill developed a tortilla system with 0 g of trans fatty acids that did not sacrifice anti-sticking properties no matter what size or color of the tortilla was desired. The Terrific Tortillas contained Tortifina® Shortening, Horizon Milling Flour, and Cargill Sugar.
Cargill's new employees from the Degussa Food Ingredients business used their dairy and frozen food expertise to develop a kosher yogurt that combined all-natural stabilization with probiotic bacteria and natural tropical flavors. Using Vitex® AYS Series Stabilizer Blend (pectin and tapioca starch), Cargill All-Natural Flavors, and Cargill Sugar helped to create a yogurt that has enhanced creaminess and sheen, excellent shear resistance, good flavor release, and excellent syneresis control. The Yogurt Divine also contained Oliggo-Fiber® Inulin and SBIfidus BATL-RAM Cultures.
Protein bars often harden prematurely. Cargill developed a patent-pending process that enables food developers to formulate protein bars that are significantly softer at any point in the shelf life of the bars as compared to products currently available. In this process, the protein structure retains water instead of repelling it. The company showcased its Protein Blend, Xtend™ Sucromalt, Wilbur® H-449 Confectionery Coating, and other ingredients in a Peanut Butter Protein Bar.
--- PAGE BREAK ---
New 'Diehl' in the Making
Diehl Food Ingredients Inc., Defiance, Ohio (phone 419-783-4345, www.diehlinc.com), has been formed through the asset purchase of Diehl Inc., Defiance, Ohio, by Highlander Partners L.P., Dallas, Texas. The new company manufactures and markets powdered ingredient systems based upon proprietary processes and applied technology.
"This transaction will serve as the first acquisition of several planned in the food ingredients area," said Charles A. Nicolais, President and Principal of Diehl Food Ingredients. "We now have a strong platform through this acquisition and we intend to build upon it by leveraging Diehl's operations along with the financial skills of Highlander Partners. The technical and manufacturing skills of Diehl are what really attracted us to this acquisition."
Diehl will use its experience in the food ingredients industry to assist customers with developing new products.
"We look forward to re-introducing Diehl to customers and showing them how our flexible manufacturing, broad formulation knowledge, and new technologies can help them create considerable value in their final products," added Dennis Reid, Vice President of Sales & Marketing.
As part of its "Diehling in Health" theme at the IFT Food Expo, the company provided information and showcased several ingredients that focus on product functionality and health needs. Its non-dairy and dairy-based creaming agents enhance mouth feel and viscosity, are rich in flavor, have a milky character, and add opacity to a variety of food systems.
The company also showcased its line of powdered fats, which includes dried fats made from a variety of source oils. Its whip topping and dessert bases, which are dry bases made from a variety of oils, add whip volume and improved structure, stability, and texture to dessert-type food products. A line of spray-dried and blended specialty powders were developed for specific customer applications such as beverages, soft-serve ice cream, and seasoning blends or other dried food systems requiring a powdered delivery form.
A chocolate-flavored drink powder, Choc-o-creme 180025, produces a low-cost alternative to chocolate milk when mixed with water and sweetener. It is also cholesterol free and has the mouthfeel and taste of premium chocolate milk. A trans-fat-free creamer, Jerzee Vend C 171307, provides high creaming ability in beverage applications and is a 35% fat powder.
--- PAGE BREAK ---
P.L. Thomas Forms Alliance
P.L. Thomas, Morristown, N.J. (phone 973-984-0900, www.plthomas.com), and Polifenoles Naturales S.L. (Polinat), Las Palmas, Spain, recently announced a strategic alliance to develop and market one-of-a-kind ingredients for the food, beverage, and nutraceuticals markets. P.L. Thomas supplies bulk food and nutraceutical ingredients and Polinat specializes in the research and development and production of ingredients with therapeutic benefits.
"PLT is proud to work together with Polinat S.L., a company with a commitment to innovation, dedication to research and development, along with standard of maintaining the highest level of quality control methodology, thus assuring a superior and safe product," said Paul Flowerman, President of P.L. Thomas.
Currently, the company markets a wide range of Polinat's fruit extracts.
Survey Confirms 'Eating Well, Living Well' Approach 
Food-ingredient solutions that reflect an "Eating well, living well" approach were showcased by Kerry Ingredients, Beloit, Wis. (phone 800-334-4788, www.kerryamericas.com).
The company also unveiled results from its 2006 Kerry Health & Wellness Survey which sampled 2,837 respondents for their attitudes on health. The nationally representative survey was conducted in conjunction with A.C. Nielsen Center for Marketing Research and the University of Wisconsin-Madison.
According to the survey results, obesity, heart ailments, and diabetes remain primary health concerns, along with conditions related to aging and stress. When examining purchase behavior, the survey found that 64% of respondents indicated that, aside from taste, products that "give them energy" were very or extremely important. Sixty-four percent of respondents also indicated they purchased "at-home" foods that contain antioxidants.
"Every research study shows taste is the number-one driver of foods. Our survey confirms that, but it also validates consumers' growing interest and awareness for healthful foods," noted Randy McIntyre, the company's Senior Vice President of Strategic Development. "The concepts we're showing at IFT offer not only nutritious and functional attributes for everyday health, but also deliver indulgent flavor profiles today's consumers demand."
In response to the health issues raised in the survey, Kerry specifically developed several prototypes that reflected its theme. Kerry's encapsulated omega-3 powder sourced from marine oil was featured in a Cheddar Cracker with Encapsulated Omega-3. Here, an encapsulated process protects marine oil against taste deterioration due to lipid oxidation, maintaining the stability of the product and preventing any off flavors. The cracker also has a creamy mouthfeel.
--- PAGE BREAK ---
In another prototype that featured an encapsulated ingredient—Milk Chug with Encapsulated Plant Sterols—Kerry demonstrated how its encapsulation technology enables the rapid dispersibility of sterols, delivering a high-sterol-loading product for a variety of food and beverage applications without affecting taste or texture. The encapsulated sterol ingredient is stable in acid systems.
A lean sausage made from boneless, skinless thighs—Mango-Habañero Chicken Sausage—featured custom-blended meat seasonings and custom flavors, including habañero pepper, chipotle pepper, and flavors associated with Caribbean and Mexican cuisines. It was served with a cooling pineapple-rum ice.
For product developers looking for a flavorful breading with added health benefits, Kerry showcased a bakeable, crunchy, whole-wheat breading in an Herbal Citrus Whole Wheat Crusted Chicken. The breading on this boneless, skinless chicken breast strip contained whole grains and fiber. What's more, the breading is bakeable, meaning that developers can avoid the added fat and calories associated with fried foods. A seasoning blend of kola nut, guarana, ginkgo biloba, Korean ginseng, and natural citrus flavor crystals added an energy boost and flavor kick to the chicken. A blood orange-tamarind dipping sauce was served on the side.
Popcorn is a healthy snack, provided it is not soaking in butter and oil. So it goes without saying that plain popcorn needs a little help. Kerry featured a seasoning with ginger and a small amount of wasabi on popcorn. This exemplified the use of the growing trend of using non-traditional flavors in snack foods and also showed how food developers could create a healthful product that is full of flavor.
Corn Ingredients Aid Label Claim
A new line of corn bran ingredients said to help product developers earn a "good or excellent source of dietary fiber" claim on nutritional labels by increasing fiber content is available from Grain Processing Corp., Muscatine, Iowa (phone 563-264-4265, www.grainprocessing.com). An added benefit is that the ingredients will help to maintain the texture and flavor normally associated with indulgent-type foods.
The two ingredients, TruBran™ F75M and F75R, are made from corn hulls, which are washed and heat-treated, dried, and ground, and differ only in particle size. This golden yellow corn bran has a shelf life of approximately six months and is suitable for use in applications such as snacks, cereals, nutrition bars, and baked goods with levels ranging from 1% to 30%.
--- PAGE BREAK ---
The company showcased these ingredients in two prototypes available for sampling. A cranberry oatmeal breakfast cookie, formulated with TruBran F75R, provided a "good" source of dietary fiber and was trans-fat free and made with 100% whole grains. According to the formula sheet provided by the company, the ingredient is used at 3.98% by weight. The cookies also contained Inscosity® B656 modified food starch to provide moisture retention, improve the freshness of the finished product, and enhance the raw dough freezer stability and Maltrin® M100 maltodextrin to assist in controlling sweetness and balancing the flavor and add desirable texture qualities.
The second prototype, a cranberry-orange muffin, also contained TruBran F75R, which was used at 4.50% by weight. According to the company, the prototype was a "good source of fiber" which helped to enhance the healthy aspect of the muffin. The ingredient mixes in readily in an application such as this one, helping to avoid extra processing steps. As in the other prototype, this one was formulated with Inscosity B656 and Maltrin M100.
Purac Performs Balancing Act 
Purac America Inc., Lincolnshire, Ill. (phone 847-634-6330, www.purac.com), presented its "Cirque du Balance" to emphasize the balancing act between taste, safety, fortification, and function that food formulators must take.
The balance of clear appearance and clean taste are important in flavored waters. Visitors to the booth were invited to create a customized, enhanced water beverage by selecting and mixing the mineral mix and flavor of their choice. The mineral mix featured Puracal® calcium and mineral lactates and gluconates.
The company offered a tossed salad with Caesar dressing, which showed how its Purac lactic acid affected the taste of the product. Balancing ingredients in prepared food formulations can be tricky, and Purac offers lactic acid and other ingredients to help address shelf life, pH regulation, flavor improvement, and improved food safety.
Its Purasal® Plus potassium lactate helps to achieve color stability and extend shelf life without affecting flavor, as illustrated in grilled marinated chicken.
The company featured two new ingredients. A sodium lactate powder, Purasal Powder S98, contains a higher assay of sodium lactate and less flowing agent, and is useful in ground beef, pork, turkey, fresh sausage, seasoning blends, and protein formulas with a water limitation. A potassium lactate, Purasal Plus, contains a high assay for antimicrobial and food safety properties, has a clean flavor, and is highly concentrated.
--- PAGE BREAK ---
Seasoning Blends Offer Flavors of Asia
Southeast Asia, once a mystery to Western nations, has slowly begun opening lines of communications and forging trade relations. Countries which have had tenuous relations with the West in the past are opening their boarders to trade and tourists. As this happens, people in the West are exposed to new cuisines and flavors.
People from Vietnam, the Yunnan Province of China, Myanmar (Burma), Laos, Cambodia, and Thailand—known as the Mekong River Region for the 2,610-mile-long river that flows from Tibet to Vietnam—often have preferences for similar tastes, and their cuisine is known for containing hot, sour, salty, and sweet flavors. Griffith Laboratories, Alsip, Ill. (phone 708-371-0900, www.griffithlaboratories.com), featured the flavors of this region in a variety of seasoning blends and marinades as part of its Culinary Technovations, customizable cuisine and food technology programs that identify emerging food trends and science and develop new product innovations. Some of the flavors include orange, lemon, clove, soy, ginger, fennel, Szechuan pepper, anise, cinnamon, melon, coconut, cilantro, and licorice.
One of the highlights was chili-scented lemongrass beef, called thit bo nuong in Vietnamese. Here, tender slices of flank steak were marinated with Basic Southeast Asian Marinade #501-0579, topped with a spicy and aromatic Vietnamese seasoning blend (Aromatic Vietnamese Topical Seasoning #501-0582), and flame-grilled on skewers. Generally, it is served with rice or noodles. The marinade is a building-block base note with hints of soy, ginger, and garlic, and the seasoning blend contains notes of sesame, lemongrass, and red chilies. A sample of the topical seasoning and a recipe for the beef was available.
'Culinary Label' Meat Flavors Available
For product developers looking to add high-impact meat flavors without the addition of typical food flavoring ingredients on the ingredient deck, Innova, Oak Brook, Ill. (phone 630-928-4811, www.innovaflavors.com), launched a new line of Robust® Ultima™ "culinary label" meat flavors. The company developed these flavors to support the industry's growing emphasis on intensively restrictive labeling, or "culinary label" flavors, while still having use in many applications.
Launched under Innova's Robust Ultima product line, the new "culinary label" meat flavorings enhance the natural flavor of many food products without adding to or altering the ingredient label. The flavors, which are derived from meats, are natural, non-genetically modified, and free of allergens, monosodium glutamate, disodium inosinate and guanylate, yeast, carriers, hydrogenated fats, hydrolyzed vegetable/plant proteins, emulsifiers, and starches.
--- PAGE BREAK ---
"The new Robust Ultima 'culinary label' flavors meet the needs of today's consumers by offering high-fidelity, true-flavor impact in a natural flavor without changing our customers' ingredient statement," said Brian Glickley, Marketing Manager. "Based on natural ingredients, the new flavors are versatile enough to be used in a wide variety of applications to include a signature taste without adding to the customers' ingredient declaration."
Consumers are increasingly demanding healthier foods that have different tastes or flavors, especially those perceived as "ethnic" or "global." Innova showcased the Robust Ultima flavors in a variety of Mediterranean-inspired dishes from Spanish and Moroccan regions. This type of cuisine is often thought of as being healthier because of the use of olive oil, fresh vegetables, and lean meat.
Blue Pacific and GC Hahn Develop Prototypes
Blue Pacific Flavors, City of Industry, Calif. (phone 800-248-7499, www.bpflavors.com), recently entered into a strategic solution partnership with GC Hahn and Co., which is a privately held specialty stabilizers and emulsifiers manufacturer. This alliance will jointly develop a variety of dairy, soy, and other food and beverage concepts featuring Blue Pacific's flavors and GC Hahn's stabilizer systems.
Two product solutions developed through the alliance were introduced during the IFT Food Expo. The first is Lumiere, a dairy-based aerated dessert mousse that contains no fruit and is flavored with Natural Philippine Mango Flavor WONF and Natural Red Peach Flavor WONF. The second is Mangosteen Smoothie, which is a 20% acidified milk and 10% fruit juice blend. This hot-filled product featured Blue Pacific's StabilEase Natural Flavor Enhancer and Natural and Artificial Mangosteen Flavor and GC Hahn's proprietary stabilizer system. Blue Pacific will continue to develop natural fruit flavors and prototype smoothie formulas that use the StabilEase technology, and it can now incorporate GC Hahn's stabilizer technology into these prototypes.
--- PAGE BREAK ---
Phosphate-based Ingredients Introduced
ICL Performance Products LP, St. Louis, Mo. (phone 314-983-7940, www.icl-perfproductsslp.com), introduced two new phosphate-based ingredients at the IFT Food Expo. The first was Levona™, a leavening agent that is calcium-enriched and contains no sodium. This ingredient enables food manufacturers to formulate products that can carry phrases such as "low sodium" and "a good source of calcium" on the label without compromising flavor, volume, texture, and convenience. Blueberry muffins formulated with Levona were available for sampling.
The second ingredient introduced was Benephos™, a reduced-sodium phosphate technology that provides beverage formulators with the ability to market shelf-stable beverages that are lower in sodium. Beverages formulated with this ingredient have enhanced microbial stability. Also, the ingredient aids in the stabilization of proteins, minerals such as calcium, and color and enhances flavor.
ICL Ltd., Tel Aviv, Israel, increased its phosphates business late last year when it acquired Astaris, which manufactured specialty and food phosphoric acid and phosphate salts largely for the North American market. Up to that point, ICL had a strong presence in Israel, Europe, Asia, and South America, and the acquisition allows it to expand into new markets. The former Astaris business operates under the name of ICL Performance Products. Its complete phosphate product line includes thermal phosphoric acid, phosphate salts, phosphorus and derivatives, purified phosphoric acid, phosphate salts, and phosphate-based food additives.
Grain-based Ingredients Provide Function
Several lines of grain- and starch-based ingredients that deliver a wide range of flavors, colors, textures, and functions in food, beverage, and pet food applications made their debut at the IFT Food Expo.
Briess Malt & Ingredients Co., Chilton, Wis. (phone 920-849-7711, www.briess.com), introduced Organic BriesSweet™ Tapioca Maltodextrins, which are available in two dextrose equivalents: 3DE and 10DE. These agglomerated white powders flow freely, have increased dispersability, dissolve easily, and have neutral flavor and low sweetness. Pure organic tapioca starch is treated using a natural enzymatic process to produce these ingredients. They function as a carrier of bulking agents for dry-blend applications; increase viscosity; add gloss and body in such products as dressings, glazes, and jams; and improve viscosity, mouthfeel, and lubricity to mimic fat in low- or reduced-fat applications. What's more, they act as a binder, coating agent, extender, filler, gelling agent, thickener, and stabilizer.
The company added three new styles of gluten-free syrups to its line of natural sweeteners. Tapioca, white rice, and white sorghum syrups join the line which includes brown rice syrups, malted barely extracts, and malted milk powder. All were displayed at the company's booth. BriesSweet Tapioca Syrups, which are enzymatically produced, are available in four dextrose equivalents: 28DE, 42DE, 45DE High Maltose, and 63DE. BriesSweet White Rice Syrup is available in 45DE and BriesSweet White Sorghum Syrup is available in 45DE High Maltose and 60DE. The sorghum syrups are produced from the grain of the sorghum plant, not the cane, and have a slight sorghum flavor and aroma.
--- PAGE BREAK ---
The tapioca and white rice syrups are useful in bars, bakery, cereal, confectionery, ice cream, beverages, and other products, where they act as a binder, enhance ferment-ability and browning, improve viscosity, help prevent sugar crystallization, act as a foam stabilizer, improve humectancy, and produce sheen. Because these two syrups have a neutral flavor, they are a useful sweetener in foods where no flavor impact is desired.
To commemorate its 130th anniversary, the company produced Briess Anniversary Malt. It is a light-colored, mild flavored, low-protein pilsner-style malt that produces smooth wort with low astringency. The company's roots go all the way back to Moravia, Czechoslovakia, where in 1876 Ignatius Briess, a grain exchanger by trade, began malting barley grown in Moravia. Eventually, the family business was moved to the United States, where the company produces more than 50 styles of base and specialty malts, heat-treated grain ingredients, and natural sweeteners.
Lonza Acquires Larex Business
Lonza Group, Allendale, N.J. (phone 201-316-9200, www.lonza.com), recently acquired the assets of Larex Inc.'s larch arabinogalactan business. This transaction includes intellectual property, proprietary processing technology, manufacturing operations in Cohasset, Minn., certain inventory, customer lists, and other aspects of the business.
Larex is the exclusive North American vertically integrated manufacturer of the nutritional compound larch arabinogalactan, a natural soluble fiber extracted from harvested larch trees. It is extracted and purified through a patented and proprietary process and is used in human and animal nutrition, personal care, and industrial applications.
With the acquisition of the arabinogalactan business, Lonza continues to expand its portfolio of nutrition businesses and will help to complement and broaden its existing product line.
Whey Protein Meat Alternative Debuts
Grande Custom Ingredient Group, Lomira,Wis. (phone 800-772-3210, www.grandecig.com), showcased a variety of whey ingredient for use in a wide-range of products. The newest ingredient, Grande TWProtein™, which will be commercially available in the second half of 2006, functions as a whey protein meat alternative to create a final product that has the texture and flavor of a conventional meat product, something that is critical to consumer acceptance of the product. As an added bonus, the ingredient also helps to increase protein and reduce fat levels in the final product. It is useful in vegetarian, low-fat, high-protein, athletic, and other specialized nutritional foods applications.
For functional control in sauces, soups, dressings, and processed meats, Grande Bravo® whey proteins help improve the texture of these foods. This line of ingredients binds water, improves creaminess, decreases syneresis and purge, and enhances emulsification and stability.
--- PAGE BREAK ---
An ingredient derived from whey using proprietary methods, Grande Gusto®, is said to accentuate different flavor notes when used at various levels and mask bitter, soy, and metallic notes. It adds savory flavors to meats, soups, and sauces and enhances chocolate, caramel, and buttery flavors in bakery and confectionery products. Additionally, it replaces MSG, HVP, and other chemically modified ingredients.
Sorbate Line Celebrates 50 Years
For 50 years, Nutrinova, Frankfurt, Germany (phone +49-069-305-5753, www.nutrinova.com), has produced and marketed its Nutrinova® Sorbates line of potassium sorbate and sorbic acid.
"We will invest further in our production site in Frankfurt, Germany, and continue to develop the advantages that our sorbates offer," said Eckart von Haefen, President of Nutrinova. "Nutrinova is well positioned to supply its products to an ever broader range of market segments that demand high-quality products."
Studies conducted for the company compared the effects of different blends of carbohydrate sweeteners and high-intensity sweeteners, such as the company's Sunett® and sucralose in strawberry and lemon/lime flavored non-carbonated beverages. A non-carbonated beverage sweetened with sugar was used as the standard. According to the company, strawberry flavors in particular seem to be sensitive to changes in the sweetening system and that using Sunett in combination with sucralose supports aromatic and fruity notes. A blend of Sunett and aspartame yielded more acidic notes.
The tests showed that Sunett works well as a single sweetener when used in the lemon-lime-flavored beverage. Adding small amounts of sucrose helped to improve the flavor even further. There were no significant differences between the control and beverages that contained either Sunett/sucralose or Sunett/aspartame. The blend of Sunett and sucralose resulted in a "good tasting" solution regarding the beverage's flavor and sweetness profile.
Sunflower-based HVP Adds Savory Notes
In 2005, Oterap Holding BV purchased the Exter business, which included the sales and manufacturing of HVP, from DSM Food Specialties. Oterap continues to market the HVP activities under the Exter brand and company name.
As a result of the transaction, the business, Exter Aroma, Zaandam, Netherlands (phone +31-75-6700041, www.exteraroma.com), introduced its clean-label bouillon flavor (HVP), which is derived from sunflower. The ingredient, Exter CL, delivers a savory taste and is allergen free, non-GMO, 100% vegan, and E-number free. It can be used to add savory notes to soups, sauces, meat, snacks, and ready-to-eat meals. This clean-label sunflower-based ingredient is available in a basic meaty bouillon taste in powder and paste forms. Exter can also develop flavors like chicken, beef, pork, and vegetable, with variations like boiled, roasted, and grilled on request.
Whey Functions in Hot Dogs
According to Dairy Management Inc., Rosemont, Ill. (phone 847-803-2000, www.dairyinfo.com), whey concentrates and isolates increase cook yield, reduce syneresis, improve texture and emulsifying capacity, and enhance organoleptic characteristics while providing cost savings to meat processors. DMI presented a technical session, "Utilizing Whey Proteins in Regular, Reduced Fat and Fat-free Hot Dogs," in which it presented findings of a DMI-supported study. The study showed that the addition of 1% whey protein concentrate and 1% whey protein isolate improved cook yield and water binding and reduced purge without altering the color of the regular fat, reduced fat, and fat-free hot dogs. DMI concluded that whey proteins can be used in the modification of current and the development of new and improved meat products.
--- PAGE BREAK ---
SAMPLING THE EXPO
Savory Snack Bar Features Soy Sauce
When you think of snack bars or nutrition bars, usually what comes to mind is a sweet product. Kikkoman International Inc., San Francisco, Calif. (phone 415-956-7750, www.kikkoman-usa.com), featured the IQ savory smart bar, a salty twist on the traditionally sweet product category. The bar (30 g) contains 135 mg of sodium. This salty snack bar is flavored with Kikkoman Dehydrated Soy Sauce and Kikkoman Natural Flavor Enhancer and is made with whole grains and vegetables. The soy sauce adds a meaty flavor to the bar.
Malt Provides Chocolate Flavor
A combination of two specialty malt ingredients—Chocolate Malted Barley Flour and Caramel 40L Malted Barley Flour—from Briess Malt & Ingredients Co., Chilton, Wis. (phone 920-849-7711, www.briess.com), produced a cocoa-free brownie. This prototype demonstrates the intense flavor and color contributions that specialty malt ingredients deliver to foods and beverages. Specialty malts are malts that have been more highly dried then standard malt to develop additional color and flavor. Those flavors can range from intense malty to nutty to caramel to chocolate.
Dried Plum Use Gains Popularity
California Dried Plum Board, Sacramento, Calif. (phone 916-565-6232, www.californiadriedplums.com), featured items that showcased dried plum's functional properties as a fat replacer, moisture binder, texturizer, and anti microbial agent. A chocolate truffle contained dried plum powder as a fat replacer. The recipe was first developed for the Dried Plum Board by Gale Gand, Executive Pastry Chef and Partner of Tru, Chicago, Ill. The high sorbitol content of dried plums has been shown to mimic some of the textural characteristics of fat and the malic acid content functions as a flavor potentiator. In the truffle filling, the dried plum powder was used at 12.67%. The second item showcased is actually being marketed by the Dakota Lamb Growers Co-operative. The frozen ground lamb patties were available in chili lime and Greek Islands flavors and contained 17 g fat/patty. The dried plum in the patty functioned as a moisture binder to help prevent the meat from drying out during cooking.
Flavor Enhancer Beefs Up Applications
Nikken Foods Co., St. Louis, Mo. (phone 636-532-1019, www.nikkenfoods.com), introduced its new wheat-free, non-GMO Natural Flavour Enhancer (7203), a blend of naturally fermented soy sauce, salt, and yeast extract spray dried on a maltodextrin carrier that is a replacement for HVP and MSG. The ingredient can be used in gluten-free processed foods, and it is effective in soups, gravies, and sauces. Nikken demonstrated the functionality of this ingredient in vegetable stock, with one sample made for chicken and poultry applications and another sample for beef applications.
Silica Keeps Ingredients Flowing
Huber Engineering Materials, Havre de Grace, Md. (phone 410-939-7210, www.hubermaterials.com), presented its entire line of inSight™ food-grade precipitated silica and silicate at the IFT Food Expo. This line included precipitated silica and silicate ingredients for use in the preparation and processing of powdered foods, spice blends, and beverage mixes. Precipitated silica and silicate are used as anti-caking and free-flow agents and as carriers. Silica also functions as a processing additive to increase machinery throughput and minimize downtime due to caked ingredients and build-up.
by Karen Banasiak,
Assistant Editor
[email protected]