For all you potato heads out there, the largest potato pie ever made weighed in at 11,858 pounds (or, if I calculate correctly, nearly six tons). This exciting or "spudsy" creation was displayed in the Peruvian province of Callao in 2004. Considering its size, I guess it would need a whole province just to contain it.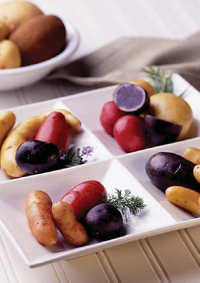 Although this event probably has nothing to do with the rest of this article, I thought it might make for a colorful way to begin our "spuds story" or, if you will, "potatopus" (that's potato opus, in shortened form). Interestingly, when you consider that in recent months I've written about such related topics as diabetes management, whole-grain breads, and better-for-you pastas, you might wonder how you reconcile the content of those Ingredients sections with such a starchy vegetable as potatoes. (As you may recall, it wasn't that long ago when potatoes were in the doghouse during what came to be termed "the low-carb craze," when hamburgers were sold without buns and pizzas without crusts.)
Well, it's not that difficult actually. The effect that a potato has on your diet is dependent on several factors. The amount of potato you eat would be one consideration. How the potato is prepared would be a second one. And what you eat with that potato would be a third one—the total amount of calories, as is true with everything else you eat, should be of major concern. As some studies suggest, even if you're following a specific regimen for managing weight or controlling diabetes, it's quite possible to include potatoes in that diet.
This, of course, is good news when you consider the long history of the potato, its versatility in so many foods, its resilient popularity, its ability to withstand price inflation in a difficult economy, and what is especially overlooked—its nutritional value.
A tuber, the potato (Solanum tuberosum) had its origins in the mountainous regions of Peru several thousand years ago—its cultivation is believed to date back to 500 B.C. This vegetable is a member of the nightshade family of plants (Solanaceae), which includes the tomato, red pepper, tobacco plant, and egg plant. (Its scientific name Solanum is derived from the Latin word solamen, which means soothing.)
Historically, the potato was a staple of the Inca Indian diet; Spanish explorers took it to Europe in the 16th century; and the first permanent potato patches in the U.S. were established in 1719. (One eyenote to this tale: French fries were introduced to the U.S. when Thomas Jefferson served them in the White House during his Presidency of 1801-1809.) And today, after this long and still-evolving history, the potato has become the world's fourth most important food crop (the others being wheat, maize, and rice). World production of this food exceeded 325 million metric tons in 2007.
Although the U.S. produces only 28% of the world's mass of potatoes, it is one of the largest consumers of this vegetable per capita at 126 lbs, of which 52 lbs are frozen; 41 lbs, fresh; 18 lbs, chips; 14 lbs, dehydrated; and 1 lb, canned. Potatoes must be popular when you consider that we have a toy named after a potato. Not even pizza can make that claim. And, furthermore, several days out of the year have been singled out in honor of the humble potato. These include Potato Chip Day, March 14; French Fries Day, July 13; Julienne Fries Day, August 12; Potato Day, August 19; Potato Day, October 27; and Vichyssoise Day, November 18. If you count Tater Day, which is reserved more for sweet potatoes, that's a whole week just for celebrating spuds.
There are many different varieties of potato—russet being the most widely used one in the U.S. High in starch, light and fluffy when cooked, russets are ideal for baking, mashing, frying, and roasting. Other varieties include reds, whites, fingerlings, blues/purples, yellows, and while not exactly a variety, new potatoes as well. Alas, the sweet potato is not a potato, as I will discuss in my blog post, which appears below.
--- PAGE BREAK ---
The potato can be used in a variety of ways. As a side dish, it can complement the main entrée—for example, meatloaf. Compared by some to a blank slate, potatoes can effectively work with a wide range of different flavors and ingredients. Furthermore, formulators are adopting different strategies that can upscale the concept of the side dish, creating new relationships between the potato and its many partners. A potato icing on a meatloaf cupcake or potatoes rolled up in an omelet or potatoes and eggs in a tortilla are some examples that will be further discussed in this article.
Potato can be used as a main ingredient in the creation of a variety of international foods ranging from pierogi to latke to German potato salad. But given the influence of emerging cuisines, some of these recipes have been modified so that they may not exactly be the kind that your grandmother was familiar with in her kitchen. What's more, a wider range of previously unfamiliar ethnic products (from places like India and South America) are penetrating the marketplace.
Also, let's not forget the use of potatoes in the snack market. New flavors and textures, better-for-you oils, and reduced-sodium solutions—along with specialty potatoes and the distinct colors they bring—are just some of the factors that can influence the formulating of today's potato-based snacks.
And potatoes, of course, can be used as a source for ingredients such as starches, including resistant starch, fiber, and even nutraceuticals.
This month's Ingredients section will do some k.p. duty as we peel a few spuds in our examination of what's new with potato-based derivatives, emerging applications using potatoes, different flavor pairings, and the potato's sometimes overlooked nutritional properties. And since "one potato, two," the title of this potato piece, is a hand-clapping rhyme, clapping is optional as you read this article, although I think the potato deserves its fair share of applause in any case.
Potato Potpourri
French fries, latkes, chips, pierogi, mashed potatoes, and salads…these are just a few of the more traditional formulations in which potatoes can be showcased. However, the use of potatoes is expanding into other less familiar territories, as food manufacturers—driven by the benefits of this tuber—take advantage of the many different forms of the potato that the industry provides. These may include potatoes that are fresh, chilled, pre-cut, dehydrated, or frozen; and a variety of different versions—preseasoned skin-on products, roasted potatoes, wedges, seasoned dehydrated flakes, pre-cut frozen potatoes, chunks, and whole miniature potatoes with delicate skins, just to name a few. Also, specialty potatoes, such as Red Bliss, Purple Peruvian, and Yellow Finn can help brighten the formulation with their colorful appearance. This section of the article will look at how different potato forms are being utilized in an array of applications, making them more "spudsy" in the process.
Take, for example, a pizza with potatoes. A pizza chain restaurant, Pizza Inn, The Colony, Texas, launched the Loaded Baked Pizza, which features sliced potatoes; a ranch dressing base; a mozzarella, bacon, cheddar mix; and a sprinkle of chives. This "culinary sensation" was the winning recipe of the company's 2010 Culinary Challenge. A pizza chain, Topper's Pizza, is said to cater to the college crowd with pies such as the Potato Topper which, according to the company, tastes like a loaded potato, and Hangover Helper Pizza, made with Canadian bacon, green peppers, potatoes, bacon bits, and mozzarella and cheddar cheeses. This chain, with restaurants in Wisconsin, is planning to add 30 locations in Chicago by 2012. And for those who like pizzas that reflect a more international kind of taste, zpizza, Irvine, Calif., features Chicken Curry and Yam, with mango chutney, raisins, and cilantro. These kinds of pizzas may inspire frozen pizza manufacturers.
--- PAGE BREAK ---
In 2009, I tasted my first meatloaf cupcake with mashed potato frosting (I ate about a dozen or so) at the Innovation Roadshow held by David Michael & Co. Inc., Philadelphia, Pa. (phone 215-632-3100, www.dmflavors.com). These heat-and-eat mini-meatloaf treats put an interesting twist on the traditional pairing of meat loaf and mashed potatoes and could be served as appetizers, entrees, or as a meal on the run. Savory cupcakes have become increasingly popular over the past few years. Basic American Foods, Walnut Creek, Calif., a supplier of branded dry potato products to foodservice, created a variety of savory cupcake ideas using its ingredients. For example, Bacon Hashbrown Cupcakes is made with Golden Grill Russet™ Premium Hash Brown Potatoes blended with bacon, sour cream, roasted red bell pepper, and fresh chive and incorporated into a cornmeal muffin mix. Meatloaf Cupcake for Kids consists of 85% fat-free ground beef mixed with uncooked oats and topped with Potato Pearls, shredded cheddar, and ketchup. The Meatloaf Bakery, a caterer in Chicago, rethinks the pairing of meat loaf with mashed potatoes with recipes such as chorizo-spiked El Loafo del Fuego. Using mashed potatoes as icing, meatloaf can be refashioned into a number of shapes—bite-sized "loafies," single-serving cupcakes, and even full-size layer cakes. Different flavor accents ranging from hot sauce to salmon can also be added.
The pierogi arrived in the U.S. at the beginning of the 20th century from Eastern Europe and these "smileshaped pockets" were stuffed with ingredients such as mashed potatoes. (To celebrate this comfort food, October 8 is named National Pierogi Day.) This classic comfort food may be seeing some sophisticated updates. For example, an unconventional potato pierogi, made with goat cheese and prosciutto in a leek and morel sauce, was a winning development in a student recipe contest sponsored by the U.S. Potato Board, Denver, Colo. (phone 303-369-7783, www.potatogoodness.com). Furthermore, pierogies such as potato can be used in a number of recipes that reflect different international tastes, according to Mrs. T's, a leading producer of pierogies. The company supplies recipes that include Asian-Style Pierogies with Beef and Vegetables, Pierogies with Italian Sausage and Peppers, and Southwest Chili Pierogies.
Being of Polish ancestry, I still associate potato with Eastern European dishes; however, dishes using potato are coming from all parts of the world and these influences are helping to create new makeovers on how we perceive the potato. Peru—a far place from Poland—can provide such dishes as causa rellena (a kind of stuffed potato) or papa a la Huancainna (potatoes in spicy cheese sauce). Indian cuisine can contribute potato samosas, a pastry shell filled with spiced potatoes. Traditionally patatas bravas from Spain consists of fried potatoes that are sautéed in a spicy tomato sauce; however, different adjustments are possible—potatoes can be roasted, small new potatoes can be used, wedges and other shapes can be applied, and even the sauce can be served on the side as a spicy accompaniment.
Or how about a potato taco? The U.S. Potato Board provides several such recipes, including Quick & Healthy Chili and Lime Chicken Potato Tacos and it variations—Chicken Verde, Turkey and Red Chili, and Soy Chorizo and Vegetable. All four taco recipes are under 250 calories and offer 7 g of fat per serving. The addition of the potatoes also increases potassium and vitamin C levels without sodium, fat, or cholesterol. Recommended potatoes are Yukon Gold or red potatoes, cut into bite-size cubes. The organization also provides a colorful formulation for potato nachos.
We've all heard of Vichyssoise or cold potato soup. But other novel potato soups have potential on the menu. Take, for example, the winning recipe from the U.S. Potato Board's "See Your Spuds in the Spotlight" recipe contest, which was featured in Family Circle magazine. The recipe, Creamy Potato Leek Soup with Tangy Tarragon Drizzle, is visually distinctive and tasty, and offers a healthy profile.
Chefs from leading foodservice and retail chains recently met at the Culinary Institute of America in Napa Valley for a custom seminar centering on the use of potatoes in Mediterranean-inspired cuisine. During the seminar, held by the U.S. Potato Board, applications were developed that demonstrate the potential of potatoes on a menu. Some examples included Salad with Potato Medley, Potato Crusted Goat Cheese, Potato Risotto, Potato Chips Strips, Gnocchi Tart with Purple Potato Puree, Caramelized Cauliflower and Potato Soup, and Chicken Sausage with Potato Chanterelle with Wilted Greens.
--- PAGE BREAK ---
Potatoes in a variety of forms are offered by Idahoan Foods, Lewisville, Idaho (phone 208-754-8046), as solutions for foodservice, retail, and industrial/ingredient users. Diced potatoes, which have a hearty homemade appearance and flavor, can be a key component in potato salads, soups, stews, chowders, hash, salads, and other products. Crispy on the outside, they provide a moist baked flavor inside. Potato shreds may be used in shredded hash browns, potato pancakes, casseroles, side dishes, and soup. These high solids provide a pleasing full potato flavor, have heat retention, and are available in long, fresh-cut shreds. Potato slices have application in soups, salads, and casseroles, and may be served alone as an alternative to conventional fries or bagged chips. These 1/8-inch-thick slices provide a pleasing potato flavor and are very versatile. Potato flakes are suitable for creamy, fluffed mashed potatoes; as a thickener in soups; and as a versatile ingredient in other formulations. Potato flour may be used as a thickener, baking ingredient, binder, breading, and an extender. This flour adds creaminess to frozen desserts and body to broths, stews, and gravies. It can be mixed with other flours to add moisture and extend shelf life of baked goods; can provide a golden crunchy crust either alone or mixed with cornmeal or crushed cornflakes; and can help extend hamburgers, fish, or vegetable patties while maintaining their juiciness.
Simplot Food Group, Boise, Idaho, provides potato product solutions to the foodservice industry and major restaurant chains. For example, Skincredibles Baby Potato Skins, made from a special variety of baby Russets, are bite-sized potato halves that are already scooped. These individually quick frozen baby skins need minimal preparation work, and can help inspire creative appetizers, gourmet snacks, and other items. Imagine eye-catching toppings such as Gorgonzola Mashed Potatoes; Shrimp and Herbed Cheese; Pork Carnitas; and Artichoke, Crab, and Jalapeno. Other potato products from the company include RoastWorks® Flame-Roasted Southwest Blend (diced potatoes, onion, flame-roasted red peppers, and flame-roasted green bell peppers) for ethnic-inspired breakfast items; Flame-Roasted Potato Medley; Rosemary Roasted Redskins; Herb & Garlic Roasted Russets; and other products.
Depending upon the type of potato used and its specific flavor and texture properties, food manufacturers are expanding the use of the potato, creating a number of exciting opportunities in categories ranging from snacks to soups. Further literature is available from the U.S. Potato Board providing detailed information on the numerous forms of potatoes and how they can be tailored to specific applications.
Handling Hot Potatoes
Potato is a key ingredient in many snacks such as potato chips. However, consumer concerns regarding salt or fat can create potential "hot potatoes" for food manufacturers. Here are some different ways that formulators are using to make potato-based formulations better for you.
Potato-based pellets ideal for potato crisps are available from J.R. Short, Kankakee, Ill. (phone 800-544-8734, www.shortmill.com). Micro-pellets are compression-puffed into potato crisps (vs traditional chips that are fried or baked), which significantly reduces the fat content. This is an important product characteristic as consumer demand for better-for-you snacks increases.
"We can reduce the fat content in the snack but still retain the taste profile that's best for classic topical chip flavors such as barbecue and sour cream and onion," said Terry Gieseke, the company's Director of Sales and Marketing. "So you have a great-tasting chip without all of the fat."
Another nutritional advantage is the ability to control the amount of fiber a snack contains. "Since our potato-based snacks are formulated with pellets vs a potato slice, we can manage the fiber content," said Gieseke. "We can increase the nutritional characteristics of a potato crisp served in school cafeterias, for example."
The company's potato-based pellets also give snack manufacturers options for new product development. In addition to the popular potato crisp, they are available in a variety of shapes such as rings and crinkle fries. Vegetables such as tomatoes or spinach can also be added to the potato-based formulation, further expanding the possibility for new products.
--- PAGE BREAK ---
Omega-9 oils, developed by Dow AgroSciences LLC, a subsidiary of The Dow Chemical Co., Indianapolis, Ind. (phone 317-337-3000, www.dowagro.com), can help produce healthier fried potato products. These oils—a combination of high-oleic and low-linolenic fatty acids—offer superior health, performance, and flavor attributes. With these oils, chefs can get the same functionality as their previous solutions, along with several added benefits. For example, they provide zero trans fat, in addition to the lowest saturated fat among zero trans fat oil alternatives. More than 70% high in monounsaturated fat, these healthy oils have a light, clean taste that does not interfere with food flavors.
The omega-9 oils are naturally stable, allowing for superior performance in demanding foodservice environments. According to a rotational frying study conducted by the University of Lethbridge, they can last up to 50% longer than partially hydrogenated soybean and other commonly used oils. Furthermore, The Restaurant Company(TRC), a large Arby's franchise with a high output of fried foods including waffle and curly fries, reportedly switched to Omega-9 canola oil, extending fry life from 7 to 11 days. The company also realized a cost savings of 15% to 17% per week with the transition.
A high-diglyceride oil, developed by Caravan Ingredients, Lenexa, Kansas (phone 800-669-4092, www.caravaningredients.com), may be used for potato frying. Part of the Trancendim family, the oil in potato frying produces a product with zero grams of saturated fat, decreased saturated fatty acids, and the necessary structure to prevent freezer clumping and crumbing. Additionally, the oil has no impact on finished product sensory attributes. According to the company, the oil allows for a cleaner label by removing palm oil and hydrogenation.
Snacking can also be made healthier with flavor systems from Wixon Inc., St. Francis, Wis. (phone 414-769-3000, www.wixon.com), that can reduce sodium or sugar in the formulation. For example, in potato chips, KCLean™ Salt looks, tastes, and mimics the texture of regular table salt while reducing sodium content and removing bitter, metallic aftertastes. Sweet Lift has a synergistic effect with sugar that enhances perceived sweetness in any snack application using sugar. The company offers a prototype BBQ Baby Back Ribs Potato Chips that are made with Sweet Lift & KCLean Salt. Sweet flavors of honey, sugar, and tomato combine with the zest of Worcestershire, smoke, and chili peppers, creating a tangy chip that reduces sugar by 34% and sodium by 38%. This prototype formulation was highlighted at the 2010 Snaxpo, along with two others made with KCLean Salt—Cheeseburger Potato Chips (with beef, cheese, onion, tomato, mustard, and flame-grilled flavors) and Skillet Scrambler Potato Balls (a mix of cheese, bacon, and egg flavors infused with roasted garlic and smoked paprika).
As demonstrated by these prototypes, new flavor profiles can be developed that can help make reduced-sodium or reduced-sugar snacking more attractive. "The snack category has become an innovation playground when it comes to flavors," noted Kim Holman, Director of Marketing for Wixon. "You can go to the snack section and find new flavors before they reach other categories. And potato snacks are a great compliment to new and unique flavor profiles that drive trial with the consumer."
To further show new flavors (as well as its sodium or sugar reduction technologies), Wixon has created a number of snack prototypes under the theme, "Global Street Food BBQ Tastes." These prototypes feature flavors from around the world, such as Argentina, Russia, South Africa, and the Mediterranean, and they are reduced in sodium or sugar. Argentinean Asado Sweet Potato Chips are mentioned in my blog post on page 52. Kansas City BBQ Potato Chips are sweetened with tomato, brown sugar, and molasses, and spiced with Worcestershire, Dijon, and Tabasco, with Applewood smoke rounding out the flavor. Russian Shashlik Potato Balls (named after a form of Russian all-meat shish kabob commonly found from street vendors) feature a special savory-sweet flavor profile of pomegranate juice and red wine, highlighted with nutmeg, mace, and ginger.
--- PAGE BREAK ---
A baker's yeast technology from Canada-based Functional Technologies Corp. (phone 604-648-2200, www.functionaltechcorp.com) could be used to reduce acrylamide in potato products such as French fries and potato chips, likely through some sort of product wash. (This product wash process, which offers significant potential for potato products, reportedly still needs to be refined and finalized.) One leading global manufacturer of frozen foods is now evaluating the company's yeast technology for application in its potato products. The modified baker's yeast is the same yeast that is used worldwide in baking, with one change that involves enhancing the yeast's natural ability to consume asparagine, the amino acid that is the precursor that is converted to acrylamide with heat. Acrylamide is formed when sugars and the amino acid asparagine, both found in starchy foods, are heated at temperatures over 121° C (250°F). The company's breakthrough yeast works by rapidly breaking down the precursor asparagines into safe compounds before cooking begins.
Potato Power
In 2007, as the result of an alliance, National Starch, Bridgewater, N.J. (phone 800-743-6343, www.foodinnovaton.com), became the sole supplier of the specialty potato starch portfolio of the Netherlands-based Avebe Group, in North America, South America, and Asia. More than 75 starches are available to solve formulation challenges best handled by the potato. The product line includes cook-up starches, cold-water-swelling starches, specialty maltodextrins and dextrins, fat replacement starches, and Eliane™ waxy potato starches containing more than 99% amylopectin.
Specialty potato starches are said to be valued for their neutral taste, clarity, and high viscosity, especially in confections and dairy products. The water binding of potato starches improves moisture retention and increases yield while providing juiciness in processed meats. In lower-moisture applications such as snacks, these starches offer excellent expansion as well as special textures ranging from soft and buttery to crispy and crunchy. Avebe starches are derived from potato varieties specifically bred for starch manufacturing. Recent research and development have produced improvements in the potato, such as disease resistance, high-protein content, and specific functionality.
Avebe and National Starch also started a comprehensive program of joint technology development of new ingredients based on potato starch. The goal is the introduction of new tailored starch-based ingredients to address the changing needs of food developers around the world.
For example, the most recent development from this alliance was Etenia™ NT, a new potato starch that functions as a gelatin alternative for confectionery because of its excellent binding and gelling properties. The thermo-reversible gelling and texturizing starch can be used in the manufacture of high-clarity confectionery gums and jellies. Its neutral taste will not compromise the finished product.
A second potato ingredient is Textaid-P starch, a tomato solid replacer providing texture and appearance as tomato paste. This product enables food manufacturers to reduce their formulation costs without sacrificing eating qualities.
Texture, characterized by crispiness, mouthfeel, and bite, is an important factor to consider if product differentiation is desired. As part of its snack texture program, National Starch has produced reduced-fat baked chips using Eliane® SC 160, a pre-gelatinized, waxy potato starch suitable for use in bakery fillings and dressings, as well as a variety of snack items where controlled expansion and a crunchy texture are desired.
--- PAGE BREAK ---
A potato-based resistant starch is available from Penford Food Ingredients, Centennial, Colo. (phone 800-652-4732, www.penfordfoods.com). The ingredient, PenFibe™ RS, is neutral in flavor and color; provides a smooth texture in baked goods without compromising volume; has low water-holding capacity, which allows for increased solids/bulk without affecting product quality; and contributes to minimal viscosity in food systems. It can also provide a high source of dietary fiber, exceeding 80%. (As its name suggests, resistant starch is "resistant" to enzyme digestion and is not absorbed in the small intestine. Resistant starch also displays many of the physiological benefits of dietary fiber in the large intestine.) The ingredient can be used to boost fiber content of various food products including breads, tortillas, muffins, breakfast cereals, pastries, snacks, cookies, pasta, nutrition bars, and yogurt. Texture differences are minimal versus other fiber sources, and there is good recovery of fiber content level after manufacturing. The company offers a fiber-enriched artisan bread formulation using the resistant starch.
Formulating breads, muffins, pizza crusts, and cakes without using wheat flour can be a difficult task. However, by incorporating different types of tapioca, potato, and rice starches into bread and bakery formulas, Penford has been able to create gluten-free solutions. These solutions are said to have the volume, texture, color, and grain that is typical for wheat flour-based products. One suggested formulation is for gluten-free pizza crust.
Vitacel® Potato Fiber from J. Rettenmaier USA, Schoolcraft, Mich. (phone 269-679-2340, www.jrusa.com), is distinguished by an extremely high water-binding capacity. One key technological property of dietary fiber containing cellulose is the construction of a three-dimensional fiber network in the end product, greatly improving the texture and stability of the food. In addition, the moisture binding and retention of the cellulose from the potato (which are independent of external factors such as temperature, pH value, or storage time) are synergistically complemented by the temperature-induced water-binding ability of the starch. In meats and sausages, for example, the potato fiber may be used to improve texture and provide high water and oil binding. It can improve freshness and stabilize the gluten structure of bread and baked goods. And in extrudants and doughs, it can provide texture improvement, a longer bowl life, and improved crispiness. The potato fiber also has potential in the development of better-for-you foods. It is said to have a dietary fiber content of more than 72%. Additionally, it contains more that 12% resistant starch. The ingredient is promoted for a number of its benefits, including dietary fiber enrichment, calorie reduction, carbohydrate and fat reduction, digestion, lowering of blood sugar values, and prebiotic effect.
Roasted potato flour, introduced by Briess Malt & Ingredients Co., Chilton, Wis. (phone 920-849-7711, www.briess.com), may be used to enhance the flavor and color of a variety of formulations ranging from snack foods to bakery products to seasoning mixes. It can also thicken soups, gravies, and sauces while adding savory flavor, color, and aroma. The natural potato flour, which has been gently roasted to develop savory flavor and warm color, can replace standard potato flours in existing formulations, or as a new ingredient in existing and new formulations. By increasing expansion in extruded snacks, it can reduce ingredient costs as well.
Potato-derived ingredients, such as native potato starches, modified food starches, potato flours, potato flakes, and potato granules, are available from American Key Food Products, Closter, N.J. (phone 201-767-8022, www.americankeyfood.com). Starches can provide a number of functionality benefits, including texture, thickening/viscosity, binding, moisture retention, shelf-life extension, and stability. In baked and extruded snacks, potato flakes and granules add special potato flavor, improved shelf life, porosity and expansion, color, and structure. In baked goods, they improve color, structure, and consistency. And in meat products, they bind water for higher yield and juiciness, and in sterilized meats they save energy by enabling shorter heating cycles.
Organic potato starches are offered by Marroquin Organic International, Santa Cruz, Calif. (phone 831-423-3442, www.marroquin-organics.com), for use in a variety of applications. The Starkina line includes organic low-moisture (6%) potato starch and organic potato starch, while the Quemina line features organic pre-gelatinized potato starch.
--- PAGE BREAK ---
Potatoceutical?
Protein-based ingredients sourced from potatoes are being developed that may have significance in the area of dietary supplements and nutraceuticals.
For example, a pure potato protein extract, SolaThin™, functions as a weight management ingredient. The product, recently launched by Cyvex Nutrition, Irvine, Calif. (phone 949-622-9033, www.cyvex.com), consists of several low-molecular-weight proteins, including protein inhibitor PI-2. Featuring more than 90% protein, it promotes optimized satiety and healthful, effective weight control.
Slendesta potato extract from Kemin Health, Des Moines, Iowa (phone 515-559-5123, www.slendesta.com), may also be used as an appetite suppressant. The ingredient is standardized to its active component PI-2, which promotes the release of cholecystokinin (CCK), a signaling peptide which travels through the bloodstream where it induces feelings of fullness and satiety. The ingredient has potential in a number of foods and beverages.
As a food source, potatoes offer a number of potential health benefits. They contain resistant starch, which can contribute dietary fiber, assist with calorie reduction and weight control, protect colon health, and help to deliver a slow and steady energy. The amount of resistant starch found in potatoes is dependent upon preparation methods. Cooking and then cooling potatoes significantly increases resistant starch. For example, cooked potato starch contains about 7% resistant starch, which increases to about 13% upon cooling. Even processed potatoes, such as potato flakes, appear to retain a significant amount of resistant starch with the potential to confer health benefits.
One medium, skin-on potato has 110 calories, is low in fat, and is free of cholesterol and sodium. It offers 620 mg of potassium (18% daily value), 27 mg of vitamin C (45% daily value), 0.2 mg of vitamin B-6 (10% daily value), and 2 g of fiber (8% daily value). Furthermore, the color of the potato—for example, purple—may offer antioxidant benefits. The orange color of the sweet potato has been associated with healthy vision and reduction of cancer risks.
Moreover, recent research, released by the University of California at Davis and the National Center for Food Safety and Technology, Illinois Institute of Technology, demonstrated that people can include potatoes in their diet and still lose weight. The study sought to gain a better understanding of the role of potatoes and the glycemic index in weight loss, largely because some have questioned the inclusion of potatoes, designated as a high-glycemic food, in a weight loss regimen. From the study of overweight men and women, the researchers concluded that "there is no evidence that potatoes, when prepared in a healthful manner, contribute to weight gain" and, "in fact, we are seeing that they can be part of a weight-loss program."
Potato Pairings
It used to be that potatoes, such as hash browns, were made as a side dish for eggs, but today the relationship between the two can take on more intimate formats. For example, potatoes and eggs can be blended together to create a casserole-like dish, Potato & Egg Bake. Or a potato omelet can allow both potatoes and eggs to share space in the fluffy fold. The 2011 March Ingredients section demonstrated several creative ways that potatoes can be paired with eggs for breakfast (or if you prefer, other dining occasions). The American Egg Board, Park Ridge, Ill. (phone 847-296-7043, www.aeb.org), highlighted such prototypes as Potato and Egg Skillet; Sun-Dried Tomato Quiche with Crispy Potato Crust; and Baked Eggs with Creamy Spinach and Hash Browns. Jimmy Dean recently rolled out its D-lights Ham Bowl, which consists of lean ham, scrambled egg whites, potatoes, and reduced-fat cheese.
--- PAGE BREAK ---
As suggested by the previous item, cheese is a popular pairing with potatoes. Consider, for example, Cheesy Potato Skins with Sundried Tomatoes. Or Cookout Potatoes (made with thinly sliced Yukon Gold Potatoes and shredded low-fat sharp cheddar cheese). Or Potato Nachos topped with Mexican blend shredded reduced-fat cheese. Recipes for these concepts are available from the U.S. Potato Board. Sargento Foods Inc., Plymouth, Wis. (phone 800-795-7090, www.sargentofoodingredients.com), offers reduced-sodium cheeses that can pair with potatoes without compromising taste. The company's chef created a formulation, Twice Baked Sweet Potatoes, using these reduced-sodium natural cheeses. Another strategy when formulating with potatoes is the use of more distinctive or flavorful processed cheeses that can be used at lower levels but can impact levels of sodium or fat. How about a Potato Gratin with Goat Cheese? Or goat cheese mashed potatoes?
Meat and potatoes, of course, is another long-time partner. Earlier, this article mentioned the savory cupcakes concept bridging meatloaf with potatoes frosting. Perhaps, as another twist, meat flavors or ingredients can be incorporated directly into the potato dish, creating a formulation such as Beefy Potatoes. And let's not forget chicken. According to NPD's National Eating Trends, beef and poultry now account for nearly the same percentage of base dish protein dinners with potatoes. This means that as chicken consumption continues to rise, so do potato eating occasions.
A pakora is a fritter-like fried snack found in India, Pakistan, and other South Asian places. Potato frequently is a popular filling. Now imagine potatoes combined with raisins to create Roast Potato and Raisin Stuffed Pakoras. This recipe is offered by California Raisin Marketing Board, Fresno, Calif. (phone 559-248-0287, www.LoveYourRaisins.com). Also demonstrating the functionality of raisins is a recipe for Sweet Potato Bread with Raisins.
Other interesting partnerships that can be formed with potatoes range from whole grains to a wide array of spices (jalapenos in your potato salad, perhaps).
Making a Name
What's in store for the potato? Well, a number of factors can shape the directions that potatoes take in food formulation, especially the introduction of new potato varieties that can bring new colors, nutritional benefits, and specific functionality to the table.
For example, in March 2011, two new potato varieties were released by Oregon State University that may become popular in the upscale potato specialty market. AmaRosa is a small fingerling potato with smooth, deep-red skin. It also has red flesh and when sliced looks like pepperoni. The tubers retain their color even when baked, fried, or cooked in the microwave. Furthermore, they are resistant to scab—a harmless but unsightly bump on the skin that can make them less marketable—and tuber late blight. The other potato variety, the light brown sage russet, is especially useful for the Oregon processed potato market. The flattened, long shape of Sage Russet makes it the right size to slice and freeze as French fries for commercial and home use. When dropped into hot water, the fries keep their light color because of their low sugar levels. Sage Russet has minimal internal flaws or visual defects.
Agricultural Research Service scientists in North Dakota are working to improve potato storage quality. The scientists are evaluating the storage properties of new potato varieties that could greatly improve potato quality for growers throughout the U.S. Their evaluations have led to the development of two named cultivars, Dakota Crisp and Dakota Diamond, which reportedly fare well even after nine months of storage.
--- PAGE BREAK ---
New analytical procedures for rapidly detecting and measuring phytonutrient content in potatoes have been developed by ARS scientists in Prosser, Wash. With these methods, scientists can profile the phytonutrient contents of several hundred lines of wild and cultivated potatoes. Of particular interest are potatoes with high antioxidant activity.
The different "potato pedigrees" that are being developed—and the benefits they offer—should influence the evolution of the potato. Combine these new developments with the potato's innate ability to function as a base for different flavors, textures, colors, and nutritional properties, and we'll soon see new chapters being created for the great "potatopus."
Are those whiffs of Cajun cooking you're smelling? Well, they must be coming from next month's annual Ingredients preshow coverage. Catch some of the newest ingredient developments at the 2011 IFT Annual Meeting & Food Expo, held in New Orleans.
---
IngredienTalk:
The sweet potato—like the potato that it is sometimes confused with—is taking some very interesting directions in food formulating. Its benefits, such as flavor, versatility, and nutritional value, are especially taking root in applications ranging from savory to sweet. My 34th blog will look at the "rediscovery" of this vegetable. If you say "sweet potato" in your daily conversation—and you're an IFT member—visit www.ift.org , type in your name and password, click on the IFT Community button, and go to the blog section. Hopefully, we will be able to see eye to eye, even though sweet potatoes lack this particular feature.
Sweet Potato 'Pi'
In mathematics, pi is considered one of the most reliable constants. In the world of food, sweet potatoes (although they can't compete with per capita figures of the regular potato), can nevertheless be considered a reliable formula to success, providing taste and nutritional benefits to a variety of dishes. And it is because of these benefits, that sweet potatoes are especially being rediscovered and figured into a number of traditional as well as emerging formulas, including one of my favorites, sweet potato pie, a circumference I gladly measure any time.
Sweet potatoes are part of the morning glory family (Convolvulacea), their genusIpomoea batatas. Despite their name, they are not related to the ordinary potato (Solanum tuberosum), which is a tuber, while sweet potatoes are roots. Both plants, however, are of South American origin and date back to prehistoric times.
In late centuries B.C., the wild sweet potato was cultivated and could be found in Central America and the Caribbean where Spanish explorers called them by the name batatas. In 1529, a few years after the discovery of the sweet potato, the Spanish came upon the white potato and (accidentally or otherwise) began referring to it as batata (and later patata), which led to the linguistic confusion between the white potato and the sweet potato. This confusion, of course, still persists today, with common culture considering the latter to be a sweet cousin of the regular potato.
--- PAGE BREAK ---
A similar confusion also exists between the sweet potato and the yam. In fact, sweet potatoes in the U.S. are frequently misidentified as yams. According to the North Carolina SweetPotato Commission, what is marketed in the United States as 'yams' are really a variety of sweet potato grown in the southern U.S. These so-called yams have a vivid orange color; a soft moist consistency when cooked; and tend to have a sweeter flavor. A true yam, on the other hand, is a starchy edible root of the Dioscorea genus, is generally imported to America from the Caribbean, is rough and scaly, and is very low in beta-carotene.
Since sweet potatoes should not be confused with regular potatoes (or yams for that matter), this brings up a fair question: In an article on potatoes, should sweet potatoes be included? I think so for two reasons. The first has already been suggested: Despite their actual lack of kinship, there is a perception—both by the industry and the general public—that the two belong together. Perhaps it's their fate, and if so, I won't quarrel with it. The second reason is of more significance, I think. Like the potato, the sweet potato has been moving in some very interesting directions, in terms of flavor or flavor pairings, functionality, nutrition, and new formulations. And, at least in some niches, sweet potato is even being positioned as an alternative to the traditional potato.
Take, for example, White Castle, which recently served up its Sweet Potato Fries or Cape Cod, which launched its Cinnamon & Sugar Homestyle Sweet Potato Chips. ConAgra Foods and Lamb Weston offer the Sweet Things® line for foodservice, which includes sweet potato fries, wedges, puffs, and mashed sweet potatoes (formats which previously have been reserved for the potato). The company also makes available a variety of recipes that incorporate these ingredients (Sweet Potato Mini Tater Puffs with Caramel Dip; Cinnamon & Spice Sweet Potato Fries; Sweet Potato Crème Brulee; and Sweet Potato, Egg, & Chorizo Breakfast Wrap, to name just a few). From Simplot Foods is the Simplot Sweets line (Sweet Potato Fries Entrée Cut and Sweet Potato Fries Thin Cut) and RoastWorks Sweet Potatoes (Flame-Roasted Potato Medley and Flame-Roasted Sweet Potatoes with Maple Seasoning).
J.R. Short, Kankakee, Ill., provides proprietary technology in which sweet potato is a key ingredient. The company's advancements in extrusion technology allow inclusion of ingredients new to the category, such as sweet potato, helping snack manufacturers address current and emerging consumer trends. Foodservice has seen steady growth of sweet potatoes as a menu item during the past five years, and they have made a popular entry into the chip category. "One of the interesting things we have discovered while working with the sweet potato in extruded snack pellets is the variety of textures we can develop, depending on shape, proprietary extrusion methods, and the expansion process used," said Elisa Karkle, the company's manager of R&D.
Wixon Inc., St. Francis, Wis., developed a prototype sweet potato chip, Argentinean Asado, inspired by the BBQs from Argentina. Traditional asado is normally not marinated but has evolved in modern times to include marinade with a smoky, sweet taste. These chips feature a rich, smoky blend of paprika and red wine with cumin, onion, garlic, and sea salt, plus a touch of sugar. The company also developed a Sweet Potato Chip prototype, made with Sweet Lift technology that provides a 51% reduction in sugar. In a sweet potato chip base, this snack infuses brown and white sugar with vanilla and marshmallow, along with a fusion of spices, including cinnamon, nutmeg, allspice, ginger, and cloves.
In one of its past holiday recipes, McCormick Flavors, Hunt Valley, Md., created Roasted Sweet Potatoes with Cinnamon Pecan Crunch. Almost sounds like it could be a dessert.
The rediscovery of the sweet potato and its impact on food and beverage products is suggested by several flavor trends. For example, the sweet potato was included on the top 10 sweet flavor trends for 2011, released by Bell Flavors and Fragrances, Northbrook, Ill. Among Mintel's flavor trends for 2010 was the sweet potato, which is becoming more widely known as a functional food as it is rich in dietary fiber, beta carotene, vitamin C, and vitamin B-6. And at the 56th Summer Fancy Food Show, held June 27-29, 2010, sweet potato was showcased in a number of prototypes including sweet potato butter and sweet potato chocolate.
--- PAGE BREAK ---
According to the North Carolina SweetPotato Commission, sweet potatoes can be fried, baked, boiled, stuffed, candied, steamed, stir-fried, or microwaved, as well as served raw. They go well with pork, chicken, turkey, beef, lamb, and fish, and can be included in recipes for stews, soups, and salads, as well as in baked goods such as breads, pies, custards, and cakes. To promote new uses for sweet potato, the commission sponsors different university competitions. Winning recipes have included Sweet Potato Sorbet with Walnut Streusel and Sage Froth, Roasted Sweet Potato with Andouille Delight Soup, Ginger Scented Sweet Potato Soup, Sweet Potato and Crab Cake, and Cinnamon Ice Cream with Caramelized Sweet Potato.
Furthermore, a number of food ingredients can be derived from the sweet potato. For example, sweet potato juice concentrate is offered by Vegetable Juices Inc., Bedford Park, Ill., using its new advanced concentration technology to help increase the number of vegetable servings in juices and other products. A purple sweet potato colorant, available from D.D. Williamson, Louisville, Ky., provides an appealing red hue in acidic conditions for use in beverages, fruit preparations, sherbet, salad dressings, and sauces. Organic and conventional drum-dried sweet potato from Van Drunen Farms, Momence, Ill. comes in powder and flake format. Natural and Artificial Sweet Potato Swirl Flavor, developed by Flavor Dynamics Inc., South Plainfield, N.J., is said to impart a flavor reminiscent of a hot sweet potato pastry with cinnamon and brown sugar frosting, and may be used in coffee and most sweet products. And Chinese researchers have found that sweet potato protein shows emulsifying potential.
Although all varieties of sweet potatoes are nutritious, those that are orange may be the best source for vitamin A. An article published in Comprehensive Reviews in Food Science and Food Safety discusses how orange sweet potatoes could help prevent vitamin A deficiency in developing countries, where this nutritional disease causes more than 600,000 deaths per year—mostly of young children or pregnant women. Most sweet potatoes in the U.S. are orange, but in developing countries sweet potatoes can also be white, cream, yellow, and purple. According to the CRFSFS article, in these countries where vitamin A deficiency is common, it would help if the food industry found ways to increase the production and consumption of orange-fleshed sweet potatoes. Food companies could further this goal by developing improved varieties of prolific, hardy, disease- and drought-resistant orange-fleshed sweet potatoes while developing and testing different food products made from sweet potatoes. For example, one of the sweet potato products that international programs are testing is sweet potato flour, which they can make into biscuits and buns.
Sweet potatoes are one of the most important roots in the world, and are the sixth principal food crop worldwide (potatoes are at number four). Sweet potatoes have been growing in the Southern U.S. as early as 1648, and today, more than 40% of the national supply of sweet potatoes comes from North Carolina. North Carolina, Louisiana, and California produce three-quarters of the nation's sweet potato crop. Other states growing sweet potatoes include Mississippi, Alabama, New Jersey, Texas, and South Carolina. Sweet potatoes are smooth with skins that can vary in color, depending on the variety—from pale yellow to deep purple to vivid orange. Flesh colors can range from light yellow to pink, red, or orange. Varieties grown in California and the North, around New Jersey, have a flesh that is light yellow or pale orange in color and are drier and stay firmer when cooked. Varieties grown primarily in the South have a golden red flesh that is moist when cooked and have a sweeter flavor than the drier versions.
According to USDA, U.S. Per Capita Potato Consumption reached 126 pounds in 2007. Today, sweet potato consumption is around 5.3 pounds per capita. While I don't think there's any danger of the sweet potato taking over the potato's position as a food ingredient, at the same time, this blog post has provided ample evidence of the many interesting directions that the sweet potato is taking in food formulating. Independent of the potato, these developments are taking root and gaining new attention in recent years for their flavor, versatility, and nutritional value. These benefits shouldn't take anything away from the potato, and likewise the value of the potato shouldn't eclipse those of the sweet potato.
So, you may say potato, I may say sweet potato, but let's not necessarily call the whole thing off…Instead, let's IngredienTalk!
---
www.ift.org
Members Only: Read more about potatoes online at www.ift.org. Type the keyword into our search box at the upper right side of our home page.
Donald E. Pszczola,
Senior Editor
[email protected]