[Note on this text: Numbers offset by brackets within the body of this feature refer to images that can be seen in the pdf or print edition.]
Summer in Chicago tends to be action-packed (think concerts, festivals, and other special events), and that was especially true this year as locations throughout the downtown area were turned into sets for filming the live-action movie Transformers 3. But for members of the food community, the real action this summer was just south of downtown at Chicago's McCormick Place exposition center, the site of IFT's 70th Annual Meeting & Food Expo® July 17–20.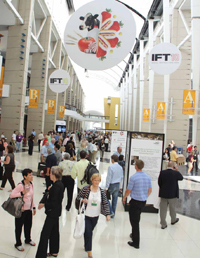 More than 1,000 exhibitors transformed the convention center's south hall into a sprawling food industry extravaganza, where new ingredients and technologies played starring roles. The sold-out Food Expo featured more than 2,100 booths occupying 250,000 square feet of exhibit space. And the Annual Meeting's Scientific Program offered about 115 sessions, more than 1,900 technical presentations, and a revamped format designed to make it all a bit easier to navigate. It should be no surprise then that the event was a real blockbuster, attracting 21,500 registrants, including 2,400 international registrants.
IFT Salutes Its Stars
The Awards Celebration on Saturday evening provided the forum for recognizing some of IFT's true stars—its Achievement Award laureates and 17 newly elected Fellows, who were celebrated for their noteworthy accomplishments and outstanding contributions to the field of food science and technology. (For information on all of the Achievement Award winners and Fellows, visit http://www.ift.org/food-technology.aspx.)
IFT Executive Vice President Barbara Byrd Keenan [1] shared a warm, Chicago-style welcome with the assembled crowd and offered special thanks to the IFT Chicago Section volunteers who helped to make the meeting possible. She introduced IFT President Marianne Gillette [2], whom she thanked and acknowledged for her leadership and dedicated service over the course of the past year.
Gillette zeroed in on some of the past year's highlights: participation by more than 1,000 volunteers in IFT workgroup activities; the rollout of the new white paper, "Feeding the World Today and Tomorrow: The Importance of Food Science and Technology;" development of IFT's new visual identity; the debut of the new and improved ift.org website; and celebration of the 75th anniversary of the Journal of Food Science.
The current president then welcomed IFT President-Elect Bob Gravani [3], who began his remarks by calling to mind early food science innovators like Louis Pasteur and Nicholas Appert. Food scientists, Gravani said, "have the opportunity and responsibility to develop truly innovative products that not only taste good, but also promote health and wellness in children as well as adults.
--- PAGE BREAK ---
Gravani, who assumed the role of IFT President on Sept. 1, brought his talk to a close by thanking IFT members. "Your membership and volunteerism ensure the strength and impact of this organization," he said.
In the course of his inspirational remarks, Gravani enumerated some additional IFT milestones including the 25th anniversary of Feeding Tomorrow, the Foundation of the Institute of Food Technologists, and creation of the Gilbert A. Leveille Lectureship Award, which honors former IFT President Leveille and will recognize exceptional research in food technology and nutritional science.
R. Paul Singh [4], Distinguished Professor of Food Engineering, University of California, was presented with IFT's highest honor, the Nicholas Appert Award, which recognizes preeminence in and contributions to the field of food science and technology and is sponsored by IFT and the Chicago Section of IFT. Singh's research record spans a lifetime career in advancing the application of mathematical techniques for quantitative understanding of physical changes important in food processing.
Two student members were honored as recipients of Excellence in Leadership Awards sponsored by Campbell's and the IFT Student Association (IFTSA). In [5], from left, are: George Dunaif, Vice President, Global Food Safety, Campbell's, who presented the awards; Gillette; undergraduate award recipient, Andrea Bouma; and graduate student recipient, Patricia Aron. Both Bouma and Aron attend Oregon State University.
ConAgra Foods earned the 2010 Food Technology Industrial Achievement Award for its Healthy Choice Café Steamers package and product platform. The award honors the developers of a process or product that represents a significant advance in the application of food science and technology to a food product. It was accepted by [6] ConAgra's Gordon Smith (left) and Robert Weick.
Gillette also paid tribute to IFTSA President Kelsey Ryan [7], praising her work over the past year as "critical in building a bright future for the profession."
Also acknowledged on Saturday evening was IFT Immediate Past President Sheri Schellhaass [8], whom Gillette described as "an extremely dedicated, knowledgeable, and inspirational leader, who has made invaluable contributions to the IFT community and profession over the last three years."
After the Awards Ceremony, a group of IFT leaders paused briefly for a photo. From left in [9] are President-Elect II Roger Clemens, Executive Vice President Keenan, President-Elect Gravani, President Gillette, and Immediate Past President Schellhaass.
--- PAGE BREAK ---
A Networking Reception [10] followed the Awards Celebration, allowing attendees to mix, mingle, and extend congratulatory words to the evening's honorees. In [11], newly named IFT Fellow Alice Cha (center) accepts congratulations.
A Noteworthy Keynote Session
On Sunday morning, IFT President Gillette [12] started the Keynote Session off by recognizing some of the Annual Meeting & Food Expo's international guests. She then shared a fast-paced video in which IFT members reflected on some of the highlights of the past year, including a successful Wellness Conference; the debut of IFT's digital show daily, IFT Live; and completion of a landmark study on traceability in food systems. In addition, Gillette reported that recommendations from a Divisions Task Force charged with creating a clear strategic vision for the divisions had been approved by the IFT Board of Directors.
Another highlight of the Keynote Session was the announcement of the 2010 IFT Food Expo Innovation Awards, which honor exhibiting companies for outstanding innovation in products, ingredients, technologies, instrumentation, equipment, and services commercially introduced since Jan. 1, 2009. (For information on this year's winners, see the article on page 54.) The awards were presented by IFT President-Elect Gravani and President-Elect II Clemens.
Gravani also announced the recipients of the new IFT Media Award for Excellence in Consumer Journalism. The recipients of this year's award are journalists Julie Schmit and Elizabeth Weise, who were recognized for a 2009 USA Today story, "Health Risks May Reach Far Beyond Reported Victims."
Executive Vice President Keenan [13] introduced another video component of the Keynote Session—airing of the premiere video in a series titled "A Day in the Life of a Food Scientist." The video featured an up-close look at a day in the workplace of IFT member and NASA food scientist Michele Perchonok and her team.
Next up on the Keynote Session agenda was a video presentation on Feeding Tomorrow, the Foundation of the Institute of Food Technologists, which is celebrating its 25th anniversary this year, followed by remarks by Feeding Tomorrow Chair Martha Rhodes Roberts [14]. Roberts extended thanks to the community of donors who have made the work of Feeding Tomorrow possible. Over the past quarter-century, individual, institutional, and corporate donors have funded more than $10 million in programs to support global food science efforts and to support new generations working on these critical needs.
Keynote headliner Daniel Pink [15], an author and frequent commentator on the changing world of work, delivered a thought-provoking analysis of what motivates high performers in the workplace. (See sidebar on page 26 for an overview of what Pink had to say.) The Keynote Session was sponsored by SweetSurprise.com.
A Starring Role for Science
This year the Annual Meeting Scientific Program boasted a new format framed around key issues and core sciences. A new track structure focused on topic areas of greatest interest and importance to food science and also made it easier for attendees to locate sessions. The eight key focus area tracks were as follows: Food Safety and Defense; Food, Health, and Nutrition; Emerging Technologies and Ingredient Innovations; Food Processing and Packaging; Product Development; Sustainability; Public Policy, Food Laws, and Regulations; and Education and Professional Development. The core science track topics were food microbiology, food chemistry, food engineering, and sensory science.
--- PAGE BREAK ---
Five of the tracks offered a 90-minute general session designed to be of broad interest. In the Sustainability Track's general session, for example, Mintel's Krista Faron [16] shared the results of new research on how issues of sustainability affect consumers' purchasing decisions.
In the Food Processing & Packaging Track's general session, each panelist shared a perspective on the session theme, "Communicating the Contributions of Processed Foods and Addressing Public Perceptions." Presenter Tom Nagle [17] of consulting firm Statler Nagle LLC, for example, urged industry members to avoid responding defensively to activist attacks and instead to focus on issues that resonate most with consumers such as longevity/wellness and weight/health.
This year's late-breaking session took a look at the impact of the Gulf of Mexico oil spill on the seafood industry. Presenter Mike Voisin [18] of Motivatit Seafood advanced the perspective that Gulf Coast seafood is clean and safe and consumer confidence is the biggest challenge that the local seafood industry faces.
Here's a sampling of some of the other compelling scientific program sessions offered this year.
• A session titled "Clean Food Labeling and Sustainability Benefit Claims" featured speakers who explored consumer concerns in the areas of ingredient statements and nutrition information and examined labeling regulatory requirements.
• Speakers in a session titled "Emerging Health Benefits of Coffee: Recent Advances in Epidemiologic and Experimental Knowledge" explored research results demonstrating that coffee has the ability to reduce the risks of cardiovascular disease, type 2 diabetes, and Alzheimer's disease. Joan Lindsay [19] of the University of Ottawa offered insights into links between coffee consumption and improved cognitive function.
• The neuroscience affecting sodium consumption as well as approaches that food manufacturers can take to achieve successful sodium reduction were discussion topics in a well-attended session titled "Sodium Reduction: Striking the Right Balance." Richard Black [20], Vice President of Global Nutrition for Kraft Foods, shared some of the company's goals and tactics for reducing sodium across its product portfolio.
• IFT Past President Gilbert Leveille [21] offered an historical perspective in "Food Science & Nutrition: A Journey Toward Health and Wellness," a presentation that was particularly noteworthy because it marked the debut of the Gilbert A. Leveille Lectureship Recognizing Contributions at the Interface of Food Science & Nutrition.
In another Annual Meeting highlight, Robert Post [22], Deputy Director of the U.S. Dept. of Agriculture's Center for Nutrition Policy and Promotion, spoke at a press conference hosted by USDA and IFT. Post offered insights into what will be on the table with the coming release of the 2010 Dietary Guidelines for Americans later this year.
--- PAGE BREAK ---
Clearly, the content of the Annual Meeting Scientific Program was diversified and ranged from broadly focused general interest sessions to in-depth examinations of new research premises. At the close of the call for scientific session abstracts this year, a total of 1,698 abstracts had been submitted, of which 1,545 were accepted, representing a 9% rejection rate. The Scientific Program featured 132 poster sessions [23] and 14 oral sessions.
The popular annual New Products & Technologies Tabletop Showcase highlighted 12 of the most innovative new products and technologies [24].
An Appetizing Expo
It was a good year for Food Expo explorers with an appetite for new taste experiences. About 110 exhibitors offered food and beverage samples [25] this year—more than twice as many as in 2009. Options ranged from dairy-based "soothies" from the U.S. Dairy Export Council to dessert-style "sushi" from Gold Coast Ingredients.
For those eager to canvass the full show floor, a food fix may have come in handy, because with 1,046 companies showing off products and services, covering the Expo [26] required some time and energy. Here's a look at some of this year's Expo highlights.
• IFT/RCA Culinology Presentation. In this traditionally popular Food Expo presentation, a group of industry leaders including Janet Carver, Culinary Group Leader at National Starch Food Innovation and President of the Research Chefs Association, front in [27], shared their thoughts on how they integrate culinary arts and food science to develop innovative food products.
• Innova Market Insights Pavilion. The "Taste the Trend" pavilion [28] sponsored by Innova Market Insights drew a steady stream of Expo attendees seeking to better understand food and beverage product trends around the globe. This year's display featured an in-depth analysis of the issues driving the food and beverage landscape, including insights into overcoming regulatory, formulation, packaging, and product development hurdles. The pavilion featured attention-getting visual presentations of key trends [29].
Here's a round-up of the year's Top 10 trends, according to Innova. 1) Sense of simplicity—Consumers are drawn to simple ingredient statements, and marketers are responding to this interest by getting back to basics with a flurry of new product introductions marketed using descriptors like "simple," "pure," and "home-style." 2) Sustainable gathers steam—Sustainable product claims are on the rise; product categories in which the most products make sustainability claims are chocolate, tea, and juice and juice drinks. 3) Continuing to cook at home—Driven by the economic downturn, more consumers are cooking at home, often seeking to prepare products of higher quality than in the past. 4) Inherent nutrition—Rather than relying on specific health claims, for which it may be difficult to get regulatory approval, marketers are touting products' inherent health benefits and natural goodness. 5) Functional superstars—Healthful ingredients that have survived European regulators' early rulings are moving to the forefront in functional foods as marketers are forced to rely on softer claims. 6) Going immune—Interest in immunity-enhancing products may have been boosted by last year's H1N1 virus; ingredients to boost immunity are turning up in a variety of product forms. 7) New delivery for energy—Products positioned to supply an energy boost are proliferating in a broad range of categories including drinks, bars, tea, breakfast cereals, and more. 8) "Free from" rises—More and more companies are rolling out gluten-free and other "free-from" offerings. 9) Extreme flavors—Increasing levels of interest in very hot and extreme flavors are being reported, with major brands launching products. 10) Real authenticity—Consumers want foods and beverages that call attention to ingredients produced in specific geographic regions.
--- PAGE BREAK ---
• Mintel Global New Products Pavilion. Mintel's new product experts Lynn Dornblaser [30] and Dave Jago treated Mintel pavilion visitors [31] to a series of presentations highlighting the latest trends in the food, beverage, and foodservice industries. Each of the presentations was followed by a tasting session. Tasting session participants were asked to vote on their favorite products in each category.
"With baby boomers comprising 26% of the population, it only makes sense that manufacturers are positioning products for them," said Dornblaser in a talk titled "Baby Boomers: A Generation in Search of New Products." Smartfood Popcorn Clusters, an indulgent snack that also serves up calcium and fiber and is marketed in the United States, took first place in the boomer category on the basis of votes cast by the taste testers. Tripl3 O Antiox Green Tea with Honey from Colombia and Kellogg's All-Bran Buds Singles from Canada took second and third place, respectively.
The second presentation topic was "Satiety: The Next Big Thing in Weight Management." Dornblaser and Jago pointed out that with rising obesity rates and an increase in chronic ailments, wellness and wellbeing are important consumer trends, and products positioned to deliver satiety benefits can address consumers' needs. IFT attendees chose the EcoSlim Dark Chocolate Bars from Portugal as their favorite satiety-promoting product. Kellogg's Special K Sustain Breakfast Cereal from the UK came in second place, followed by Barilla Mulino Bianco Grancereale Fiber Biscuits from Italy.
"Simple Ingredient Statements: Clear Language for Confused Consumers" was the topic for presentation number three. According to Dornblaser, "natural" and "additive-free" have become part of consumers' health and wellness vocabulary. People are attracted to clean labels and are going to great lengths to avoid over-processed foods, she said.
In this category, IFT taste testers chose Pepsi Raw Natural Born Cola from the United Kingdom, which boasts natural plant extracts and a new package design, as their favorite product. In second place was Yoplait Simply…Gogurt Portable Lowfat Yogurt from the U.S., followed by the United Kingdom's Planet Lunch Squeezable Fruit formulated with 100% natural ingredients.
• Exhibitor Spotlight Sessions. Held on the Expo floor, these 45-minute sessions provided an opportunity for IFT exhibitors to share in-depth information on their products and services. IFT Digital Strategist Regan Robinson [32] was among those delivering Exhibitor Spotlight presentations. Her topic was "Social Media 101: Get Acquainted With the Basics."
• IFT Central Booth. Always a centerpiece attraction on the show floor, this year's IFT Central Booth [33] featured a brand new look reflecting IFT's recently unveiled visual identity. A cozy place to connect, communicate, and collaborate, the IFT Central Booth had staff on hand to provide information about IFT programs and resources.
• Internet Café. And speaking of being connected, Internet Café [34] kiosks located on the Expo floor and in the lobby made it easier for attendees to touch base with clients, home office colleagues, or whomever else they needed to contact.
--- PAGE BREAK ---
• Taste for Science Receptions. Given the hectic pace of the Annual Meeting & Food Expo for most attendees, the Taste for Science receptions [35] provided a handy source of respite and refreshment. Feeding Tomorrow, the Foundation of IFT, hosted one reception on the Expo floor and another in the poster session area Sunday and Monday. In addition to the wine, beer, and soft drinks that were available, many exhibitors also served food samples or appetizers.
• Trend & Solution Tours. IFT offered Trend & Solution Tours on the Food Expo floor for the second year. These self-guided tours took interested attendees to the booths of exhibiting companies with innovative products or services related to major issues and current trends facing the food industry. Of the companies chosen to be part of the Trend Tours, seven were selected to make short videos discussing their products and the trend they address. The videos may be viewed at http://live.ift.org.
• Open Innovation Program. In another key offering this year, IFT premiered its open innovation program, which provided exhibitors with access to the strategic innovation requirements of major food companies as well as the opportunity to formally submit their potential solutions. General Mills, Kraft Foods, McCormick, and Sara Lee took part in the pilot program.
Pre-Meeting Events
The days prior to the official start of the Annual Meeting & Food Expo offered a variety of IFT-sponsored opportunities for exchanging knowledge and information.
• Short Courses. As usual, short courses organized by IFT's Knowledge & Learning Center were long on informative content. Ten courses, each designed to deliver focused, practically oriented information, were offered on Friday and Saturday and drew a total of 465 paid attendees—just shy of the record of 472 attendees in 2007.
Four new courses were added to the curriculum this year. Eighty experts, including prominent industry figures like Johanna Dwyer [36] of the National Institute of Health's Office of Dietary Supplements, served as faculty members for the short courses.
• Nanotechnology Conference. Also held prior to the start of the Annual Meeting & Food Expo was the IFT International Food Nanoscience Conference, themed "Food Nanomaterials: Safety and Regulation, Government Investments, and Industry Needs." Evaluating the safety of nanomaterials in foods presents multiple challenges, according to speakers at the fifth annual nanotechnology gathering. IFT Past President John Floros [37] was among the presenters who helped shed new light on the cutting-edge discipline of nanoscience.
--- PAGE BREAK ---
• Board of Directors Meeting. Members of the IFT Board of Directors met prior to the start of the Annual Meeting & Food Expo. Members of the Board are pictured in [38]. Front row, from left, are: Executive Vice President Barbara Byrd Keenan, President-Elect Bob Gravani, President Marianne Gillette, Immediate Past President Sheri Schellhaass, Treasurer Bruce R. Stillings, and IFTSA President Kelsey Ryan. Second row, from left, are: Board Members John Finley and John Ruff, IFTSA President-Elect Andrea Bouma, and Board Members Julie Ruder, Juan Silva, and Barry Swanson. Third row, from left, are: Board Members Catherine Adams-Hutt, Russell Flowers, Barbara Blakistone, Brian Farkas, Janet Collins, Justin Shimek, and P. Michael Davidson.
Other Programs and Activities
• Career Fair and Employment Bureau. Seventeen companies including Mars, Nestlé, PepsiCo, and Leprino Foods were on hand for informal exchanges and networking with job seekers at the IFT Career Fair [39] on Saturday. The Employment Bureau was open each day of the Annual Meeting & Food Expo, and 44 companies scheduled interviews in an effort to fill 125 job openings. Prospective employers conducted more than 250 face-to-face interviews in the Employment Bureau, with additional interviews held off-site.
The 2010 Bureau definitely attracted the right candidates. An informal poll conducted as employers concluded their meetings found that all reported identifying solid prospects for next-level interviews.
• Expanded Intellectual Property Focus. Introduced at last year's Annual Meeting & Food Expo, the Intellectual Property exchange (IPEx) forum [40] was back this year, offering proprietary technology for sale or license. Posters and tabletop displays were staffed by intellectual property holders, giving attendees the opportunity to talk innovation exchange. To complement IPEx, IFT offered a session focused on intellectual property management for scientists involved in development of new ingredients, products, processes, and packaging.
• Town Hall Meeting. IFT's traditional Town Hall Meeting had a new format this year, developed to encourage dialogue and to provide plenty of time for question-and-answer exchanges. Five stations, each devoted to a particular topic, were set up in the meeting room. The topic areas were as follows: 1) Science Leadership; 2) Divisions Task Force; 3) Annual Meeting Scientific Program; 4) Ask the Board of Directors; and 5) ift. org. In [41] Jennifer McIntire, IFT Senior Staff Scientist and Director, Science and Technology Projects (center), participates in the discussion on science leadership.
• Global Perspective. As it always does, the Annual Meeting & Food Expo had a strong international flavor, with food science and technology professionals drawn from a total of 72 nations. Among the international groups and delegations IFT welcomed were the Latin American and Caribbean Association of Food Science and Technology; the Canadian Institute of Food Science and Technology; the Chinese Institute of Food Science and Technology, whose representatives are pictured with IFT staff and volunteer leaders in [42]; and the International Union of Food Science & Technology.
Welcoming these international guests during the Keynote Session, IFT President Gillette noted, "We look forward to further exploring how we can work together to build the profession and ensure the safety of the global food supply."
• Past Presidents Dinner. In a very special annual event, former IFT presidents socialized and dined with current leadership, including Executive Vice President Keenan and 2009-2010 President Gillette, at the Past Presidents Dinner [43] on Sunday evening.
--- PAGE BREAK ---
• Donors Reception. Feeding Tomorrow, the Foundation of the Institute of Food Technologists, marked its 25th anniversary this year. General Mills, Silliker, and Tic Gums helped sponsor a Feeding Tomorrow donors reception, which had a "Back to the Future" theme and was attended by 160 Feeding Tomorrow supporters.
Noel Anderson of PepsiCo provided a Summer Scholars update, and sous chef Chris Jones of Moto restaurant in Chicago spoke to the audience about molecular gastronomy [44] and how the meals at Moto cater to avant-garde cuisine. Chair Martha Rhodes Roberts showcased the new Feeding Tomorrow visual identity to attendees.
• Food Science Outreach Workshop. On Tuesday, the University of Illinois, Urbana-Champaign, partnered with IFT to host a Food Science Outreach Workshop for Illinois high school science teachers to observe and practice quick and easy food science experiments. In [45], Elizabeth Genthner of the University of Illinois (right) and teacher participant Leigha Ingham from Chicago's Kenwood Academy High School work on an experiment.
The workshop organizers also coordinated a tour of the 2010 Food Expo for about 40 high school students interested in food science. Twelve companies served as booth stops on the tour. IFT Food Science Ambassadors spoke with the students about their food science experiences when the students were not on the Expo tour.
Student Activities
The IFTSA membership was well represented at the Annual Meeting & Food Expo with a large number of students on hand in Chicago to savor the scientific, social, and networking opportunities. As always, one of the best places for mixing and mingling was the Student Association Mixer [46] sponsored by PepsiCo, which also provided an opportunity for viewing Chapter of the Year displays.
A Welcome Assembly held just after the mixer featured an introduction of IFTSA leadership and presentation of awards, including the Excellence in Leadership Award sponsored by Campbell's. IFTSA President Kelsey Ryan [47] and IFT President-Elect Bob Gravani welcomed students who gathered for the mixer.
A Chapter Leaders Workshop offered skills development for IFT student leaders. In [48] IFTSA President-Elect Andrea Bouma addresses the group. Capping off the Annual Meeting & Food Expo experience for many students was the IFTSA Party on Tuesday evening, which gave those who attended the opportunity to network, enjoy Chicago cuisine, and have some fun.
Students Get Competitive
IFTSA-sponsored competitions during the Annual Meeting provided students with plenty of options for challenging themselves, and many students took advantage of the opportunities by participating in one of three product development competitions. Here's a look at which teams came out on top.
--- PAGE BREAK ---
• Developing Solutions for Developing Countries Competition. Participants in this competition, now in its second year, were asked to create products and/or processes capable of improving the quality of life for people in developing nations. The winners were divided into two categories—domestic and international.
The Pennsylvania State University team placed first in the domestic category with its entry, CalciMelo, a calcium-rich confection designed to increase the bio-availability of calcium. Members of the award-winning team [49] are, from left: Angela Richard, Wladir B. Valderrama, and Julius Ashirifie-Gogofio.
The domestic second-place winner was the team from North Carolina, which developed Famille Saine, a fermented, fortified, and dehydrated shelf-stable, porridge-type meal. The University of Minnesota team placed third with Shakti, a granola-type bar composed of puffed millet, jaggery, soy flour, roasted peanuts, peanut butter, and spices.
In the international segment of the competition, a team from Bogor Agricultural University in Indonesia clinched first place with its Crantz Flakes, energy-dense baked cassava flakes created to help fight protein deficiencies. Team members [50] Saffiera Karleen (left) and Margaret Octavia paused for recognition after their team's victory was announced.
Another team from Bogor Agricultural University placed second in the Developing Solutions for Developing Nations competition. That team's entry was Zuper T, a triple-mix puffed cereal formulated from tempe, corn, and bananas. A team from Brawijaya University, East Java, Indonesia, placed third with its entry, artificial rice made from arrow root and cassava.
The Developing Solutions for Developing Countries Competition was sponsored by General Mills, with additional support from McCormick.
• Product Development Competition. Student competitors in this prestigious annual contest were asked to conceptualize a new food idea and then work to see the concept through all stages of product development. A gluten-free product christened Coccobello earned the Ohio State University team first place—and no wonder—the description alone is enough to whet one's appetite. Coccobello is a crunchy, gluten-free mini cannoli coated with dark chocolate, dashed with toasted coconut, and filled with a lime mousse. Members of the winning Ohio State team [51] include, from left: Joseph Jones (team leader), Amrish Chawla, Luca Serventi, Bryan Finfrock, Kim Orleans, Natalie Pendleton, and Jia Yeap.
Ruggets [52], an all natural dried meat snack that contains small chunks of lean beef top round, dried fruits, sliced almonds, sunflower seeds, and whole grains, earned the team from Rutgers University second place in the Product Development Competition. Cornell University came in third with Tamarangles, an ethnic snack with a savory fruit filling.
--- PAGE BREAK ---
Other finalists in the competition and their entries are as follows: Iowa State University, Yummelts, melting, nutritious seasoning gels; University of Minnesota, GOODough Donuts, a healthful breakfast pastry made with whole grain that is baked, not fried, and vitamin-enriched; and Virginia Tech, Gluten-eze, a gluten-free pie crust made from whole grain quinoa flour rich in protein and low in sodium.
The Product Development Competition was sponsored by Mars.
• Nutritious Foods for Kids Competition. This competition, sponsored by Disney Consumer Products, and also in its second year, challenged student teams to address an important wellness need by creating healthy snacks for kids.
The University of California-Davis team clinched the grand prize in the competition for its Mickey's Pocket Pies, nutritious pies in the shape of Mickey Mouse's head made with whole wheat crust and filled with a flavorful blend of real peaches, bananas, butternut squash, and carrots with no added sugar. The grand prize winners [53] are, from left: Joseph Alexandrouj, Anna Caroselli, Chereen Leong, Christina Ramsay, and Rob Schwarz. The team from Cornell University earned first place for its entry, Finding Nemo's Pasta Pals, a vegetable-based pasta meal consisting of colorful, gnocchi-like pasta shaped as fish, starfish, and turtles and formulated using sweet potato, spinach, beef, and potato ingredients to provide natural, vibrant colors.
Teams from the University of Arkansas and University of Illinois were recognized with honorary mentions. The University of Arkansas team developed a combo snack called Snackatouille that includes cheese-filled chicken-vegetable balls, vegetable dip, and two fruit jellies. The offering from the University of Illinois was Snow White's Apple Puffs, a gluten-free, crunchy, puffed snack made with apples, rice, and all natural ingredients.
• College Bowl Competition. This intellectually rigorous competition, now in its 25th year, tested teams from eight regions of the country on their knowledge of food science and technology, history of food and food processing, food law, and general IFT and food-related facts. Taking home top honors this year was the team from the University of Georgia.
Other finalists in this year's competition included teams from University of Delaware, the Ohio State University, Chapman University, Cornell University, University of Wisconsin-Madison, Washington State/University of Idaho, and University of Arkansas.
In [54] the competition's panel of judges and student competition organizers appear to be enjoying the event. From left are students Molly Brannock, Amanda Stephens, and Helen Melito (competition chair), and judges Pam Vaillancourt, Roger Clemens, and Donna Anderson.
Sponsors of the College Bowl Competition included PepsiCo, Nestlé Purina, Gerber/Nestlé Nutrition, and McCormick.
--- PAGE BREAK ---
• Chapter of the Year Competition. The North Carolina State University chapter [55] earned top honors in the Chapter of the Year Competition. Among those on hand to celebrate were, from left: Amanda Stephens, Helen Melito, Kirk Smith, Laurie Steed, Jon Baugher, Kelsey Ryan, and Victoria Gray. The Cornell University chapter was acknowledged as the Most Improved Chapter. The Chapter of the Year Competition was sponsored by PepsiCo.
• Undergraduate Research Paper Competition. Rarinthorn Thammakulkrajang [56] of Cornell University placed first in the competition. Tied for second place were Ashley Hart [57] of the University of Georgia and Ambrose Chan of the University of Wisconsin.
Destination New Orleans
IFT will head to New Orleans, La., in 2011, where the city's Morial Convention Center will be the venue for the Annual Meeting & Food Expo, which is scheduled for June 11–15. World-class cuisine, lively music, and warm hospitality make New Orleans one of IFT's favorite host cities. It's not too early to mark your calendar for what promises to be a "can't miss" food industry event. Visit ift.org/ift11 to learn more about being an exhibitor or preparing a proposal for a Scientific Program presentation.
by Mary Ellen Kuhn, Managing Editor of Food Technology ([email protected]).
---
Annual Meeting & Food Expo Makes Headlines

The 70th Annual Meeting & Food Expo clearly demonstrated that the filming of Transformers 3 wasn't the only media-worthy event in Chicago this summer. More than 162 media professionals representing news outlets including Time magazine, The New York Times, and the Chicago Tribune arrived at McCormick Place to cover the Annual Meeting & Food Expo. By early August, the event had generated nearly 141 million media impressions with an advertising value in excess of $1 million. IFT Past President John Floros did 17 radio interviews on the scientific review, "Feeding the World Today and Tomorrow: The Importance of Food Science and Technology." 
---
Daniel Pink Dissects Motivation Science
On matters of motivation, there's a mismatch between what science knows and what business does, contended Annual Meeting & Food Expo Keynote Session speaker Daniel Pink. Scientific studies have shown that if you want people to solve relatively simple, straightforward problems, then financial incentives work pretty well, Pink said. However, for problems and solutions that require higher-level cognitive skills, more complex behavioral motivators come into play. Pink shared three fundamental motivators of performance—autonomy, mastery, and purpose.
Autonomy. People crave control over their time and their tasks, and when they have it, they tend to perform better, Pink said. He shared an example of an Australian software company in which creative output increased substantially when employees were allowed to devote 10% to 20% of their time to projects of their choice. He recommended that companies move gradually toward enabling more autonomy in the workplace.
Mastery. The desire to "get better at stuff" is "a profoundly powerful motivator in the workplace and one that is routinely ignored," Pink continued. Supporting this contention, he cited a study of more than 11,000 scientists and engineers. The study linked the scientists' patent output with a variety of motivators and found that the best predictor of patent productivity was a desire for intellectual challenges.
Purpose. Lastly, Pink explained the concept of purpose as "the idea that what you do should be connected to something larger than yourself." It's a mistake for businesses to overemphasize financial incentives at the expense of providing meaningful, purposeful work, he said. "When the profit motive comes unmoored from the purpose motive, bad things happen," said Pink. And conversely, "When you combine the profit motive with the purpose motive, great things can happen."
--- PAGE BREAK ---
---
IFT CARES VOLUNTEERS SHOW LOTS OF HEART
For the third consecutive year, groups of IFT members took time out from their Annual Meeting & Food Expo schedules to lend a hand as volunteers for the IFT Cares philanthropic initiative.
This year, the program, which IFT organizes annually in cooperation with the national anti-hunger organization Feeding America, had three groups of volunteers working severalhour shifts at the Greater Chicago Food Depository, an affiliate of Feeding America. On Saturday, one group traveled to the food depository in the morning (a) and another in the afternoon. A third group volunteered on Wednesday morning.
On Saturday morning, the volunteers worked on an assembly line packing emergency food boxes (b) designed to feed a family of five for three days. All together, the group packed 720 cases of food, which translates to 18 pallets or 23,040 pounds. In the afternoon session, IFT Cares volunteers repackaged 4,000 pounds of bread, buns, and bagels. In an IFT Cares session on Wednesday, volunteers packed 1,640 snack bags for the Nourish for Knowledge program that provides food to help families in some of Chicago's most disadvantaged neighborhoods.
IFT Student Association (IFTSA) members were well represented among the volunteers this year, something that Professional Member Faye Dong, Head of the Department of Food Science and Human Nutrition at the University of Illinois, Urbana-Champaign and a three-time IFT Cares volunteer, was happy to see.
"I am very pleased that there is so much student support," said Dong. "If it encourages students to go back home and volunteer with their student clubs, that would be great."
That's exactly what Arin Stieringer-Roos, incoming President of the Food Science Society at California Polytechnic State University-Pomona, hopes to see happen. The club has recently increased its membership, and the students are interested in adding some philanthropic activities to their agenda, said Stieringer-Roos.
Esther Bushway, wife of University of Maine Food Science Professor Alfred Bushway, first volunteered with IFT Cares when the philanthropic program was launched in 2008 in New Orleans and followed that up by participating last year in Anaheim. This year, she was happy that her husband's schedule allowed him to join her. "I think it's very worthwhile, especially in this economy," Alfred Bushway observed.
In addition to the IFT Cares activities benefiting the Food Depository, Food Expo exhibitors donated 5,598 pounds of food after the Expo concluded.
---
Record Numb ers at 10th Annual Fun Run
The weather was hot and steamy, but that didn't deter the 600 people who participated in Feeding Tomorrow's 10th Annual Fun Run & Walk (a) in Chicago's Grant Park. In total, participants raised more than $75,000 for Feeding Tomorrow scholarships.
Among the runners, Cornell University, whose representatives included IFT President- Elect Bob Gravani (b), had the largest team. Also in attendance was Bruce Ferree of California Natural Products, who raised the most money for a single person—more than $2,000.
Among the male runners, Chris Charles, left in (c), placed first with a time of 15 minutes and 52 seconds (15:52). Albert Matheny, right in (c) was second (16:35), and Javin Ramos was third (18:17).
Sarah Mulhbradt, left in (d), placed first among the women with a time of 18:51. Catherine Lee (19:59), right in (d), was second, and Christy Spackman (20:55) was third.
The IFT Student Association and Feeding Tomorrow gratefully acknowledge the Fun Run sponsors:
Platinum: Chicago Section IFT, Danisco, D.D. Williamson, General Mills, Michael Foods, and Southern California Section IFT.
Gold: David Michael, Del Monte, GNT, Mars Botanical, National Starch Food Innovation, and PepsiCo.
Silver: Coca-Cola and Starbucks.
Bronze: IFT Food Engineering Division, IFT Food Laws and Regulations Division, IFT Foodservice Division, Hershey, Kraft Foods, Oregon Section IFT, Maryland Section IFT, Richmond Baking, and Western New York Section IFT.
Gift bags for the Fun Run participants were donated by TIC Gums.
—Kelly Frederick, Digital Media Editor, IFT
--- PAGE BREAK ---
---
CHECK OUT IFT LIVE
Those seeking a close-up look at highlights of the Annual Meeting & Food Expo will find just that in the event's digital show daily, IFT Live. This year's edition of IFT Live includes 114 articles, countless photographs, and numerous video clips. It's a great way to relive—or experience for the first time—the excitement of the 2010 Annual Meeting & Food Expo, and it's available online now at http://live.ift.org.
---
TAP INTO ANNUAL MEETING EDUCATIONAL RESOURCES
The 2010 IFT Annual Meeting & Food Expo is over, but accessing educational resources from the event is simple to do. Here are some options.
• Purchase a 2010 Book of Abstracts to review Scientific Program presentations by session number. E-mail addresses of the primary authors and a comprehensive author index are also included for easy access to presentations.
• Visit Resourceful Recordings (http://www.resrec.com/store/ift/index.php/ift-10), IFT's scientific session archive partner, to view a list of recorded sessions from this year's Annual Meeting. Sessions are available in CDs, MP3 file downloads, and DVD-ROM formats.
• Access the virtual posters from the event online. You can search for specific research topics, view individual sections of each virtual poster, see available multimedia, including video, pictures, and graphics, and send comments and feedback to authors. Access to the virtual poster site is free to full, paid conference attendees. For those who didn't attend, access to the posters may be purchased.
For more information, contact Jenny Schmidli at [email protected].
---
DIVISION COMPETITION WINNERS

The following are the winners of this year's paper competitions sponsored by IFT Divisions.
Aquatic Food Products Div.: 1st place ($500), Trina Lapis, U. of Alaska; 2nd place tie ($350 each) Yuting Wan, Louisiana State U. and Sandra Shriver, U. of Florida; 3rd place tie ($250 each), Jamie Greene, U. of Kentucky and Dunyu Xi, Oregon State U.
Biotechnology Div.: 1st place ($300), Ke Shi, Rutgers U.; 2nd place ($200), Ekkarat Phrommao, Institute of Agricultural Technology; 3rd place tie ($100) Bo Bo Zhang, The Chinese U. of Hong Kong and Catherine Fill, U. of Massachusetts-Amherst.
Carbohydrate Div.: 1st place ($500), Madhuvanti Kale, Purdue U.; 2nd place ($400), Pinthip Rumpagaporn, Purdue U.; 3rd place ($300), Simarata Dhillon, U. of Guelph.
Dairy Foods Div. (Poster): 1st place ($500), Esra Cakir, North Carolina State U.; 2nd place ($250), Mina Kim, North Carolina State U.; 3rd place ($150), Kelsey Ryan, North Carolina State U.; runners up ($75 each), Pattarin Leksrisompong, North Carolina State U. and Erin Stefanutti, California Polytechnic State U.
Dairy Foods Div. (Oral): 1st place ($750), Lata Ramchandran; 2nd place ($500), Mallorye Lovett, North Carolina State U.; 3rd place ($250), Prashant Mudgal, North Carolina State University; runners up ($100 each), Marvin Moncada Reyes, Louisiana State U. and Jose Estrada, Louisiana State U.
Education Div.: 1st place ($500), Angie Che Yan Lam, U. of Guelph; 2nd place ($300), Hannah Grenier, U. of Maine; 3rd place ($150), Sara Anderson, Utah State U.
Food Chemistry Div.: 1st place ($500), Meghan Allendorf, The Ohio State U.; 2nd place ($300), Yang Huang, The Ohio State U.; 3rd place ($200), Aaron Oakes, North Carolina State U.; Awards of merit ($100 each), Mecit Oztop, U. of California-Davis and Jack Ofori, Florida State U.
--- PAGE BREAK ---
Food Engineering Div.: 1st place ($1,000), Nirupama Vaidya, Purdue U.; 2nd place ($500), Mecit Oztop, U. of California-Davis; 3rd place ($250), Qingruisi (Ellen) Li, U. of Illinois at Urbana-Champaign.
Food Microbiology Div. (Oral): 1st place ($300), Anup Kollanoor Johny, U. of Connecticut; 2nd place ($200), Amanda Deering, Purdue U.; 3rd place ($100) Muhammed Zeki Durak, Cornell U.; honorable mention ($50), Shivani Gupta, Colorado State U.
Food Microbiology Div. (Poster): 1st place ($300), Cangliang Shen, Colorado State U.; 2nd place ($200), Amanda King, Texas A&M U.; 3rd place ($100), Jennifer Perry; honorable mention ($50), Rachel Otto, West Virginia U.
Food Packaging Div.: 1st place ($500), Sumeet Dhawan, Washington State U.; 2nd place ($350), Yucheng Fu, U. of Guelph; 3rd place ($100), Aishwarya Balasubramanian, Rutgers U.
Fruit & Vegetable Products Div.: 1st place ($400), Christopher Duncan, Texas A&M U.; 2nd place ($300), Passaporn Siricururatana, Cornell U.; 3rd place ($200), Oluranti Campbell, Cornell U.; 4th place tie ($100 each), Meera Iyer, Cornell U. and Michael Kalaras, Pennsylvania State U.
International Div.: 1st place ($700), Kai Reineke, Berlin U. of Technology; 2nd place ($500), Jianping Wu, U. of Alberta; 3rd place ($200), Sang-Ho Yoo, Sejong U.
Muscle Foods Div.: 1st place ($900), Zelong Liu, U. of Kentucky; 2nd place ($700), Joseph Poulson, U. of Kentucky; 3rd place ($500), Nantawat Tatiyaborworntham, U. of Connecticut.
Nonthermal Processing Div.: 1st place ($700), Suvaluk Asavasanti, U. of California; 2nd place ($500), Nicolás Meneses, Berlin U. of Technology; 3rd place ($300), Akshay Kumar Anugu, U. of Florida.
Nutraceuticals & Functional Foods Div.: 1st place ($500), Armando Del Follo-Martinez, Texas A&M U.; 2nd place ($400), Vishnupriya Gourineni, Alabama A&M U.; 3rd place tie ($300 each), Zhuliang Tan, Memorial U. of Newfoundland and Hailong Yu, Rutgers U.
Nutrition Div.: 1st place ($700), Belinda Kanda, Alabama A&M U.; 2nd place ($500), Joseph Gigliotti, West Virginia U.; 3rd place ($300), Choon Young Kim, Purdue U.; 4th place tie ($100 each), Yanyan Li, The Ohio State U. and Louis Shackelford, Alabama A&M U.
Product Development Div.: 1st place ($1,000), Brianna Hughes, U. of Maine; 2nd place ($750), Damir Dennis Torrico, Louisiana State U.; 3rd place ($500), Sara Boswell, Texas A&M U.; 4th place tie ($100 each), Pamarin Waimaleongora-Ek, Louisiana State U. and Phantipha Charoenthaikij, Kasetsart U.
Refrigerated & Frozen Foods Div.: 1st place, Srijanani Sundararajan, Louisiana State U.; 2nd place, Aswini Kumar Singh Jasrotia, North Carolina State U.; 3rd place, Deidre Tice, Tuskegee U.
Sensory and Consumer Sciences Div.: 1st place ($1,050), Lauren Dooley, U. of Arkansas; 2nd place ($800), Michael Nestrud, Cornell U.; 3rd place ($550), Pamarin Waimaleongora-Ek, Louisiana State U.
Toxicology & Safety Evaluation Div.: 1st place ($750), Benjamin Remington, U. of Nebraska-Lincoln; 2nd place ($500), Birdhari Sharma, Florida State U.; 3rd place ($300), Pei Wen Lim, U. of Nebraska-Lincoln
—compiled by Toni Tarver, Senior Writer/Editor, IFT